Oma, Aomori: Hon-Maguro Capital of Japan
Bluefin tuna of Oma, widely recognized as "black diamonds", is a rare and precious Hon-Maguro that you don't see very often. Hon-Maguro is a highly sought-after fish which has intense marbling. Hon-Maguro from Oma is widely considered to be some of the best in the world. You can see the respect and love for Hon-Maguro everywhere in Oma.
Oma is located in the Shimokita Peninsula of Aomori prefecture which is on the northernmost tip of Honshu island. Oma faces the Tsugaru Strait, a channel joining the Sea of Japan with the Pacific Ocean. The Tsugaru Strait is rich in plankton as the Kuroshio, Tsushima and Chishima currents converge at this point. This plankton is eaten by squid, which in turn is eaten by tuna. One of the main reasons Oma's Hon-Maguro has a distinctive rich and creamy texture is because it preys on abundant squid.
Fishing method in Oma is called ippon-zuri, a single-hook, hand-line fishing. A "false bait" or live juvenile fish is attached to the end of the hook to deceive the tuna as if they were alive. Some of the bait fish include squid, mackerel and saury. Only a single line is used to reel in massive Hon-Maguro.
All high-end fish are auctioned in Japan. Oma's tuna weighing 278 kilograms fetched a record 333.6 million yen (US$3.1 million) at the New Year's auction at Tokyo's Toyosu fish market in 2019.
Oma's Hon-Maguro is a must-try if you visit northern Aomori prefecture. Oma is also rich in sea urchin, scallops, squid and abalone. We encourage you to visit Oma to experience the locals' love for the ocean and fish. It is a must visit destination for maguro lovers!
Oma is easily accessible from Hakodate in Hokkaido prefecture by ferry. Oma is only 90 minutes away. If you plan on making your way from Tokyo, catch a bullet train from Tokyo Station to Hachinohe in Aomori prefecture and switch to a local train.
Best Sushi Restaurants in Oma | Aomori
1: Hamazushi(浜寿司)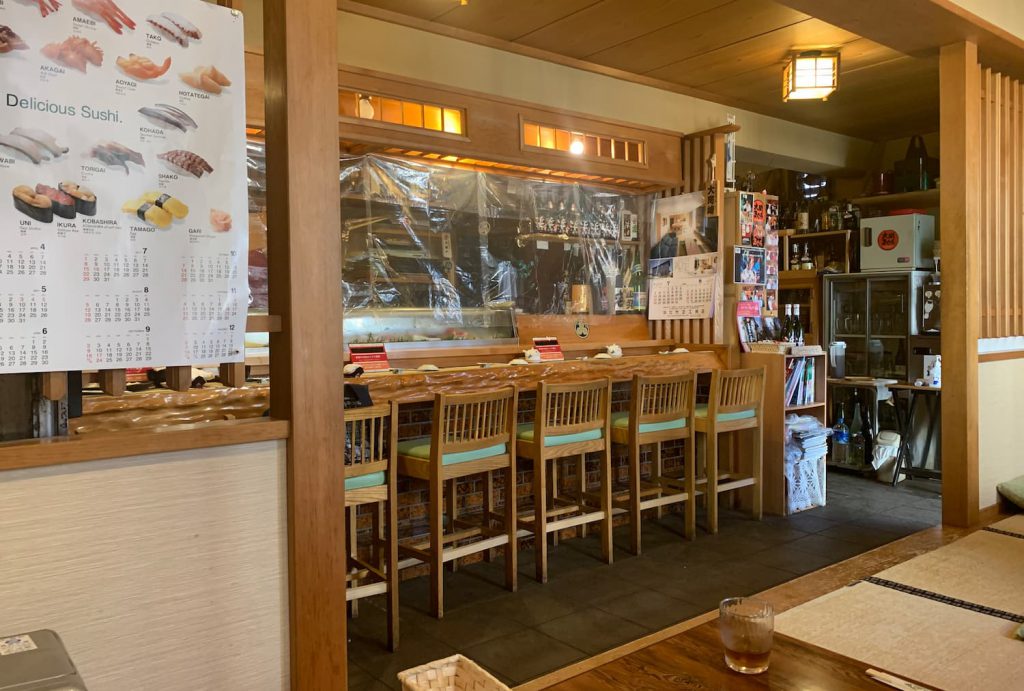 Hamazushi (浜寿司) was established in 1964, the year of Tokyo summer Olympics games. We recommend you order Hon-Maguro Assortment (Hon-Maguro Nigiri Moriawase), a platter comprised entirely of tuna. This dish comes with 2 pieces each of otoro (fatty tuna) and chutoro (medium fatty tuna), 4 pieces of akami (red meat) and tekka-maki (tuna roll), cut into 6 pieces.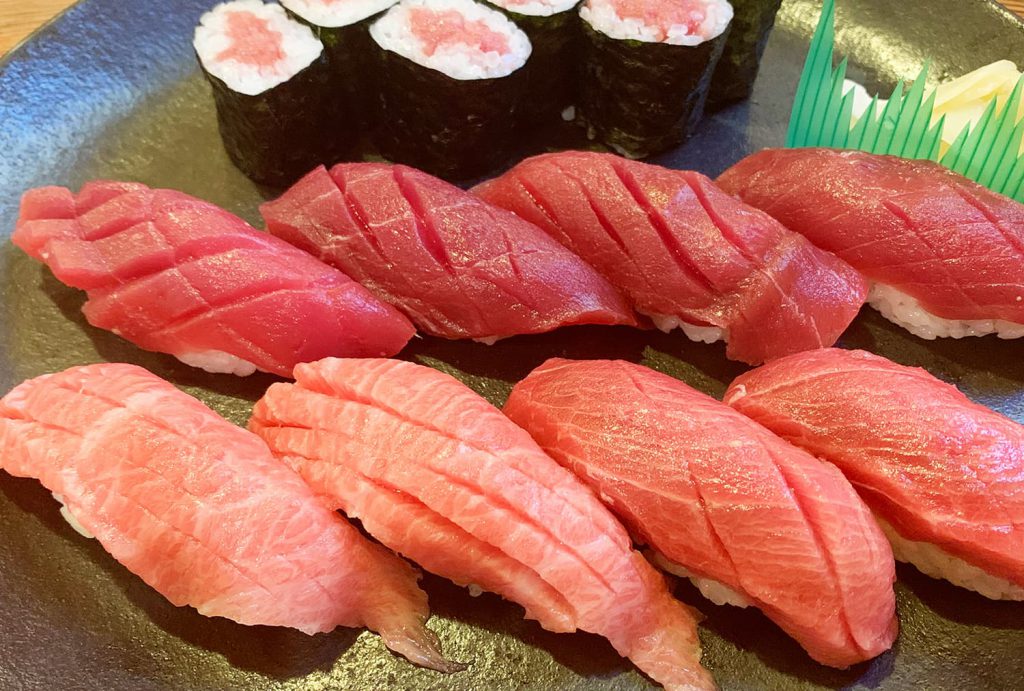 Name: Hamazushi (浜寿司)
Phone: +81-175-37-2739
Hours: 11:00 – 21:00
Closed On: Open Daily
Number of Seats: 67
Budget: – JPY8,000
Payment Options: Cash Only
Official Website (Japanese Only): http://oma-hamazushi.com/
2: Omanzoku(魚喰いの大間んぞく)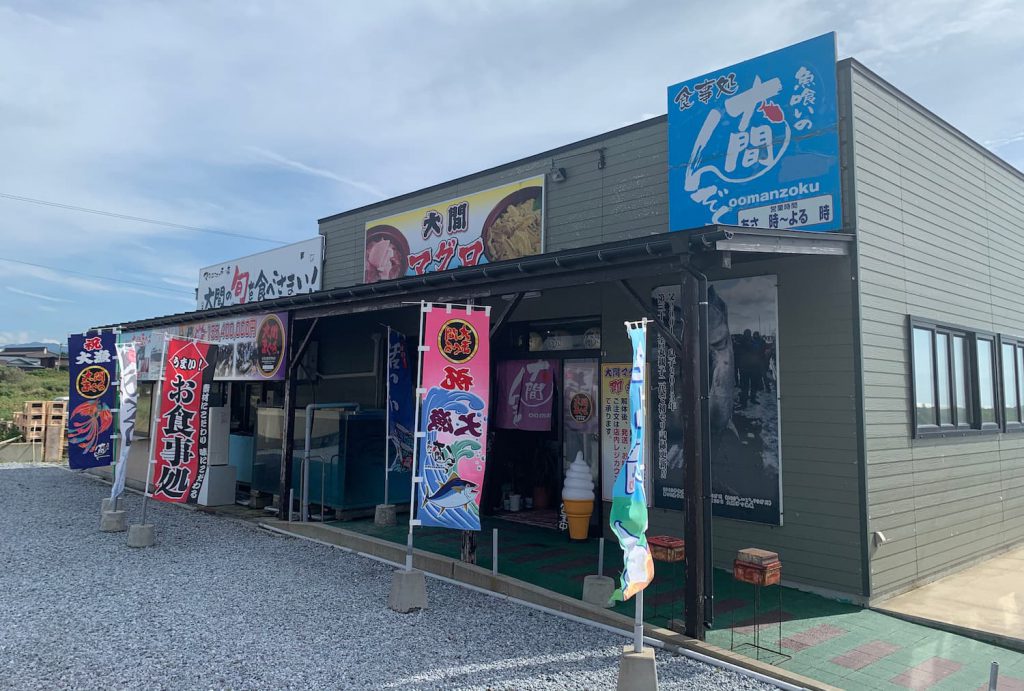 Omanzoku (魚喰いの大間んぞく) mainly serves fresh tuna dishes, but they also serve a variety of seafood such as abalone and sea urchin. As you enter the restaurant, you will see a variety of fishermen's banner decorated on the wall, with many photos of the tuna the owner himself had caught. Being owned and managed by a fisherman, the restaurant does everything from unloading to processing of fresh seafood. The most popular item on the menu is the extravagant maguro rice bowl (Sanshoku Maguro Don) topped with large slices of otoro (fatty tuna), chutoro (medium fatty tuna) and akami (red meat).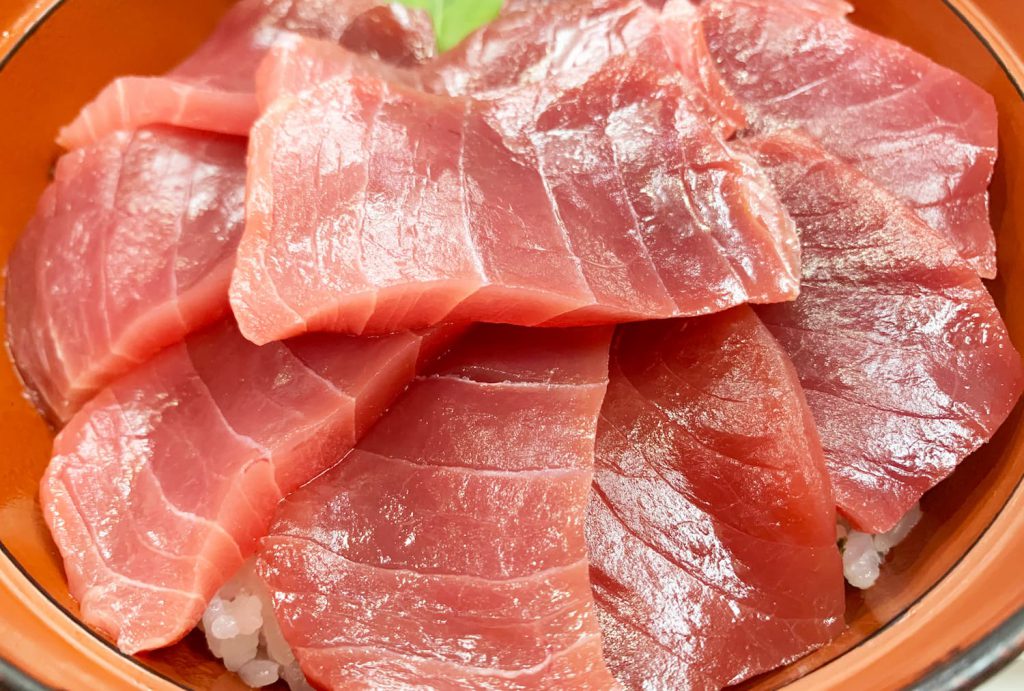 Name: Omanzoku (魚喰いの大間んぞく)
Phone: +81-175-37-5633
Hours: 8:00 – 18:00
Closed On: Open Daily
Number of Seats: 40
Budget: – JPY5,000
Payment Options: Cash Only