Petite Wagashi Shop Rooted in Gion | Kyoto
Founded in 1950, Fukueidou is a wagashi (confectionery) shop located on Shijo-dori in Gion, Kyoto. The shop is situated between Gion Shijo Station and Yasaka Shrine. The signature confectionary is dango (rice dumplings on a skewer) called "Gion no Tsuki." Inside each ball is bite-sized shiratama dango (ball-shaped, tasteless mochi made with glutinous rice flour). The outside wrapping is either black-colored anko (sweet red bean paste) or white-colored shiroan (sweet white bean paste). Shiroan symbolizes the moon and anko the floating clouds in the sky over Gion.
Pictured below is Kabuki Dango, a tricolor dango, comprised of anko, shiroan, and matcha (green tea). The color combination is reminiscent of Jyoshiki Maku, a curtain with vertical stripes of three colors, symbolizing kabuki theaters.
We recommend you try collagen-rich matcha anmitsu (Japanese-style parfait). This treat is popular with maiko (apprentice geisha) in Gion district. The product name "Gion no Puruko-chan" is said to come from "puru-puru," a Japanese phrase used to describe soft and plump skin. This flavorful anmitsu is a well-balanced combination of matcha agar, kuromitsu (sweet black syrup) agar, shiratama (mochi ball) and anko. Provided separately is unsweetened evaporated milk which can be poured over the top of the parfait if desired.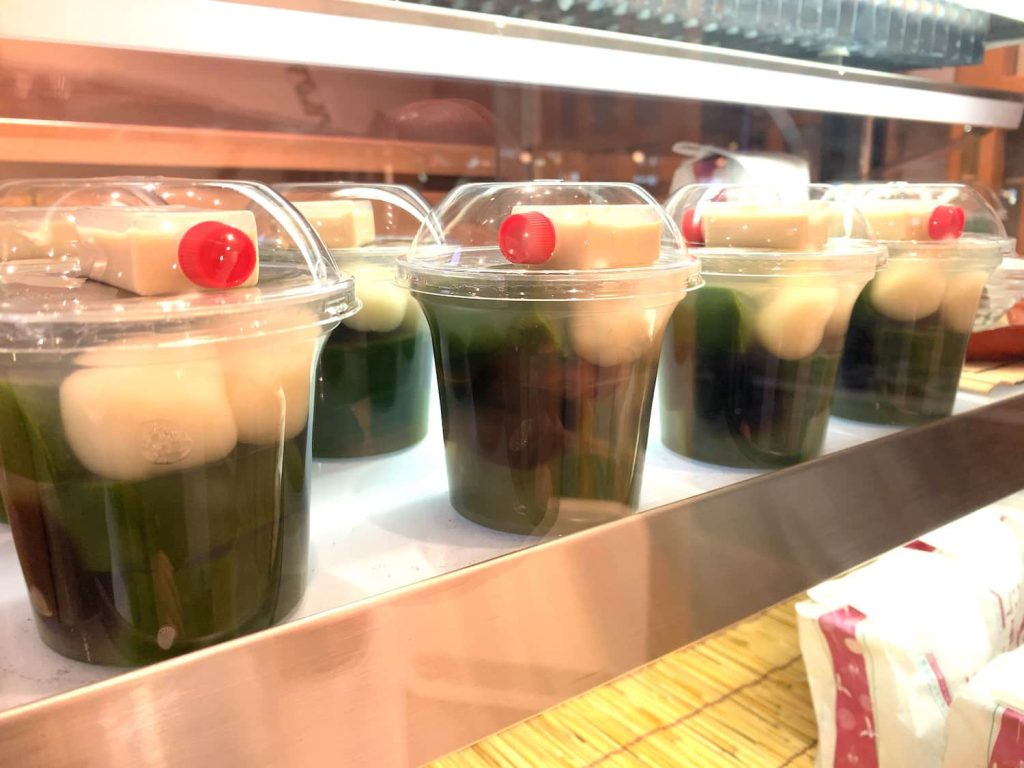 Name: Fukueidou
Phone: +81-75-561-3078
Hours: Sunday – Thursday 10:00 – 22:00 Friday and Saturday 10:00 – 23:00
Closed On: Open Daily
Budget: – JPY1,000
Payment Options: Credit Cards Acceptable
Official Website (Japanese Only): https://issen-yosyoku.co.jp/fukueidou/