Chinese Restaurant with Terrace Seating in Kagurazaka | Tokyo
Enkaen is a Chinese restaurant located on Kagurazaka-dori, a pedestrianized main shopping street of Kagurazaka. The restaurant is on the second floor of Kagurazaka Terrace, a commercial building situated diagonally across from Bishamonten Zenkokuji Temple. Enkaen is accessible from Iidabashi Station on the Tokyo Metro, Toei Oedo, and JR lines, or from Ushigome-Kagurazaka Station on the Toei Oedo line.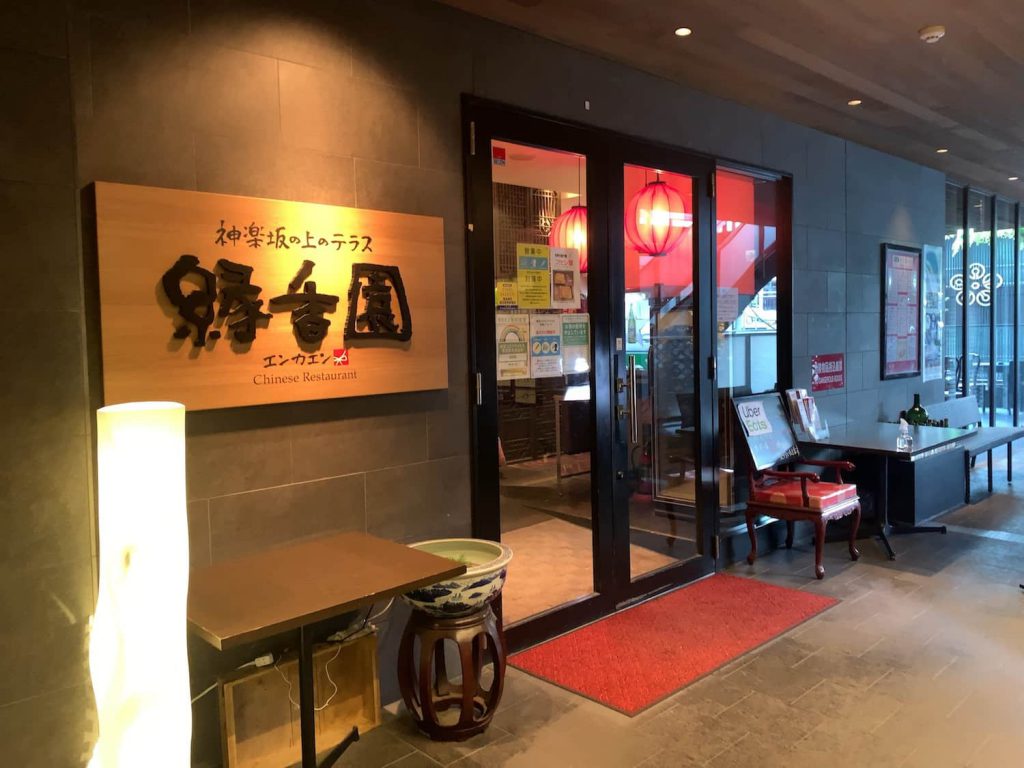 In Kagurazaka one can find restaurants that combine the best of old-style Japanese atmosphere with a French touch. Kagurazaka is home to a large concentration of French restaurants, patisseries and bakeries, situated alongside trendy and upscale Japanese restaurants. With its wide variety of cuisines from different cultures, Kagurazaka has many restaurants listed in the Michelin Guide. Enkaen provides an additional alternative for fine dining with its creative fusion of Japanese and Chinese tastes. With 80 percent repeat customers on a typical day, you can be assured Enkaen will be a worthwhile dining experience.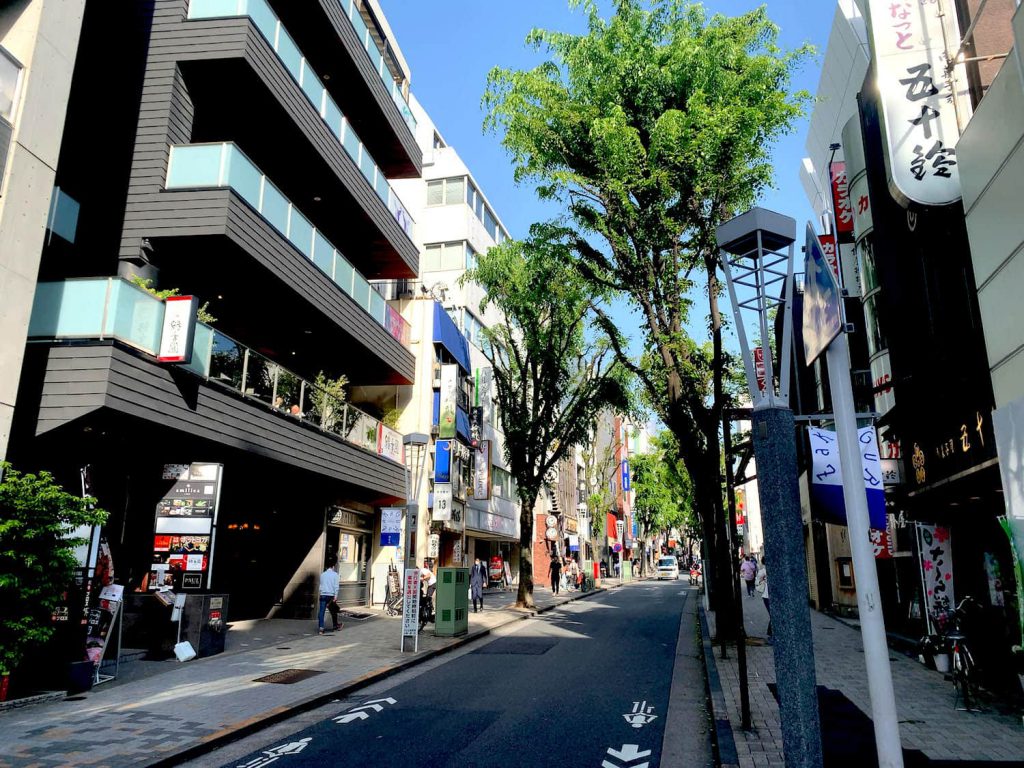 The interior of the restaurant is chic and modern with impressive red lanterns. The restaurant has six private rooms that can be used for small groups or, by removing the partitions, large groups of 30 or more people.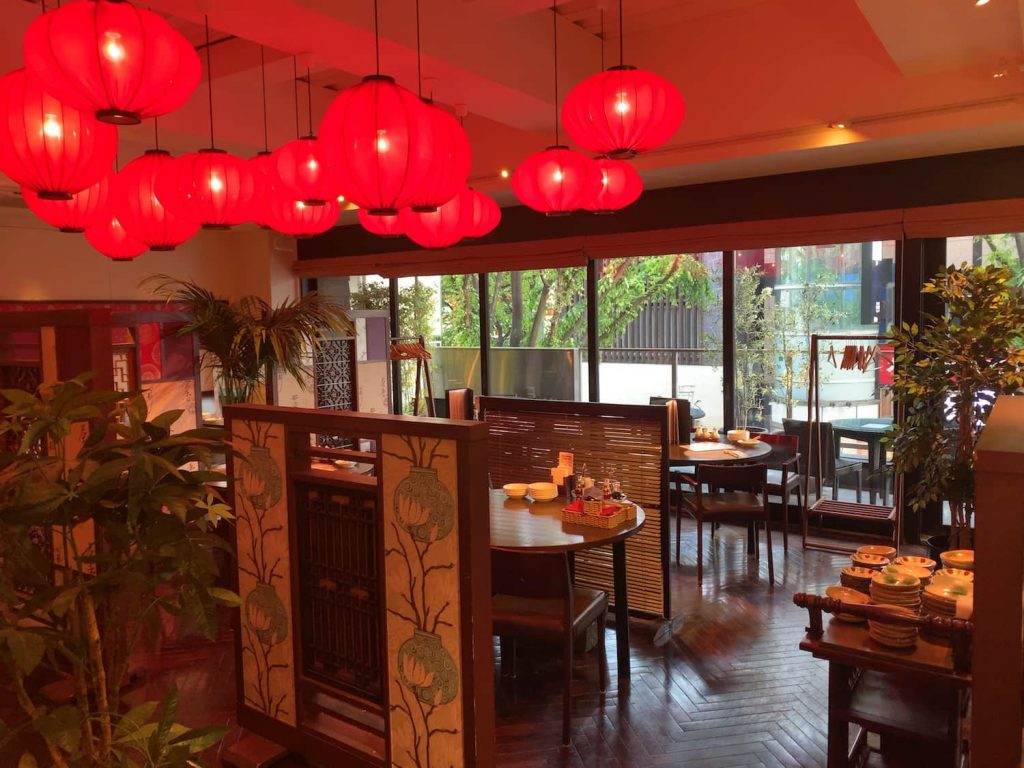 On a sunny day, enjoy casual dining at their open terrace facing Kagurazaka-dori. Such terrace seating is a rarity in Tokyo restaurants. Bring along a small dog if you wish since they are permitted on the terrace.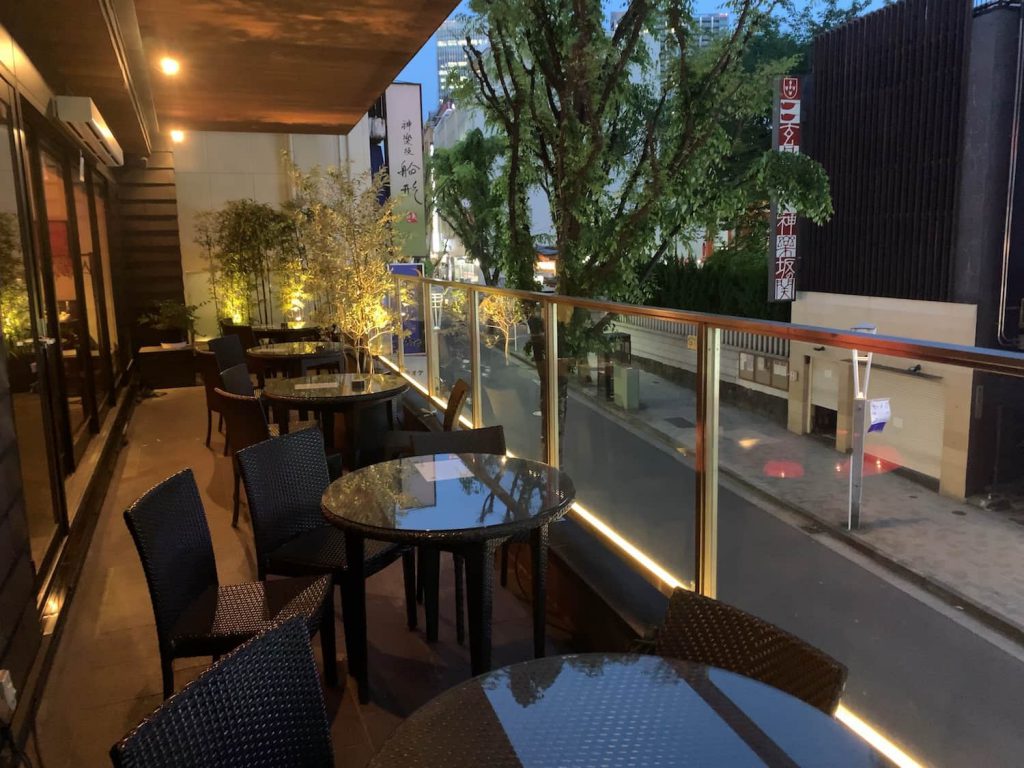 Owner chef, Toshio Akiba, began his career at Kintetsu Daihanten, followed by Shisen Hanten, Peking Hanten, Marunouchi Kaikan, and Iwaen. Capitalizing on Chef Akiba's considerable experience, Enkaen was opened in February 2015. The name of the restaurant is a combination of three Chinese characters (縁香園). En (縁) commemorates the people who blessed chef Akiba at critical stages in his life. Ka (香) is for the fragrance of exquisite Chinese cuisine. En (園) suggests a quaint garden where people gather in friendship.
Chef Akiba's signature dish, tantanmen (Japanese Dan Dan noodles), is a specialty that is extremely popular among his regular customers. This dish recreates the original technique used when tantanmen was first introduced to Japan from China. Tare is made by stir-frying soy sauce, garlic, zasai (pickled mustard plant), pepper, cashew nuts, dried shrimp, and green onion. The soup base is made by mixing tare with scallions, rayu (chili oil) and goma (sesame) before combining with 100% natural chicken broth.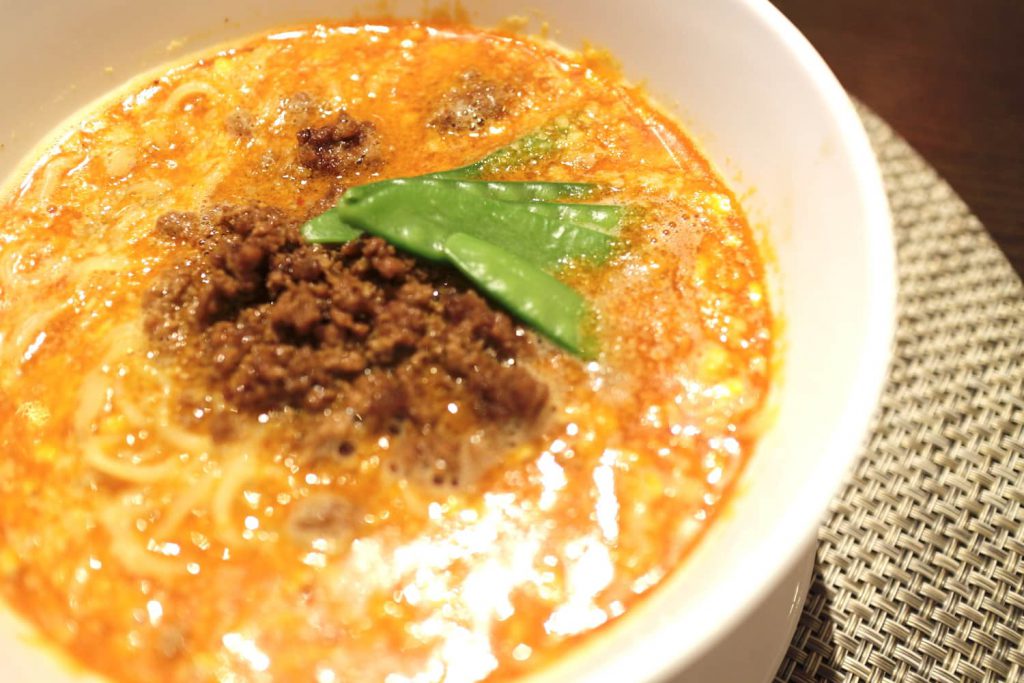 Mapo Tofu, served in a clay pot, is the most popular dish. It is a mouthwatering combination of handmade tofu, minced meat, and scallions, mixed with three kinds of Doubanjiang (spicy bean sauce). The blend of the three sauces results in a rich umami flavor.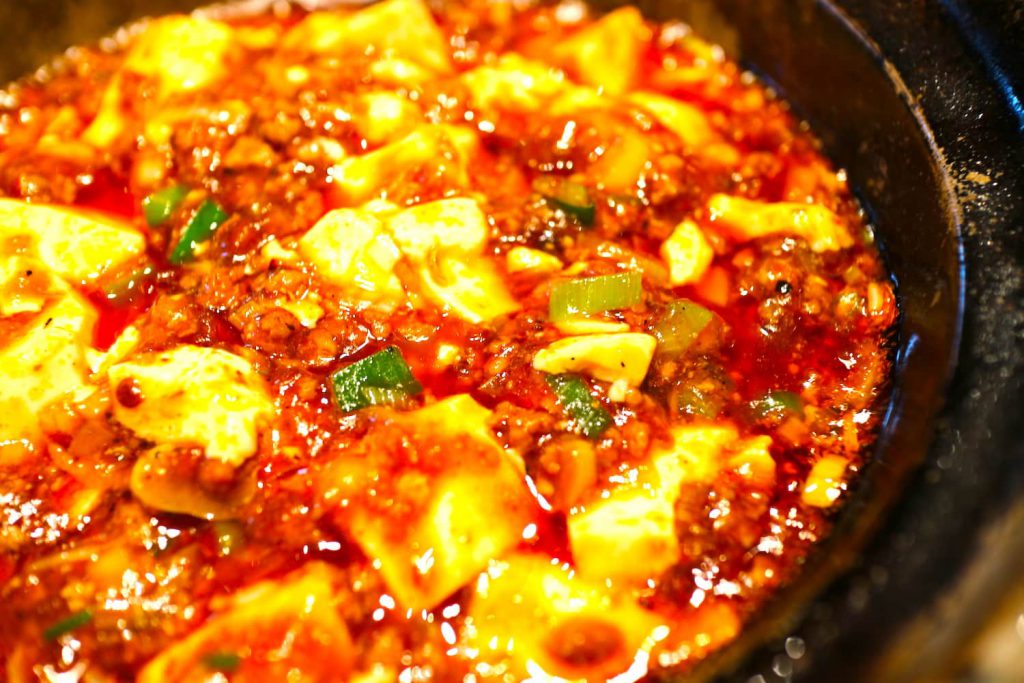 Another popular dish is Kani-Niku-Chahan (Fried Rice with Crab Meat). It is an egg fried rice topped with a thick sauce, known as "an," and crab meat. Dashi (broth) is made by adding snow crab meat to chicken soup with seasoning of salt and pepper. Next, corn starch dissolved in water is added to thicken the soup. Lastly, the egg whites are added to make it fluffy. It is Chef Akiba's wish that you experience the unique texture of egg fried rice and kani ankake (crab meat in thick egg soup).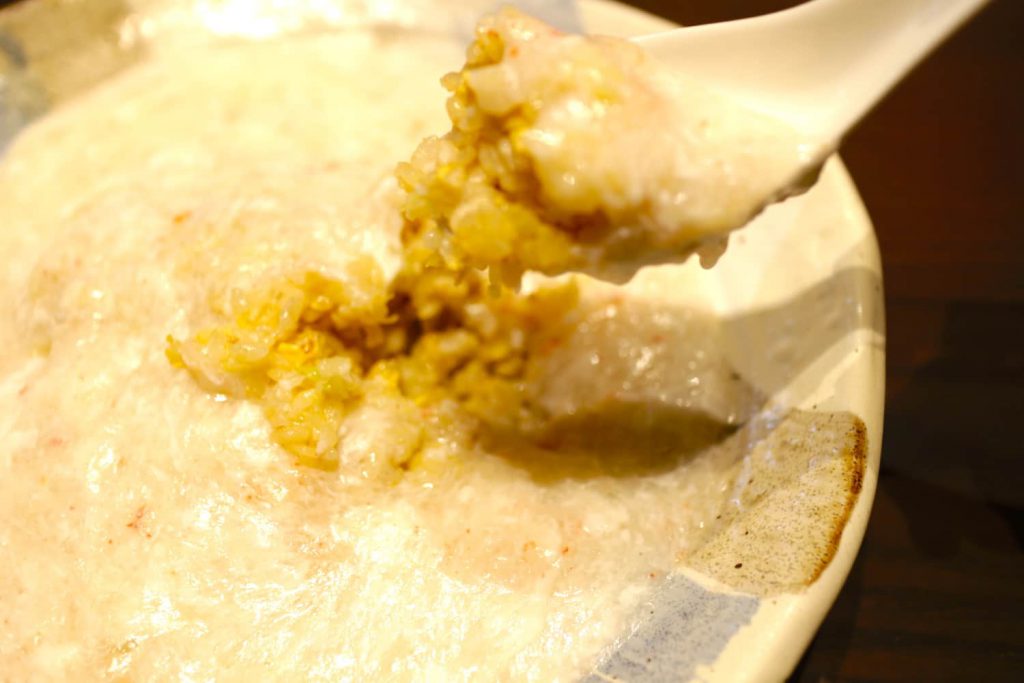 A favorite of Japanese regulars is Nasu-no-Karaage (Fried Eggplant), a classic Chinese country dish, seasoned with salt and pepper. It is crispy on the outside and juicy on the inside.
Also popular is Yodare Dori a shredded cold chicken in spicy sauce. It is made from Date Chicken from Fukushima prefecture. Known as Kou Shui Ji in Chinese, it is literally translated as mouth-watering chicken. It is a classic cold dish from China's Sichuan province.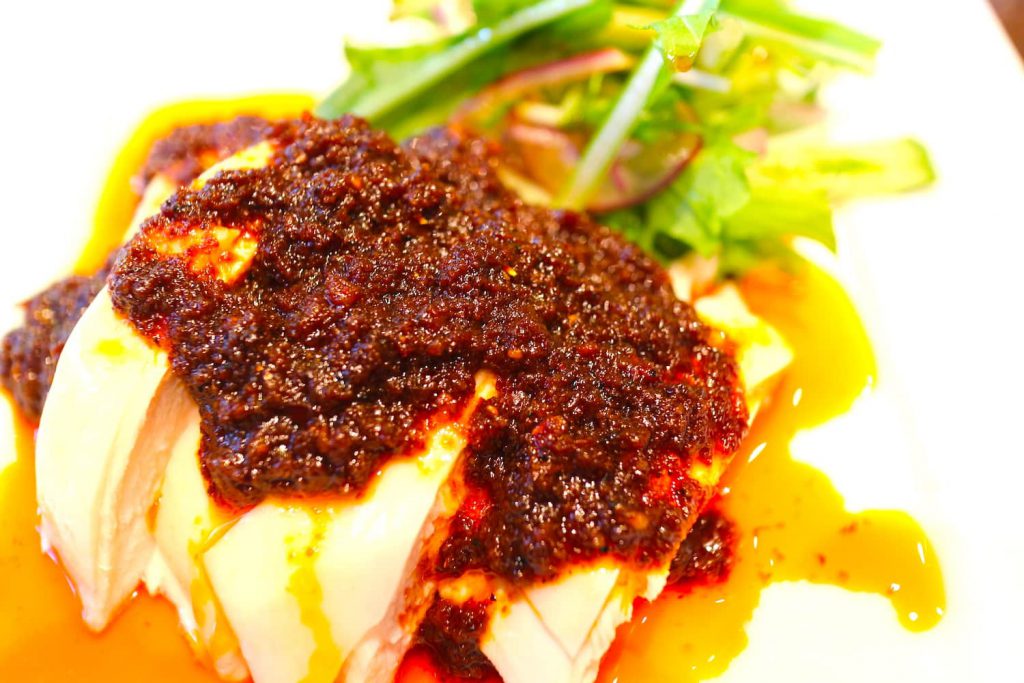 Name: Enkaen
Address: 5-1 Kagurazaka, Shinjuku-ku, Tokyo
Phone: +81-(0)50-3171-8537
Hours: 11:30 – 20:00
Closed On: Open Daily
Number of Seats: 100
Budget: Lunch: – JPY1,000 / Dinner: – JPY5,000
Payment Options: Credit Cards Accepted