Where Authenticity and Quality Meet in Japanese Cuisine
Welcome to the world of Kushikatsu – an exquisite Japanese delicacy that has taken the culinary world by storm! At the heart of this gastronomic revolution is Kushikatsu Tanaka, a specialty restaurant that has been making waves since its establishment in Tokyo's Setagaya district in 2008.
The restaurant owes its name to Director Hiroe Tanaka, who based the menu on the secret recipe of her late father, Yukichi Tanaka, who ran a kushikatsu restaurant in Osaka. While the restaurant initially focused on expanding throughout Tokyo, its vision to become a nationwide chain eventually led them to open branches in their birthplace, Osaka. Today, after just a decade since its founding, Kushikatsu Tanaka has expanded to over 200 stores – a testament to the quality and flavor that they offer.
The success of Kushikatsu Tanaka is attributed to the intense "love for Tanaka" of its founding members and their unwavering commitment to quality. The restaurant is renowned for its original blend of batter, oil, and sauce, which remains consistent across all outlets. Each skewer is freshly battered and fried after the order is placed, ensuring that patrons can relish the crispy goodness of freshly-fried kushikatsu.
Partaking in kushikatsu is an experience in and of itself, and adhering to three golden rules is imperative – no double-dipping of bitten skewers, no double-dipping of bitten cabbage, and no dipping of chopsticks into the sauce. The sauce container has become a familiar symbol of the "no double-dipping" policy that is strictly enforced at kushikatsu restaurants. You'll find a sign or a direct message stating "no double-dipping" at the storefront of Kushikatsu Tanaka. The interior of the restaurant exudes a welcoming and relaxed atmosphere, reminiscent of a popular izakaya, with a menu featuring a reasonable price range.
Come indulge your taste buds at Kushikatsu Tanaka and experience the unique flavors of kushikatsu like never before!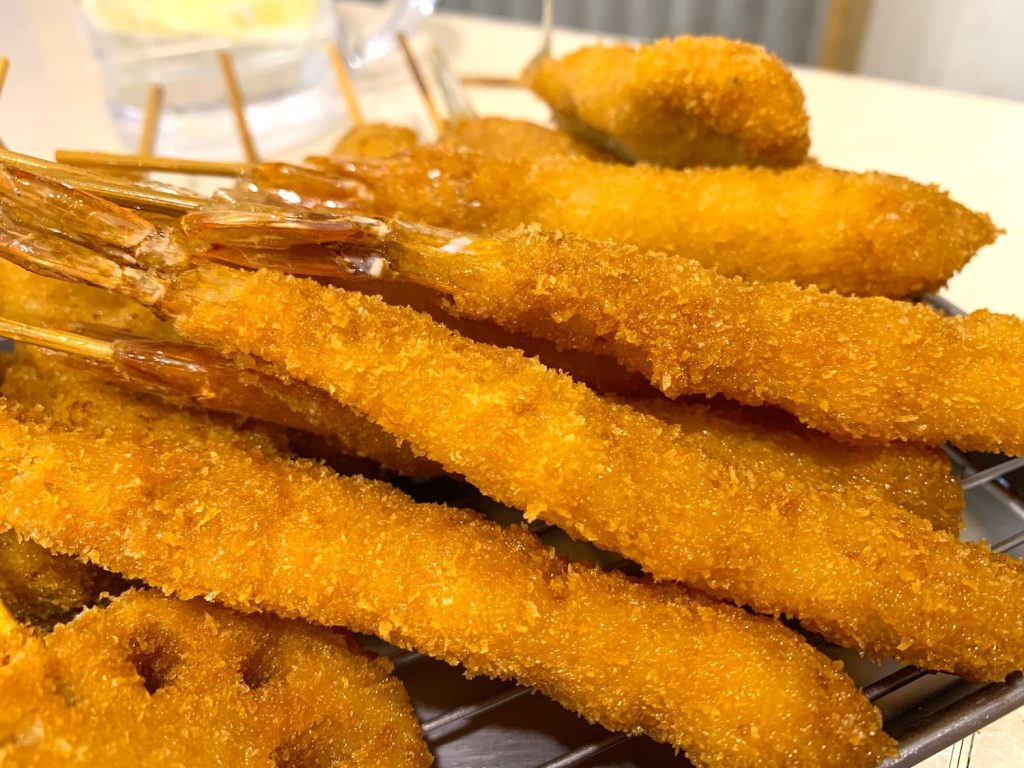 Official Website: https://kushi-tanaka.com