Takasaki's Quintessential Pasta Hub
Spaghetti Senka Harappa, a haven for pasta enthusiasts, epitomizes Takasaki's renowned status as the quintessential pasta hub. This esteemed establishment delights the palate with its expertly crafted pasta delicacies, meticulously prepared using a distinctive and refined technique. Experiencing an exponential surge in popularity, the main branch in Kaminakai-machi, Takasaki City, serves as the central nucleus for its three enchanting satellite locations.
Prepare to be captivated by the exceptional qualities that define the allure of Spaghetti Senka Harappa. Delight in the freedom to choose between dried and fresh noodles, all the while marveling at the opportunity to finely calibrate the intensity of spiciness and garlic, thus curating an authentically personalized gastronomic journey. Traverse the menu's opulent offerings and embrace a captivating array of culinary delights, encompassing timeless classics such as tomato sauce and cream sauce, as well as audacious concoctions that celebrate the harmonious fusion of fiery red chili pepper and piquant garlic. Immerse yourself in a realm of seasonal symphonies, as the limited-time fair menus enchant with innovative combinations of carefully selected ingredients and authentic Japanese flavors. Relish the temptation of the "Spring Vegetable and Sakura Ebi Peperoncino" or savor the exquisite fusion of "Autumn Mackerel and Pear Tomato Cream."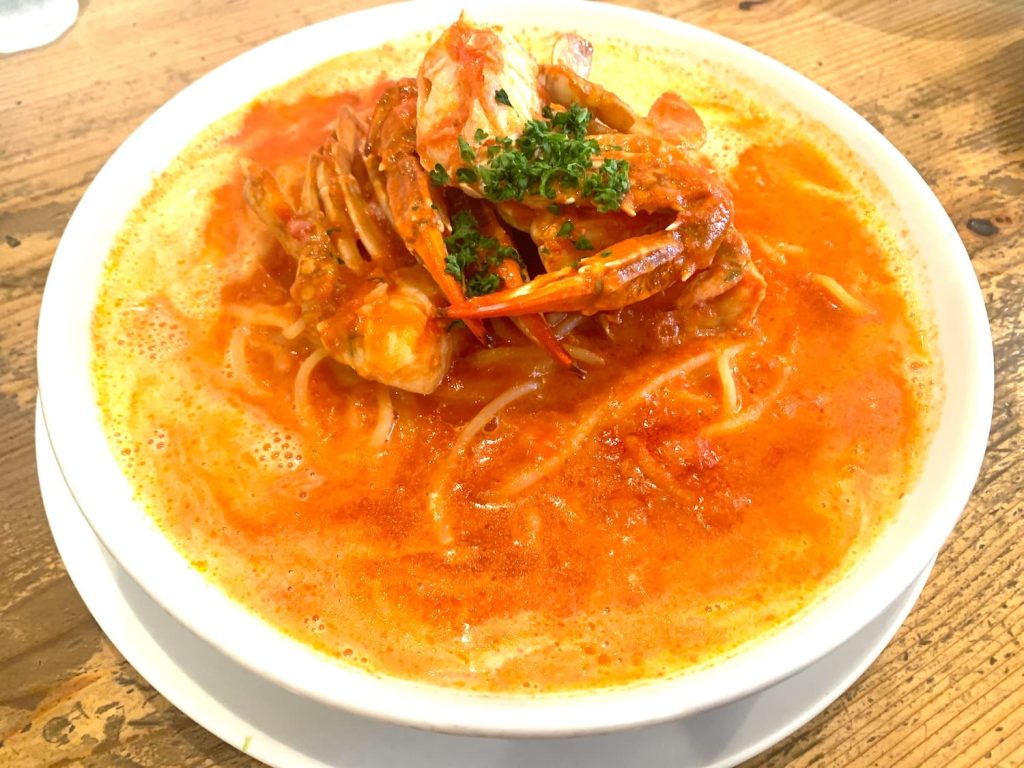 At the core of Spaghetti Senka Harappa lies its pièce de résistance, an orchestration of flavors achieved through the original method. Elevating the dining experience further, each sauce is meticulously handcrafted in-house, allowing the natural essence of the ingredients to flourish, harmonizing with a medley of fragrant spices and aromatic herbs. Beyond its culinary marvels, Spaghetti Senka Harappa stands as a testament to the profound connection between pasta and Japanese culture, catering to the discerning palates of its patrons. Revel in the captivating allure of the Japanese penchant for bold flavors, personified by the tantalizingly spicy menu offerings that embrace the audacious amalgamation of red chili pepper and garlic.
As a beloved culinary destination intricately woven into the vibrant tapestry of Takasaki City, Spaghetti Senka Harappa beckons with open arms, attracting a devoted following of local gourmands who revel in its epicurean wonders. Beyond its undeniable charm, this extraordinary establishment caters to a plethora of dining scenarios, warmly welcoming solo diners, offering unbeatable value for lunchtime repasts, and providing the convenience of delightful takeout options. The main branch, a sanctuary of culinary brilliance, gracefully awaits your arrival, just a leisurely 17-minute stroll (approximately 1.4 km) from the revered grounds of Takasaki Station.
Name: Spaghetti Senka Harappa Honten
Address: 1679-1 Kaminakai-machi, Takasaki, Gunma
Phone: +81-(0)27-325-2418
Hours: 11:00 – 22:00
Closed On: Open Daily
Number of Seats: 32
Budget: – JPY2,000
Payment Options: Cash Only