Wondering what to do on your trip to Japan? Discover the best sights and things to do as recommended by the locals.
Sightseeing
Gion(祇園)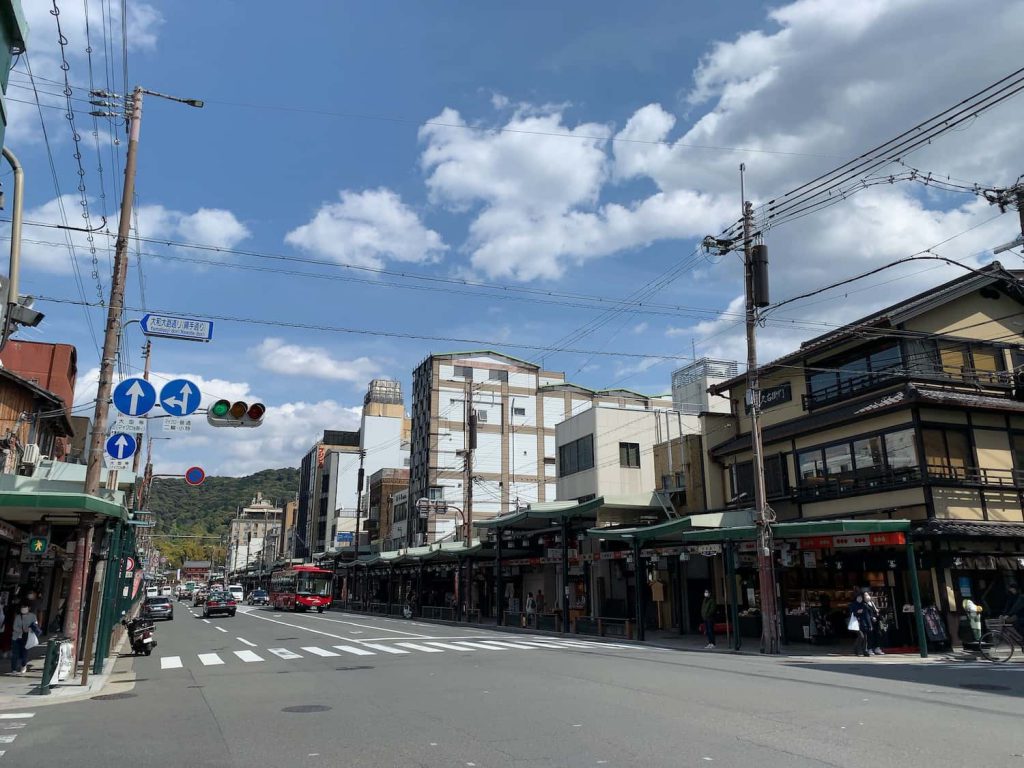 Gion, one of the most popular tourist destinations in Kyoto, developed around the prominent Yasaka Shrine. Gion is Kyoto's foremost entertainment district and is home to maiko (apprentice geisha). It is an attractive area in which to enjoy the charm of Kyoto's quaint streets and culture. Hanamikoji, the main street of Gion, is lined with exclusive restaurants, cafes, souvenir shops, ochaya (tea houses) and more.
Address: Higashiyama-ku, Kyoto
Kiyomizu-dera Temple(清水寺)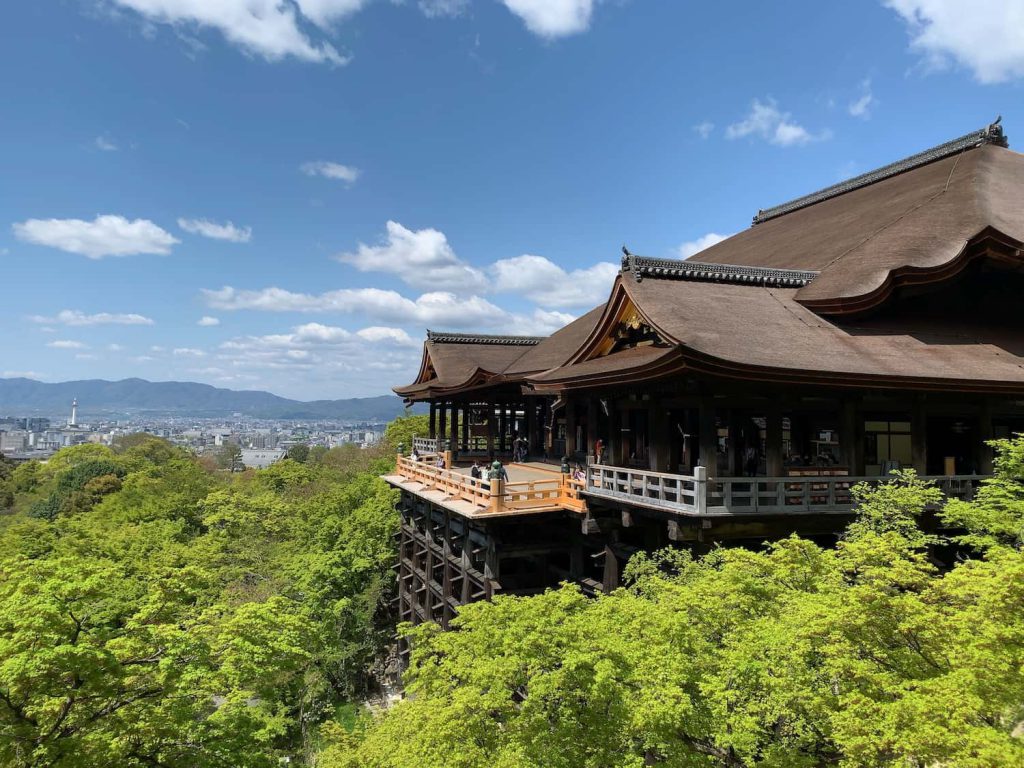 Kiyomizu-dera, literally translated as the "Temple of Pure Water," is home to many National Treasures and Important Cultural Properties. The complex is listed as a World Heritage Site. The temple grounds are expansive, stretching over 130,000 square meters. It takes about an hour on average to go around the temple. The three-story pagoda is 31 meters tall, making it one of the tallest three-storied pagoda in Japan. The most eye-catching is the Kiyomizu-no-Butai (a large veranda in the Main Hall), a 13-meter-high stage equivalent of a four-story building, constructed without nails. Kiyomizu-no-Butai is known as one of the best viewing spots in Kyoto, offering a panoramic view of the city. Located at the base of the main hall is the Otowa Waterfall. Three separate streams of waterfalls are said to have the power to grant wishes: academic success, bringing luck in finding love, and longevity. You should only drink one of them, the one you wish to fulfill the most.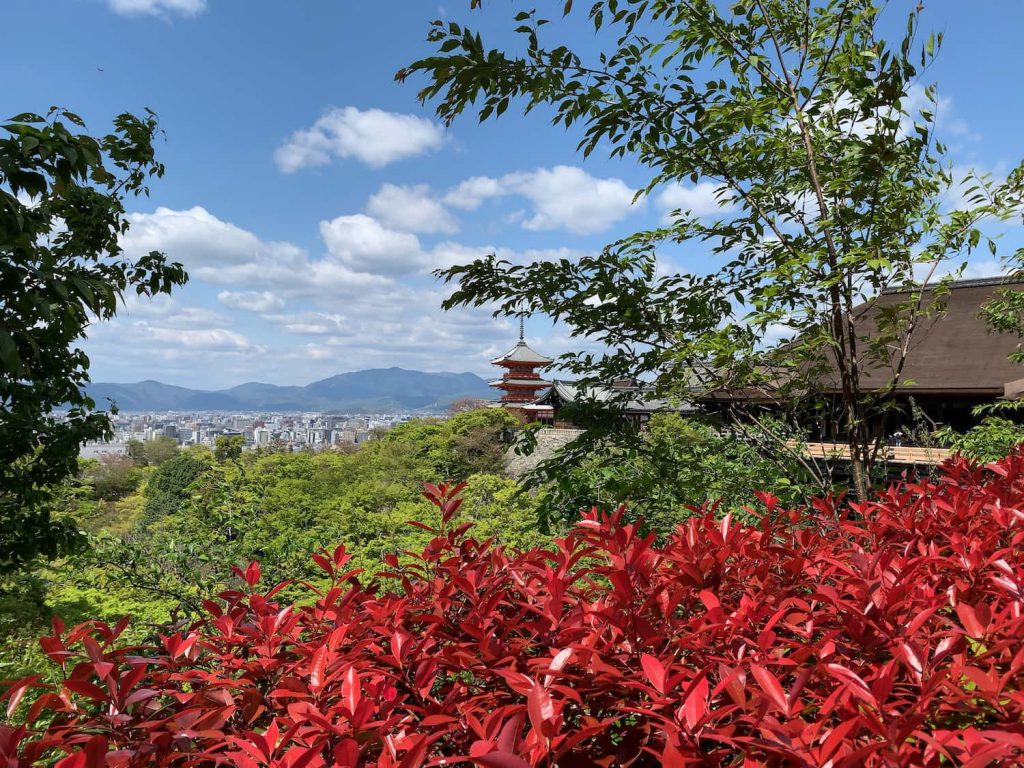 Arashiyama(嵐山)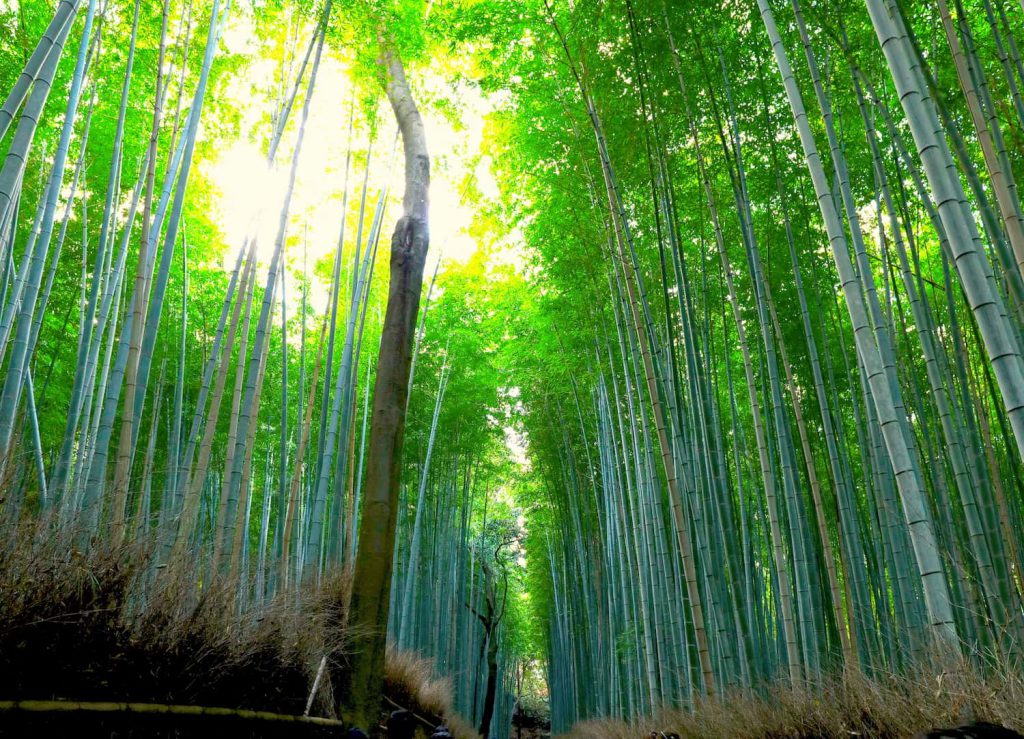 Arashiyama, located far west of Kyoto, is a must-see sightseeing spot, particularly beautiful during the cherry blossom and the autumn leaves season. The area has been popular since the Heian period (794-1185), once known as a resort for the noble families. The 155-meter-long Togetsukyo Bridge, a symbol of Arashiyama district, connects the north bank of the Katsura River to Arashiyama Park. Northwest of Togetsukyo Bridge is the famed Bamboo Grove, a 400-meter path from Nomiya Shrine on the east to Okochi Sanso Villa on the west. Bamboo Grove will lead you to the north entrance of Tenryu-ji Temple, a registered World Heritage Site. Built in 1339, Tenryu-ji Temple is a Rinzai Zen sect of Japanese Buddhism. Within the Tenryu-ji Temple premises, there is Sogenchi Teien (Sogen Pond Garden), the first garden to be designated as a Special Historic Site and Special Place of Scenic Beauty.
Address: Arashiyama, Ukyo-ku, Kyoto
Kinkaku-ji(金閣寺)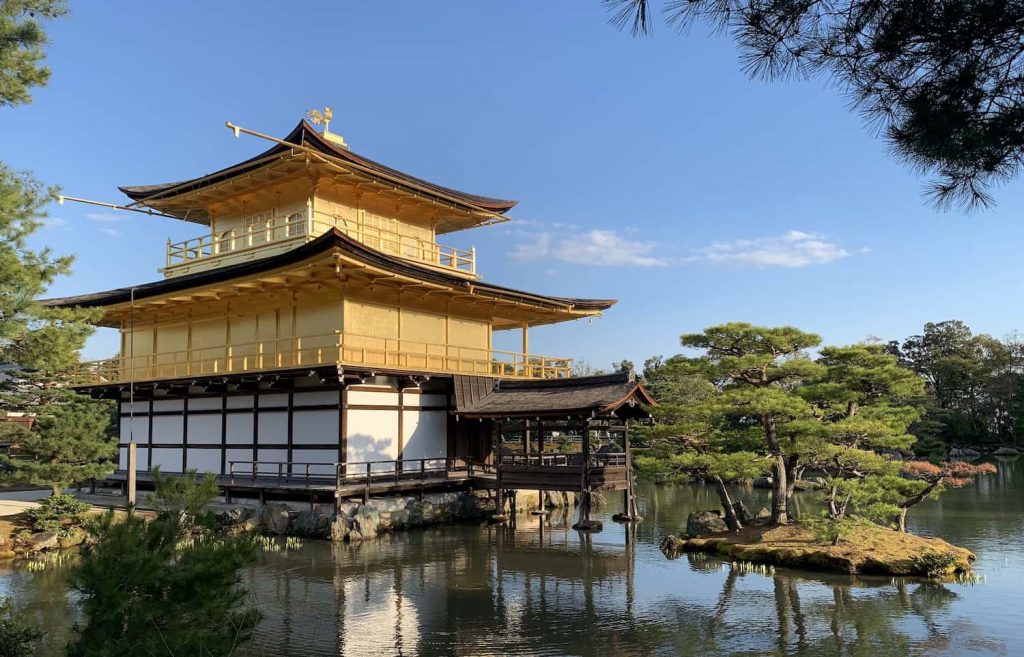 The Golden Pavilion known as Kinkaku, stands on the grounds of the Rokuon-ji Temple complex, commonly referred to as Kinkaku-ji. The temple is registered as a World Heritage Site. Kinkaku functions as a Shariden, where relics of the Buddha are enshrined. Originally, a villa known as Kitayama-dai, of an aristocrat Saionji Kintsune, stood on the site. After the overthrow of the Kamakura shogunate (feudal samurai government from 1185-1333), Saionji family lost power and relinquished the site. In the early Muromachi period (1336-1573), Ashikaga Yoshimitsu, the third shogun of the Muromachi shogunate, took over this dilapidated site and built a villa known as Kitayama-dono in 1397. The present pavilion structure dates from 1955. Kinkaku has a three-layer structure, characterized by different architectural style. The second and third layers are coated with pure gold foil on lacquered surfaces. The complex is listed as a Special Historic Site and a Special Place of Scenic Beauty.
Fushimi Inari Taisha(伏見稲荷大社)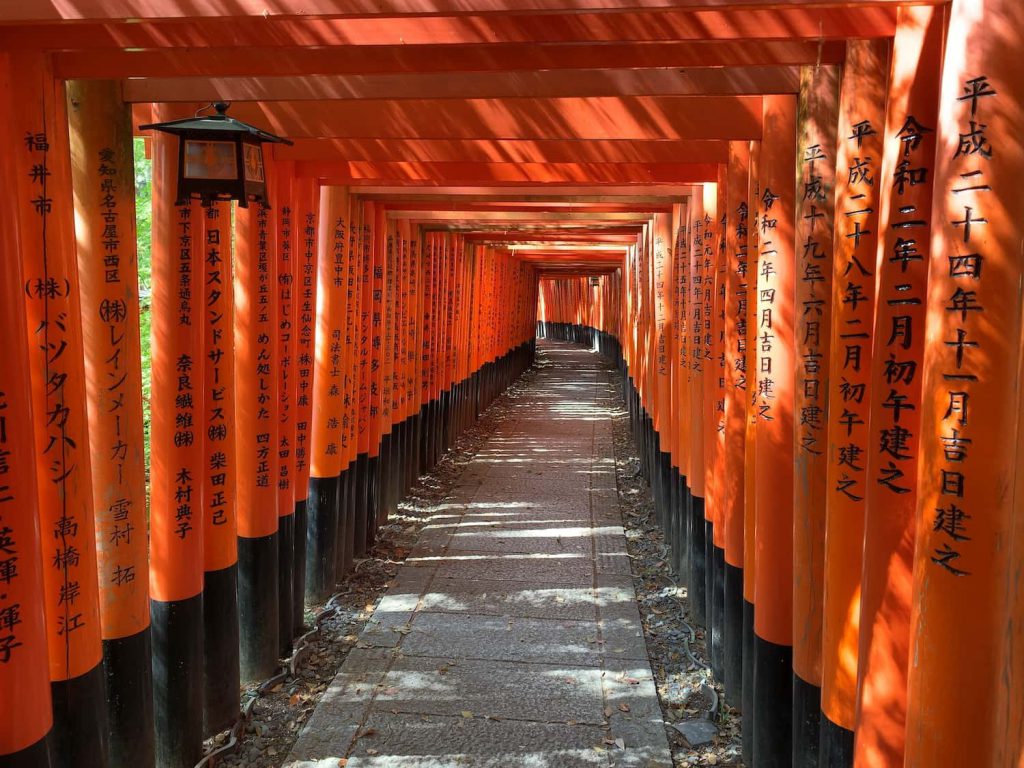 Fushimi Inari Taisha is the head shrine of the 30,000 Inari shrines throughout Japan. Thousands of vermilion-colored torii gates ("Senbon Torii" in Japanese, which literally means "one thousand torii gates") is the symbol of this shrine. A narrow tunnel-like parallel rows of Senbon Torii leads you to the summit of Mount Inari where gods descend. Each torii (gates) represents gratitude for a wish that came true. The word "Inari" is associated with the cultivation of rice, implying a bountiful harvest. Since ancient times, this shrine has been worshipped by the common people as a guardian deity of business prosperity and harvest. Fushimi Inari Taisha is guarded by little fox statues displayed throughout the shrine grounds. As a divine servant, stone foxes hold symbolic objects in their mouth; key to the granary; ear of rice to wish for bountiful harvest, to name a few.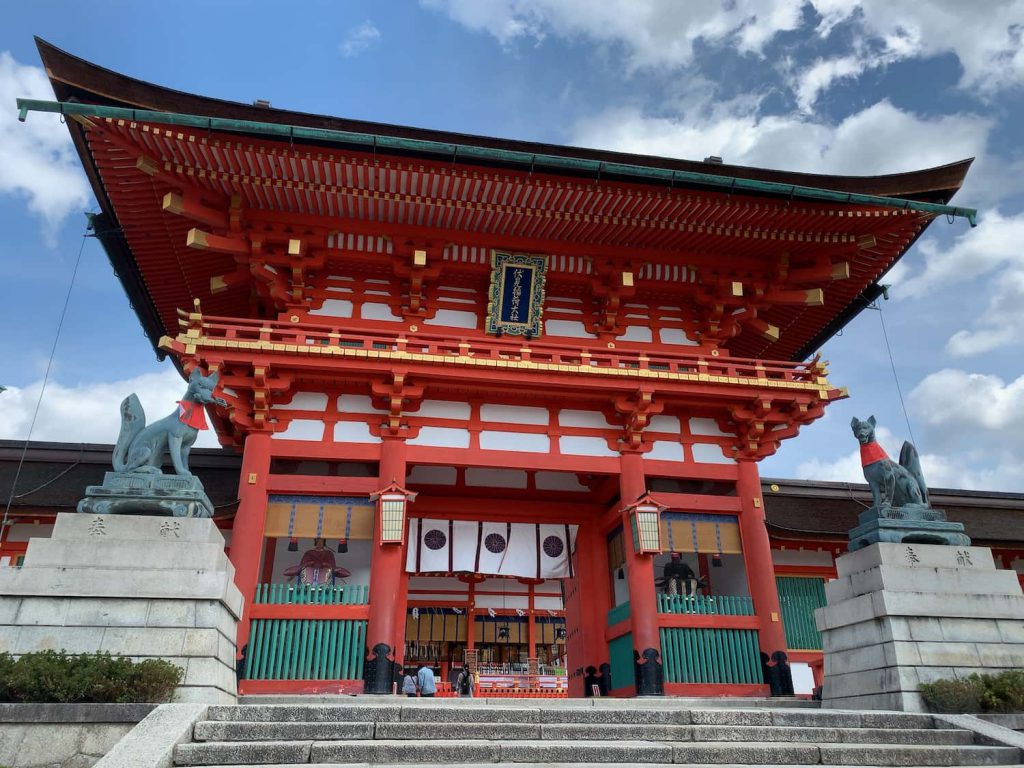 Ginkaku-ji(銀閣寺)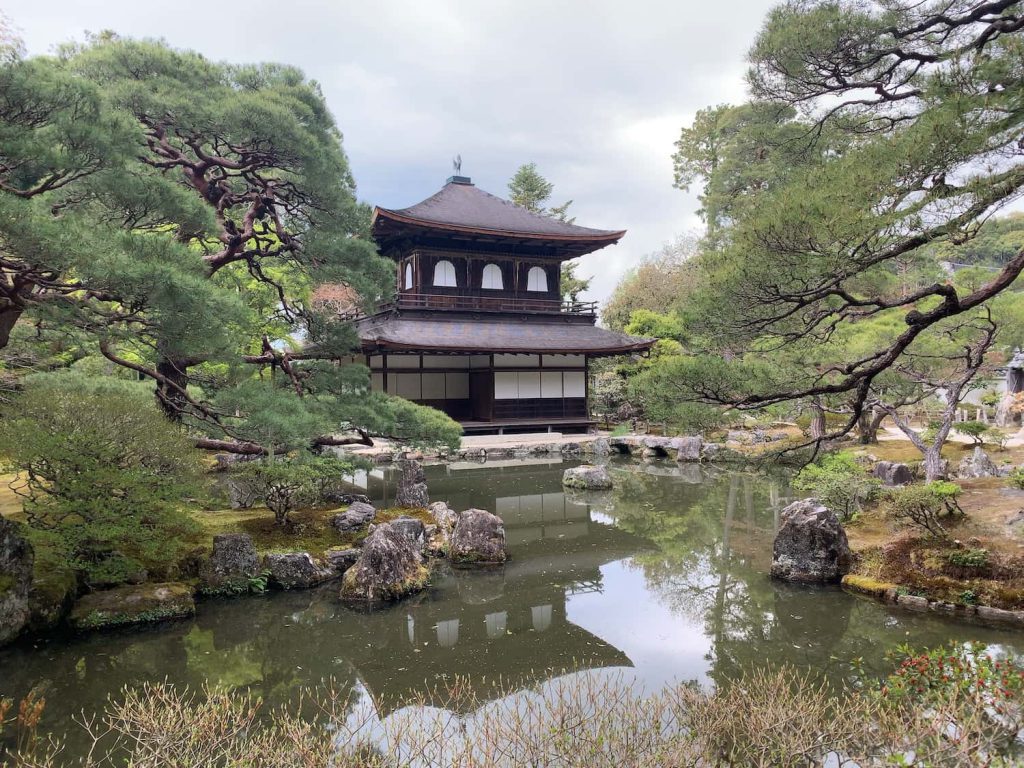 The Silver Pavilion, known as Ginkaku, stands on the grounds of Higashiyama Jisho-ji Temple complex, commonly referred to as Ginkaku-ji. The temple is registered as a World Heritage Site. Ginkaku functions as a two-storied Kannon Hall, the main temple structure. Ginkaku was built by Ashikaga Yoshimasa (1436-1490), the eighth shogun of the Muromachi shogunate, in a time of political instability. Ginkaku is said to be a replicate of Kinkaku built by Ashikaga Yoshimitsu (1358-1408), the third shogun, who was the grandfather of Yoshimasa. Originally built as a retirement villa known as Kitayama-dono, construction work completed soon after Yoshimasa's death in 1490. The name Ginkaku derived from the Edo period (1603-1868), inspired by Kinkaku covered in golden foil. Despite what the name suggests, Ginkaku was never coated in silver foil. There are various hypotheses but the truth is unclear. The temple grounds evoke a sense of quiet elegance that embodies the "Wabi Sabi" (quiet simplicity) concept of Kyoto.
Ryoanji Temple(龍安寺)
Ryoanji Temple is registered as a World Heritage Site. The temple was originally a country house of the Tokudaiji Clan. It was acquired in 1450 by Hosokawa Katsumoto for use as a Zen training temple. Ryoanji Temple is known for its Rock Garden, which measures only twenty-five meters from east to west and ten meters from south to north. No trees are to be seen: only fifteen rocks and white gravel are used in the garden.
Skyscraper
Kyoto Tower(京都タワー)
Kyoto Tower is the tallest structure in Kyoto City, stands opposite JR Kyoto Station Karasuma central exit. The shape of Kyoto Tower is inspired by a lighthouse illuminating the city of Kyoto. While steel frame construction is commonly used in high-rise buildings, Kyoto Tower is a monocoque (single shell) structure, a method in which loads are supported by external skin. Kyoto Tower is 131 meters tall, less than half the height of Tokyo Skytree (634 meters) and Tokyo Tower (333 meters). The observation deck at 100 meters above ground features 360-degree panoramic view of Kyoto. Kiyomizu-dera Temple, a few kilometers away, can be seen clearly through the telescope. Public Bathhouse "YUU" on the third basement level is a popular spot to relax and unwind.
Food & Drink
Nishiki Market(錦市場)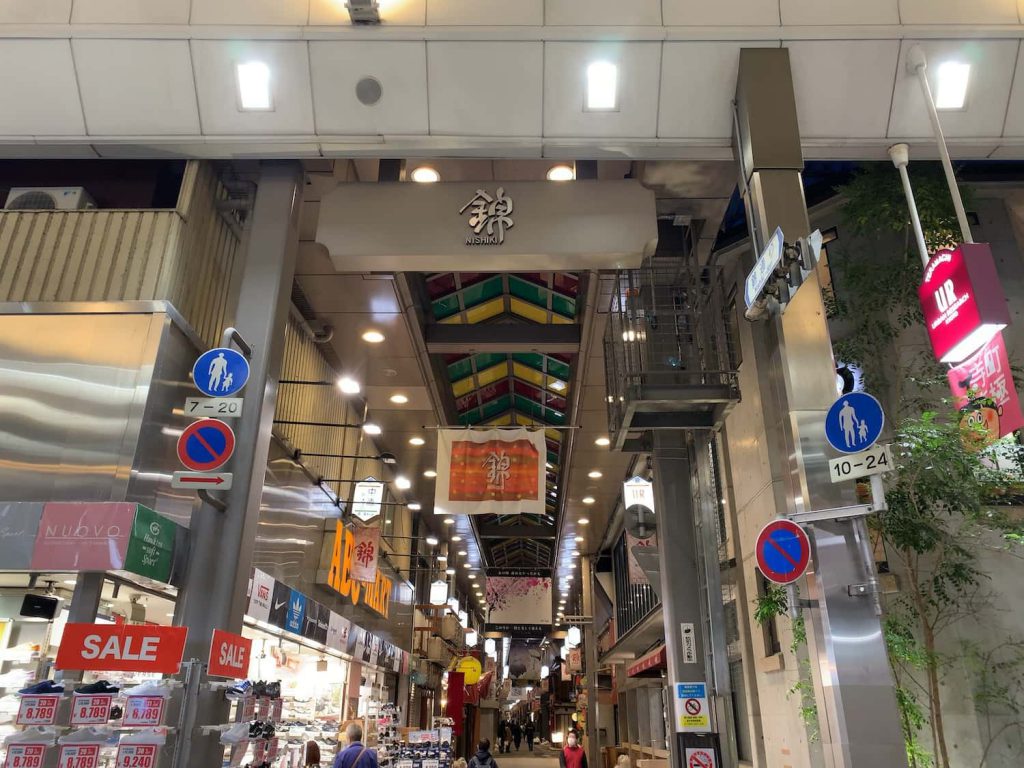 Nishiki Market, commonly referred to as "the kitchen of Kyoto," is an undercover shopping arcade on Nishikikoji Street, one block north of Shijo Street. There are over 120 shops in an arcade that stretches for 390 meters. Nishiki Market is an essential spot with Kyoto residents, specializing in high quality fresh seafood, pickles, dried foods, obanzai (Kyoto-style home cooking), and more. You will find stalls selling ready-made food for you to eat on the go. Nearby the market is Nishiki Tenmangu, a shrine dedicated to the god of scholarship, where "Nishiki Water" springs from the ground. This groundwater was essential to preserve fish in an era before refrigerators. To this day, many shops still use groundwater.