Wondering what to do on your trip to Japan? Discover the best sights and things to do as recommended by the locals.
Sightseeing
Dotonbori Area(道頓堀)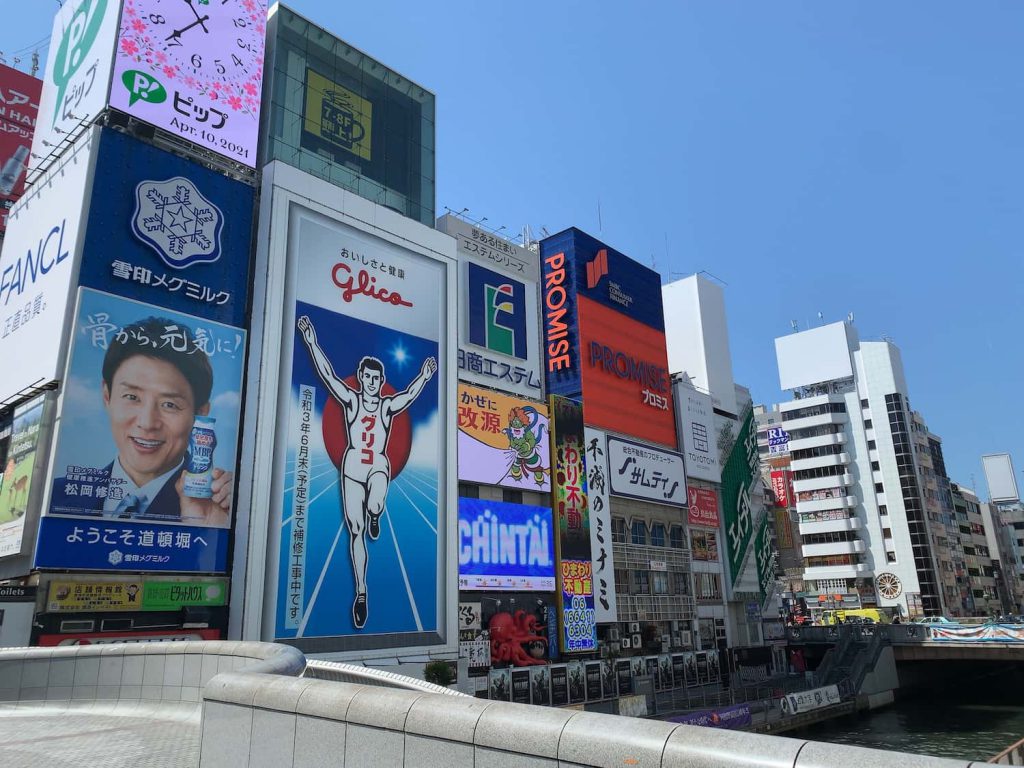 You can't go to Osaka and not visit Dotonbori where most of Osaka's gourmet specialties such as takoyaki, okonomiyaki, and kushikatsu (deep-fried skewers) can be found. You will discover a plethora of delicious dishes all around you. Along and around the Dotonbori River there are many restaurants with flashy signboards unique to Osaka, the lively and historical city of merchants. There is the Glico running man and the giant, three-dimensional moving signboards: a mobile crab, an octopus, a plate of gyoza and a hand holding a maguro sushi piece to name a few. The mechanical drummer, Kuidaore Taro, a puppet in a red and white stripped clown suit, is an iconic character representative of Dotonbori.
Shinsaibashi-Suji Shopping Street, a bustling arcade representative of Osaka, is within a 15-minute walking distance from the Dotonbori area.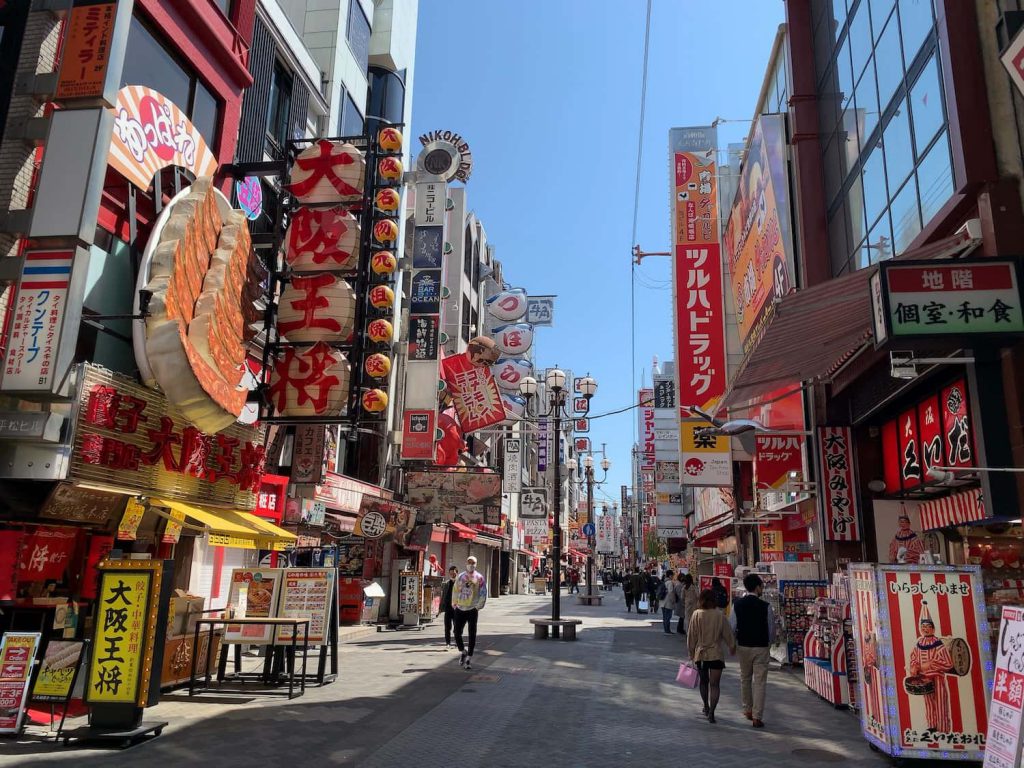 Shinsekai(新世界)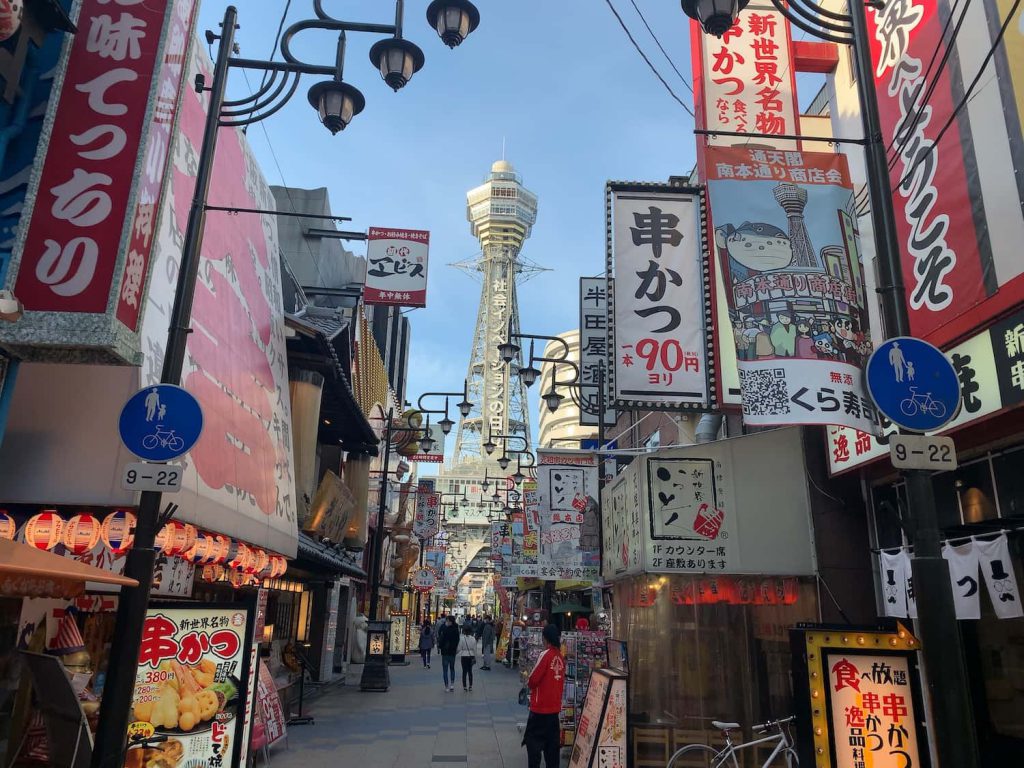 Shinsekai is a downtown area of southern Osaka with an atmosphere reminiscent of the long-ago Showa era (1926-1989). The area, developed in 1912, is centered around the Tsutenkaku Tower. The name "Shin-sekai" (literally, new world) represents new cultures and technologies that did not exist in the "Kyu-sekai" (old world) of the Tokugawa era (1603-1868). Tsutenkaku Tower is said to be an imitation of the Eiffel Tower in Paris. It was demolished during World War II, but rebuilt in 1956 and restored as a symbol of Shinsekai. The current tower is 103 meters high and has an observatory on the 5th floor. Check out Jan-Jan Yokocho, a bustling shopping district full of restaurants and bars that stretches about 180 meters from north to south. The name "Jan-Jan" is derived from the jangling sounds of shamisen and taiko drums. It is in an alley that runs along one side of Shinsekai. This alley is home to Osaka's inexpensive B-class gourmet including kushikatsu (deep-fried skewers), yakiniku, sushi, standing izakaya and so on.
America Mura(アメリカ村)
America Mura (or American Village) is a cutting-edge fashion community filled with rare vintage clothing symbolic of American culture. America Mura is a center of youth culture in the Kansai region with over 2,500 shops, restaurants, bars, cafés, live music venues, clubs and more. In the early Showa era (1926-1989), this area was "Sumiya Machi" (literally charcoal shop town) filled with warehouses. In the 1970s, the surfing boom took place and second-hand clothes and jeans were sold in shops that were renovated from warehouses. This area became a place where people could immerse themselves in the culture of west coast America. The heart of America Mura is the Sankaku Park, a small triangular park, which is a common meeting place. There are a few popular takoyaki shops near the park.
Osaka Tenmangu Shrine(大阪天満宮)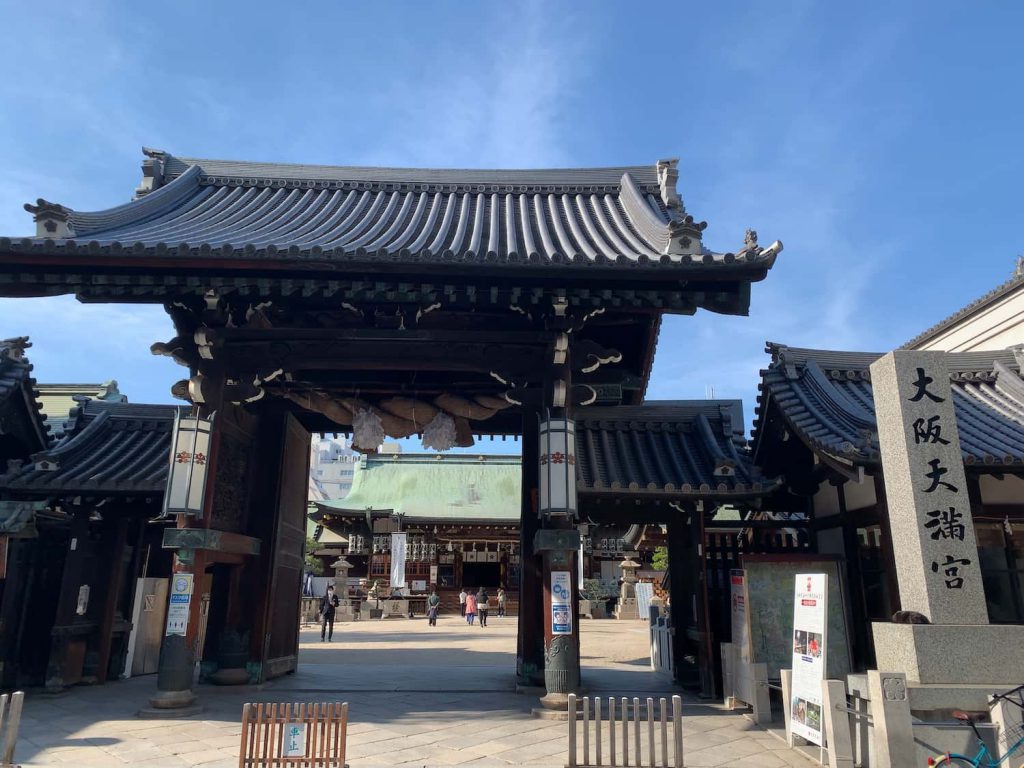 Osaka Tenmangu Shrine was founded by Emperor Murakami in 949. The shrine is devoted to the Shinto God of Learning; it enshrines Sugawara Michizane, one of the greatest scholars of the Heian Period (794-1185). The current main hall was rebuilt in 1843. Osaka Tenmangu Shrine was destroyed by fire seven times during the Edo period (1603-1868). The present main hall was rebuilt with the help of shrine parishioners, worshippers, and dedicated volunteers from all over Osaka. Osaka Tenmangu Shrine's Tenjin Festival, held every year on July 24-25, is famous as one of the three biggest festivals in Japan and one of the three biggest summer festivals in Osaka.
Skyscraper
Umeda Sky Building / Kuchu Teien Observatory(梅田スカイビル 空中庭園展望台)
Umeda Sky Building, a symbol of Osaka, consists of two 40-story towers that include offices, showrooms, event halls, an observatory, restaurants, shops, and a movie theater. A 173-meter-high Kuchu Teien (floating garden) Observatory connects the East and West Towers. Enjoy the best views of Osaka from the 360-degree observation deck. On a clear day, you might be able to see Awaji Island in the far distance.
Abeno Harukas(あべのハルカス)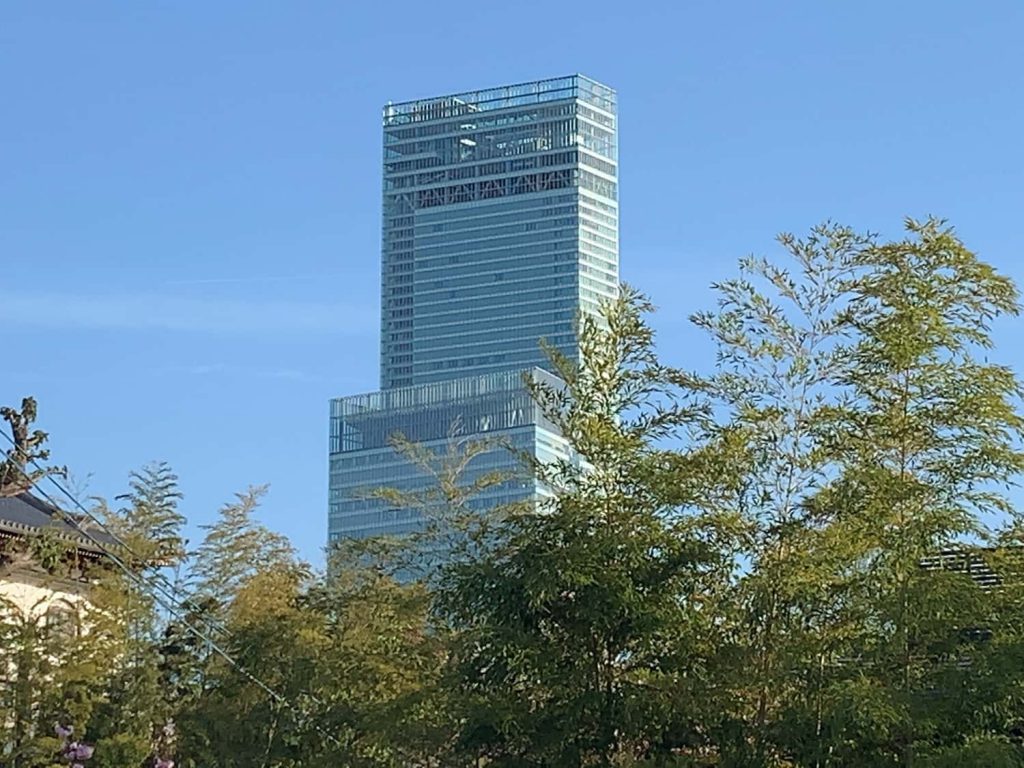 Abeno Harkus, towering 30 meters above ground and 62 stories high, is the tallest skyscraper in Osaka . This multi-purpose facility features Kintetsu Department Store with shopping and dining facilities (Tower Building: B2F-14F, Wing Building: B2F-9F), an art museum (16F), Osaka Marriott Miyako Hotel (19F-20F, 38F-55F, and 57F), and an observation deck called "Harukas 300" (58F-60F). This building was designed by Cesar Pelli, an American architect of Argentine origin. Mr. Pelli has also consulted on the National Museum of Art, Osaka. The observation deck is made up of floor to ceiling glass windows. The deck has an open-air terrace garden, souvenir shop, a restaurant and café. If the weather permits, the deck offers a magnificent 360-degree panorama of Kyoto, Kansai Airport, the Akashi Strait, Awaji Island, and Mount Ikoma. For an additional 500 yen, you can join a tour of the heliport on the roof of the building. "Edge the Harukas," a 60-centimeter wide and 20-meter-long deck at the top of the building, is for thriller-seekers brave enough to attempt the walk. For an extra 2,000 yen, you can continue along the edge of a 300-meter cliff while enjoying, if that is the right word, unobstructed views of Osaka. Fear not for you will be attached by a safety harness as you journey along this deck. If you are looking for other attractions near Abeno Harukas, we recommend you visit the Osaka Tennoji Zoo, home to over 1,000 animals of about 200 different species.
Shopping
Osaka Station City(大阪ステーションシティ)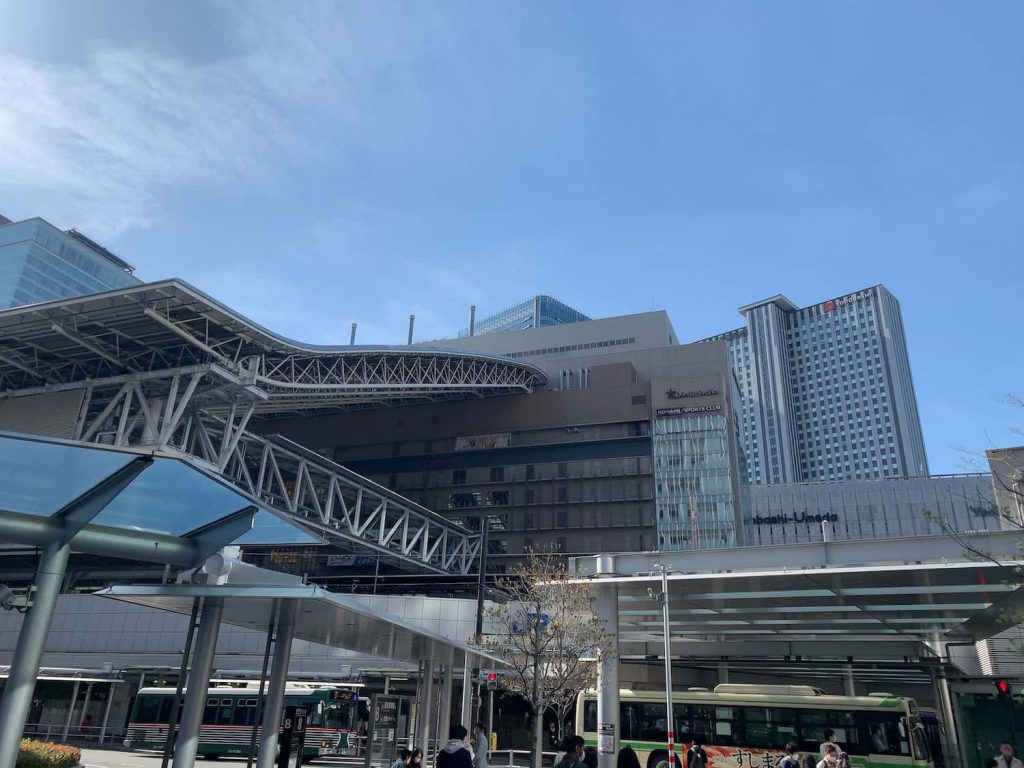 Opened in 2011, Osaka Station City is a domed-shaped roof spreading over JR Osaka Station. The roof connects the North and South buildings; the North Gate Building housing LUCUA shopping mall and cinema; and the South Gate Building that features Daimaru, a department store, and Hotel Granvia Osaka operated by JR West Hotels. There are 10 plazas within the complex where people can take a break from shopping.
Official Website: https://osakastationcity.com
Grand Front Osaka(グランフロント大阪)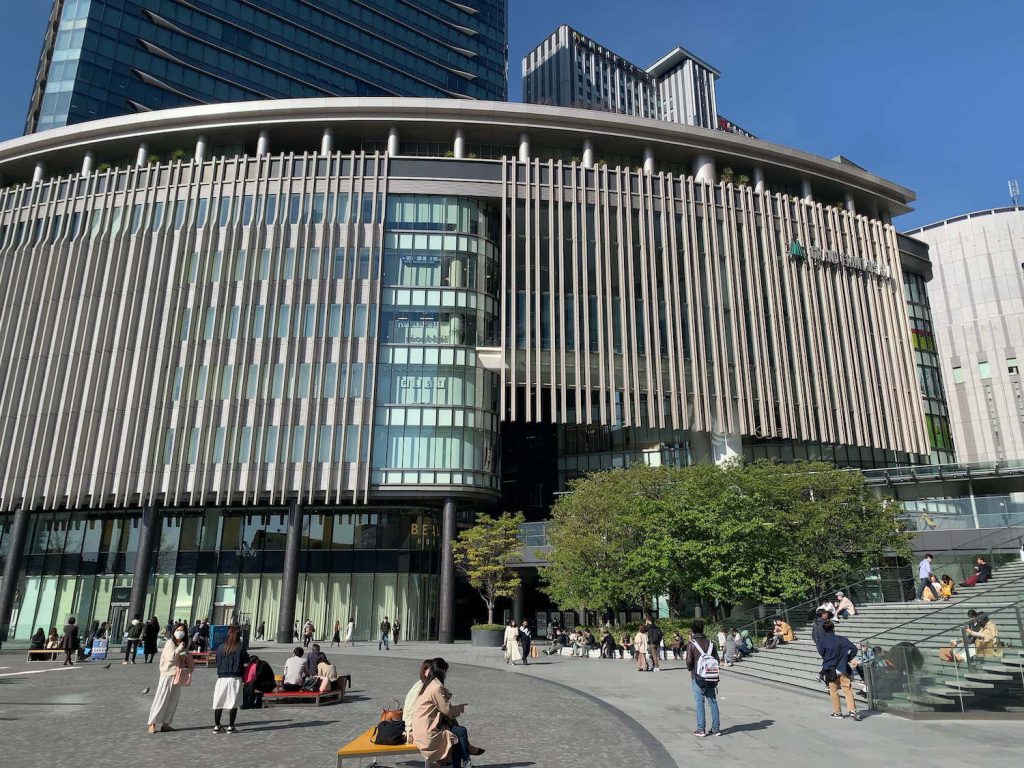 Grand Front Osaka is a mixed-use facility completed in 2013 through the redevelopment of the area called "Umekita" (Umeda Kita Yard) to the north of JR Osaka Station. The building accommodates office floors, retail facilities and restaurant floors with over 270 establishments. Umekita Plaza and South Building are connected to JR Osaka Station by pedestrian decks.
Museum
The National Museum of Art, Osaka(国立国際美術館)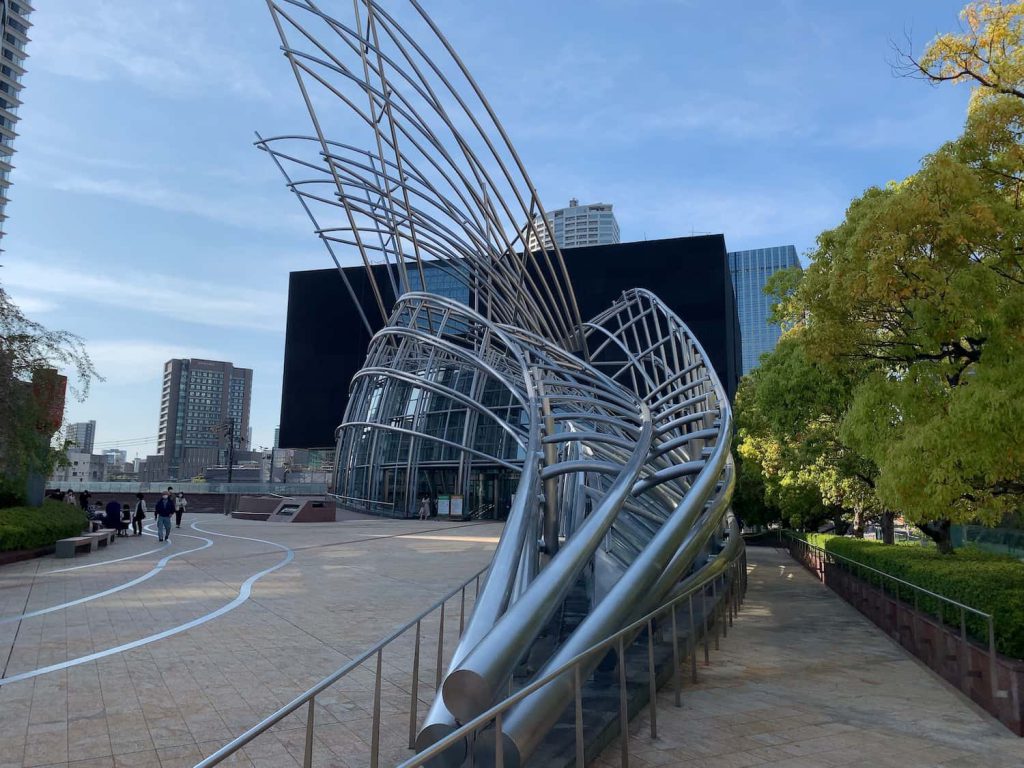 The National Museum of Art, Osaka is a rare underground museum housing a large collection of post-war contemporary art works from Japan and abroad. The unique curved steel extending above the building evokes the vitality and strength of bamboo. The museum was designed by Cesar Pelli, an American architect of Argentine origin. All the art works are from the post-war period, with the exception of works by Picasso, Cézanne, Tsuguharu Fujita, Yasuo Kuniyoshi and a few others.
Osaka Science Museum(大阪市立科学館)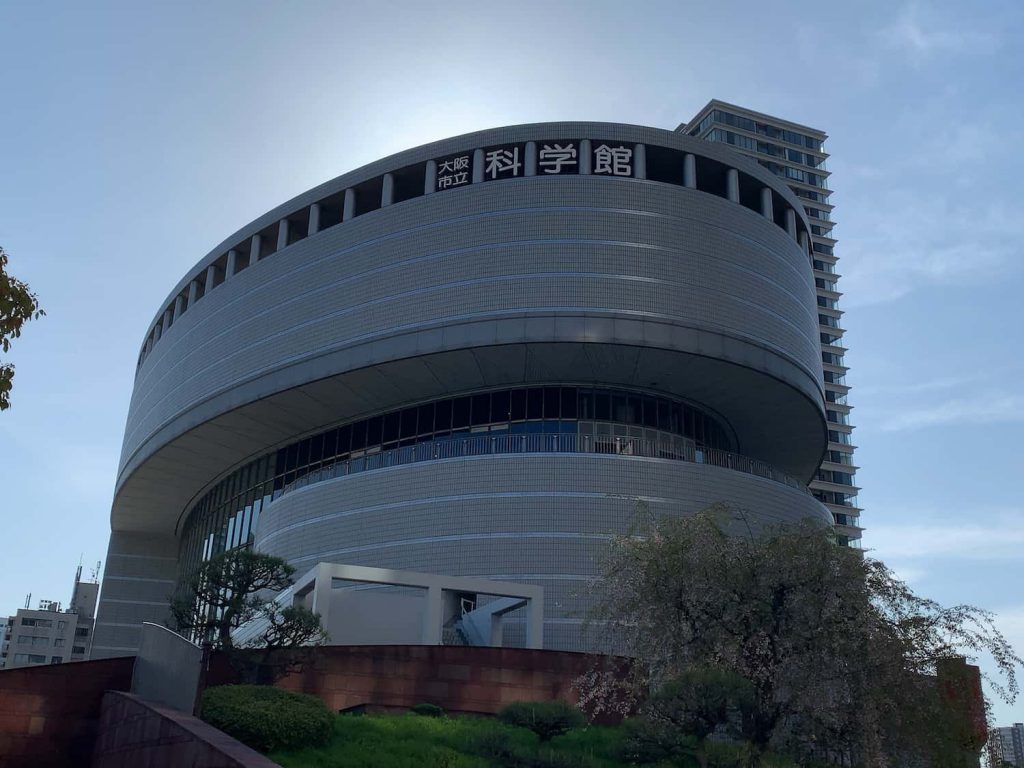 Osaka Science Museum is an interactive educational facility dedicated to space and energy. The museum features a planetarium, themed exhibition hall and live science shows. The planetarium's main dome has a diameter of 26.5 meters making it Japan's largest dome. In it, you can enjoy live commentary and explore the star-filled night sky. The various floors in the exhibition hall introduce a variety of themes: history of science, space, chemistry, electricity and energy. Don't miss the live science show where experiments are performed in front of you.
Osaka Museum of Housing and Living(大阪くらしの今昔館)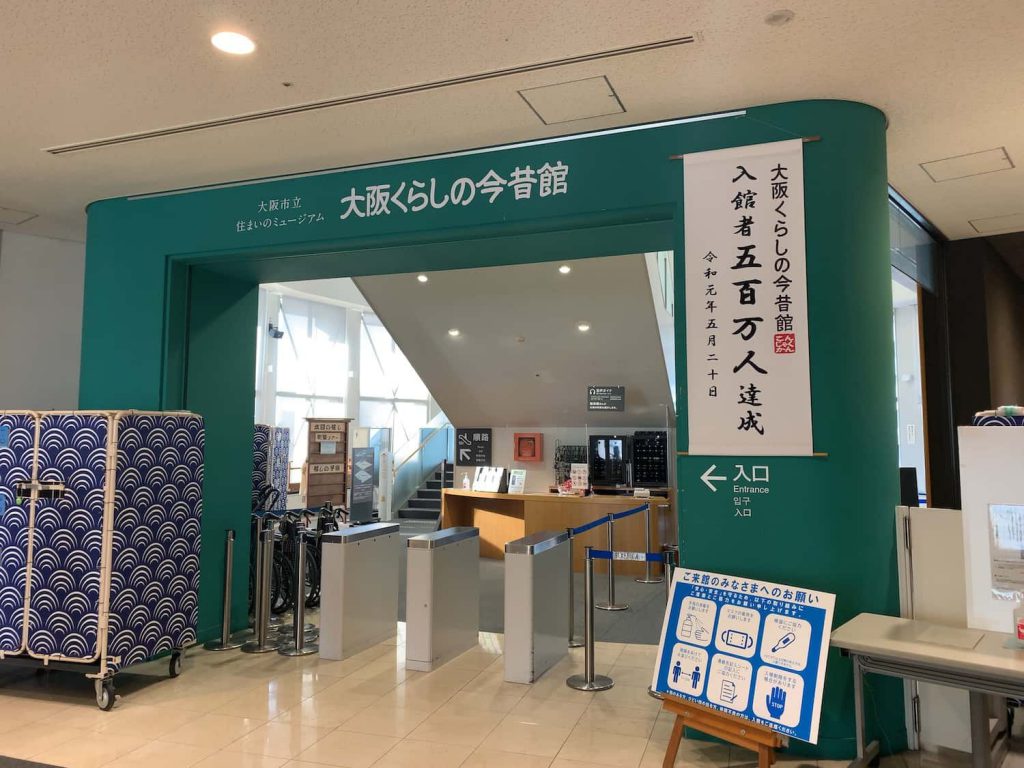 Osaka Museum of Housing and Living (Kurashi no Konjakukan) is the first museum in Japan designed to allow visitors to experience a lifestyle of the past. The museum recreates the streets of Osaka in the late Edo period (1603-1868). It is a full-scale reproduction of a townscape. Most of the houses on display are machiya (traditional wooden townhouses). Unlike the bushi (samurai) and daimyo (feudal lords) or the period, you can experience the lifestyle of ordinary people. You can participate in nostalgic picture-stories, a Nankin Tamasudare show (traditional Japanese street performance), and old-time games such as otedama (beanbags) and origami (Japanese art of paper folding).
Entertainment
HEP FIVE(ヘップファイブ)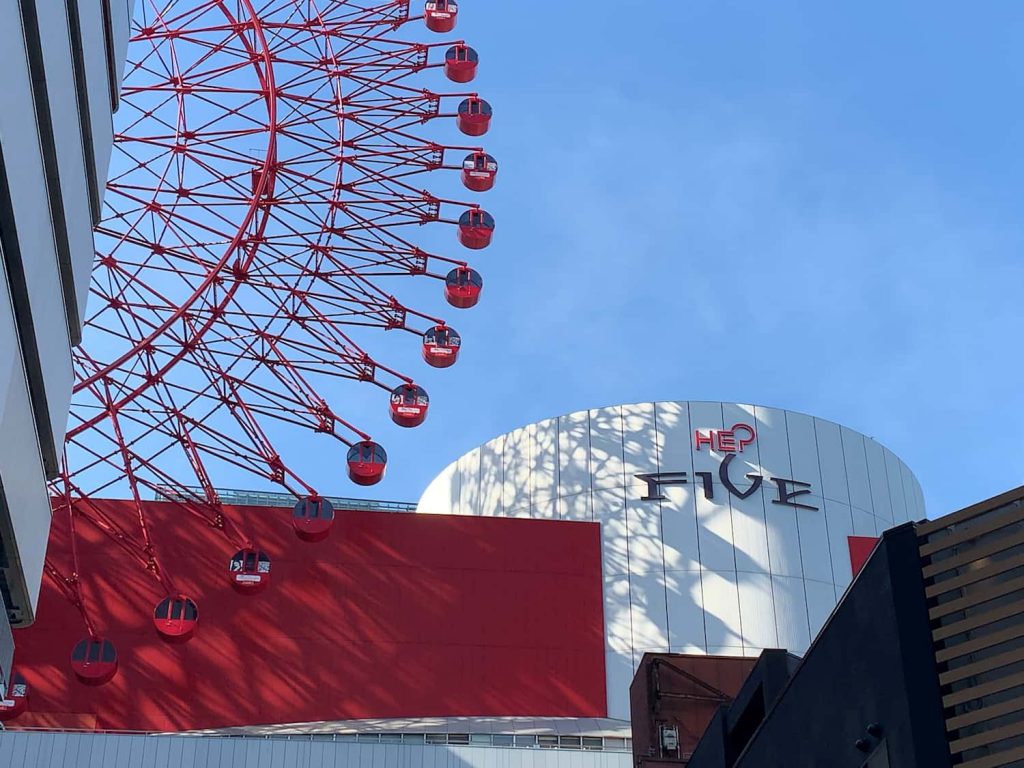 HEP FIVE, one of Umeda's landmarks, is a commercial complex specializing in fashion for youth. There are more than 170 stores including various clothing stores and restaurants. The name "HEP" stands for Hankyu Entertainment Park. The Ferris wheel attached to its roof is the world's first building-integrated Ferris wheel that partially passes through the facility. You can board the Ferris Wheel from the 7th floor. A 75-meter-wide Ferris Wheel reaches the highest point of 106 meters above ground. Inside the Ferris wheel, there are pictures of recommended viewing spots. On a clear day, you can see all the way to Mount Ikoma and the Akashi Strait. At night, you can enjoy the glittering neon night view of skyscrapers.
Universal Studios Japan(ユニバーサル・スタジオ・ジャパン)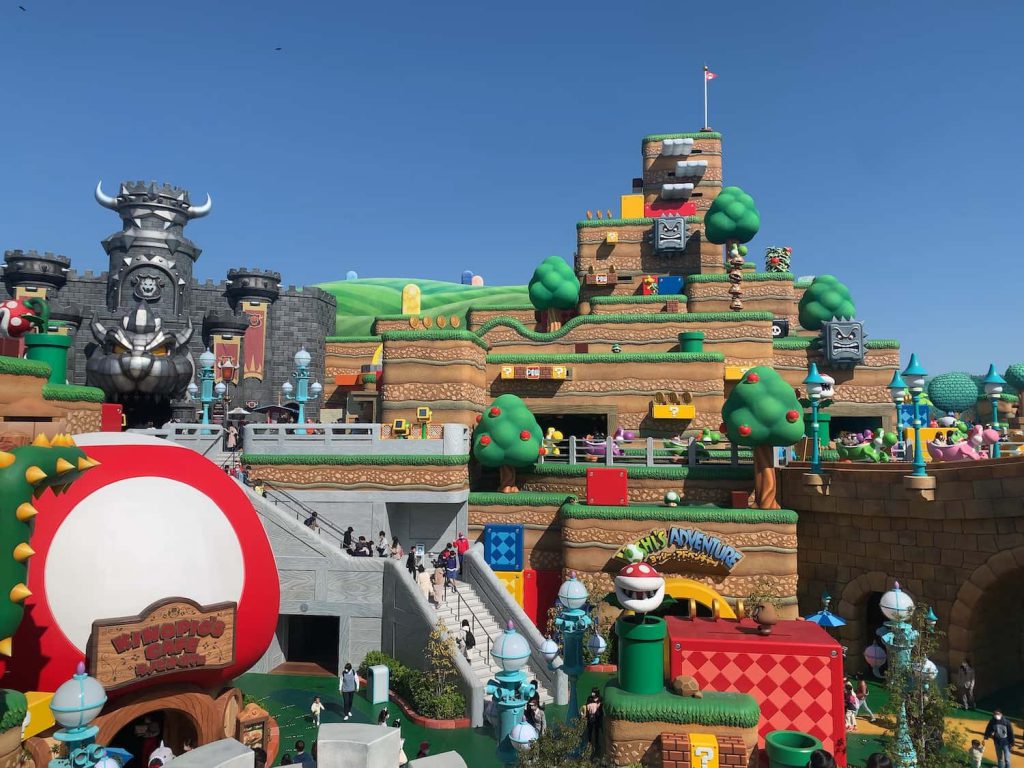 Universal Studios Japan (USJ) is a major landmark of Osaka. This is the third theme park in the world to be created by Universal Studios and the first to be developed outside of the United States. It was opened by localizing some of the popular attractions from the two Universal Studios in the US, such as Jurassic Park, Jaws, and Back to the Future. Adults and children alike can enjoy the attractions of Hollywood blockbusters and parades featuring characters such as the Minions, Snoopy, and Sesame Street. Some of the popular rides are Hollywood Dream/Backdrop, The Flying Dinosaur, Despicable Me Minion Mayhem, and, more recently, Harry Potter and the Forbidden journey.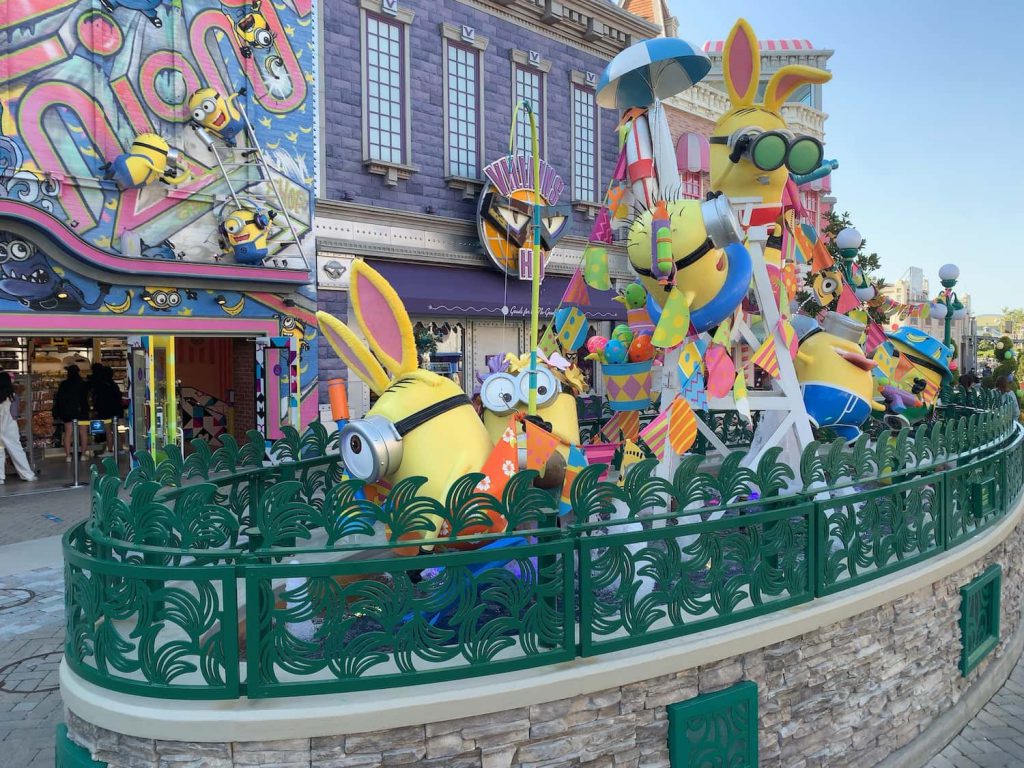 Osaka Aquarium Kaiyukan(海遊館)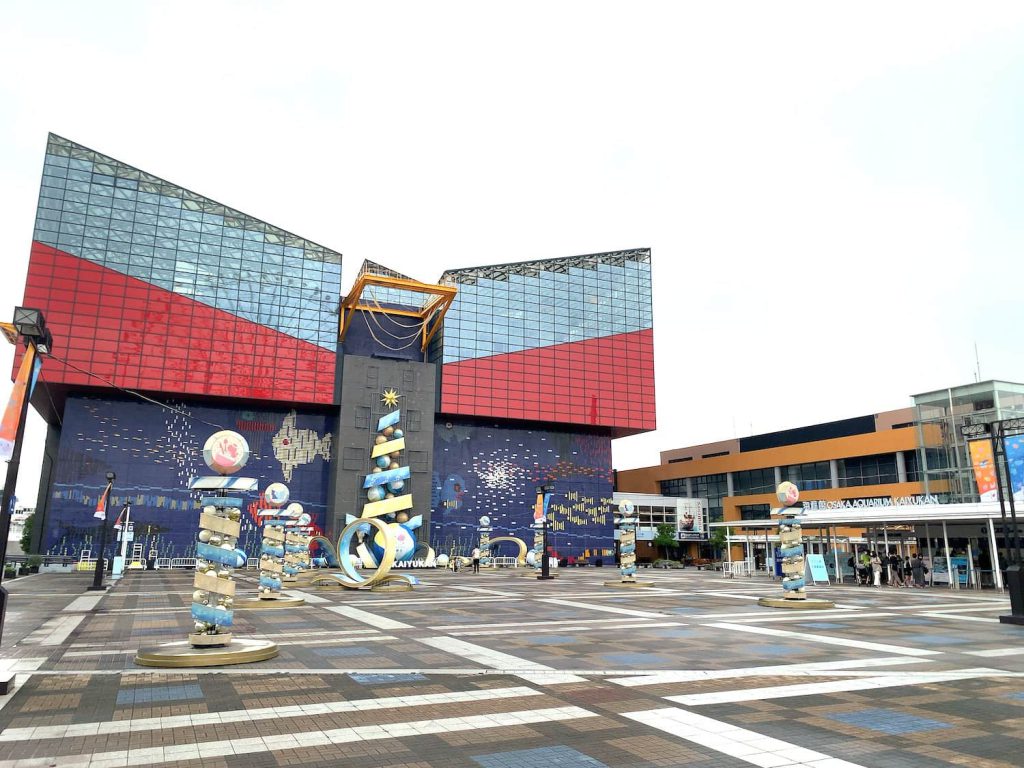 Kaiyukan is one of the largest aquariums in the world located in the Tempozan Harbor Village complex in the Osaka Bay area. The museum consists of 14 exhibition tanks which replicate marine life across the Pacific Rim. There is a large collection of 30,000 aquatic animals of about 620 different species. The tour starts as you walk through the underwater tunnel-shaped tank, the Aqua Gate, with an array of tropical fishes. Star attractions in the aquarium are: a Pacific Ocean tank containing whale sharks and Jellyfish Galaxy which showcases glowing jellyfish drifting through dark water. The Interactive Exhibit area offers visitors the opportunity to experience the temperatures, hear the sounds, and smell the marine animals up close. Tempozan Ferris Wheel, one of the world's largest Ferris Wheels with a height of 112.5 meters and diameter of 100 meters, is located nearby.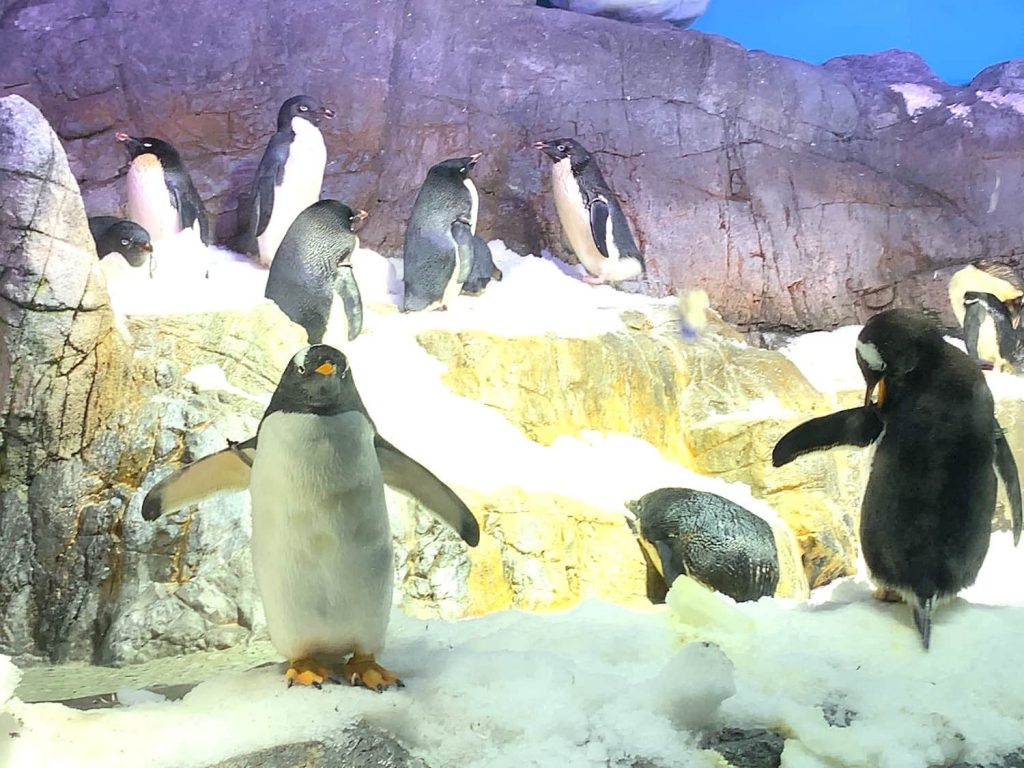 Spa World(スパワールド世界の大温泉)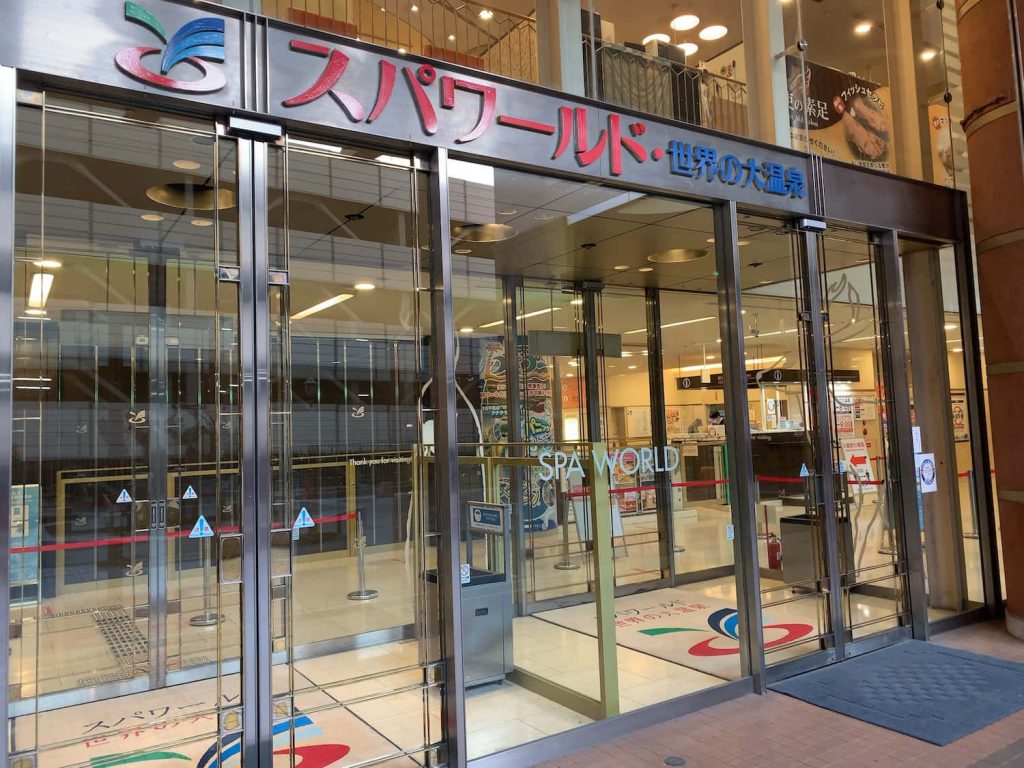 Spa World is a 24-hour spa complex that exhibits bathing customs of various countries around the world. The feature theme park is equipped with indoor and outdoor hot spring baths, stone saunas, swimming pool with slides, a sports gym, play area for children, arcades, massage parlors, souvenir shops, restaurants, and a hotel. Hot spring baths are divided into a "European Zone" and an "Asian Zone," separated by gender, and gender-assigned switches over each month. You can choose to spend a night in a hotel room with a view of Tsutenkaku Tower visible from any room. Tsutenkaku Tower, a prominent landmark in the Shinsekai (new world) district of Osaka is nearby.
Park
Osaka Castle Park(大阪城公園)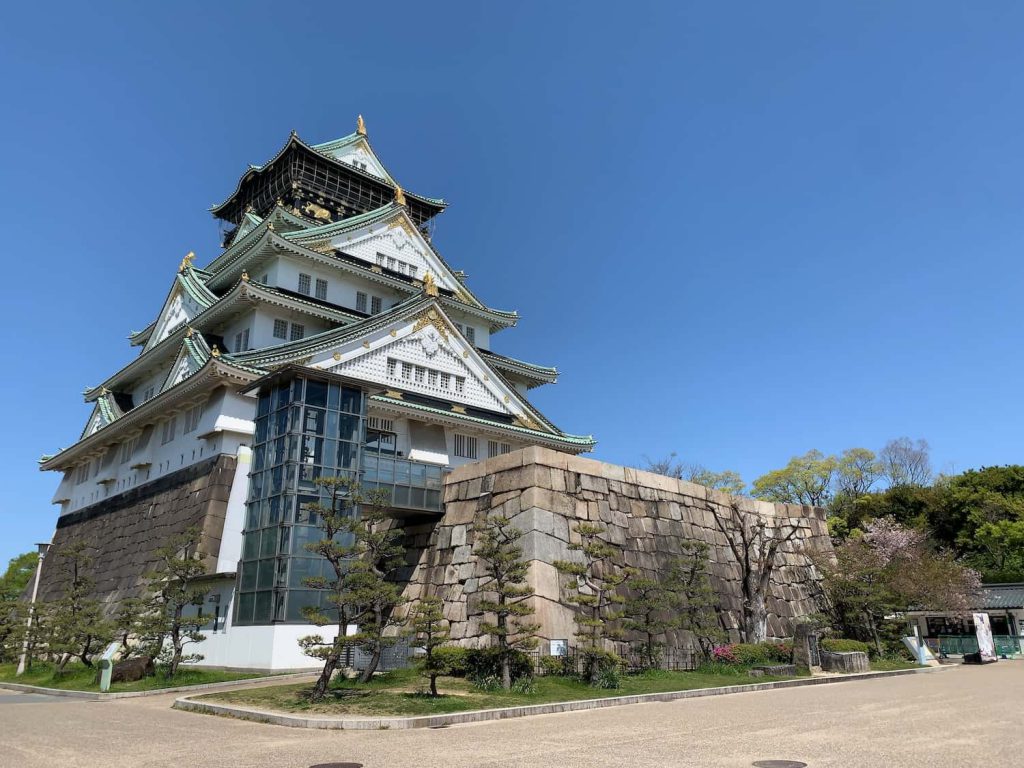 Osaka Castle Park, located in the center of Osaka, is a vast park with an area of about 105.6 hectares. At the center is the Osaka Castle built in 1583 by Toyotomi Hideyoshi, a feudal lord in the late Sengoku Period (1467-1615; aka Warring States Period). The castle was burned down twice: once in 1615 with the destruction of the Toyotomi clan and, in 1665, by lightening. The present reconstruction dates to 1931. It was financed with the donations of citizens. The castle is 55 meters high with eight floors above ground. The interior currently operates as a historical museum. The park has many attractions such as the Nishinomaru Garden (a famous cherry blossom viewing spot in spring), Osaka Geihinkan (a former Guest House), and a Music Hall.
Food & Drink
Kuromon Market(黒門市場)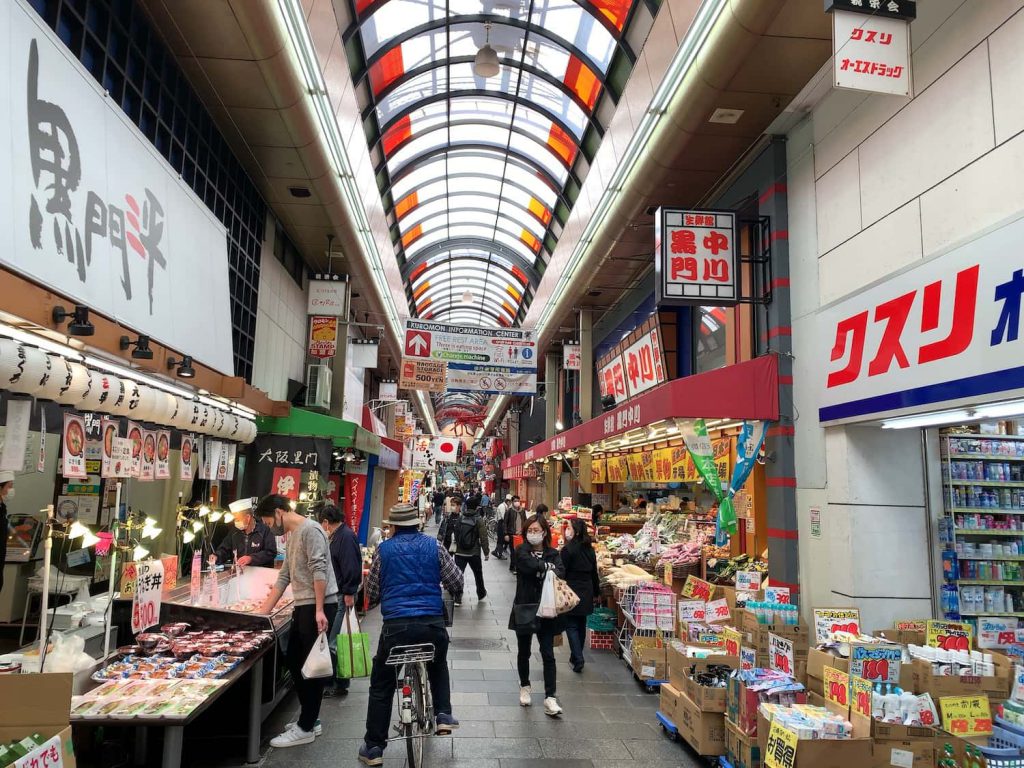 Kuromon Market, commonly referred to as "the kitchen of Osaka," is a long, narrow, and lively food alley that sells fresh seafood and local produce. There are over 150 shops in an arcade that stretches for about 580 meters. The boisterous shouting of Osaka merchants echoes through the arcade. Locals and professional chefs alike come to stock up on ingredients. There are many eat-in restaurants as well as shops that serve food on eat-and-go skewers. Many foodies in search of the finest tuna, puffer fish, sea urchin and shellfish, flock to the market to taste the local flavors. Enjoy exploring!
Tenjinbashi-Susji Shopping Street(天神橋筋商店街)
The Tenjinbashi-suji Shopping Street, stretching about 2.6 kilometers, is the longest shopping arcade in Japan. The area flourished as a monzen-machi (temple town) thanks to its proximity to Osaka Temmangu Shrine. In the early Edo period (1603-1868), the area prospered as a fruits and vegetables market targeting visitors to the shrine. The street, which runs vertically from Tenjinbashi 1-Chome to 7-Chome, is lined with about 600 shops featuring home appliances, clothing, restaurants, food stalls and so on. Osaka Museum of Housing and Living (Kurashi no Konjakukan), a popular store where you can try on a kimono, is located along this shopping street.
Address: Tenjinbashi, Kita-ku, Osaka
Hozenji Yokocho(法善寺横丁)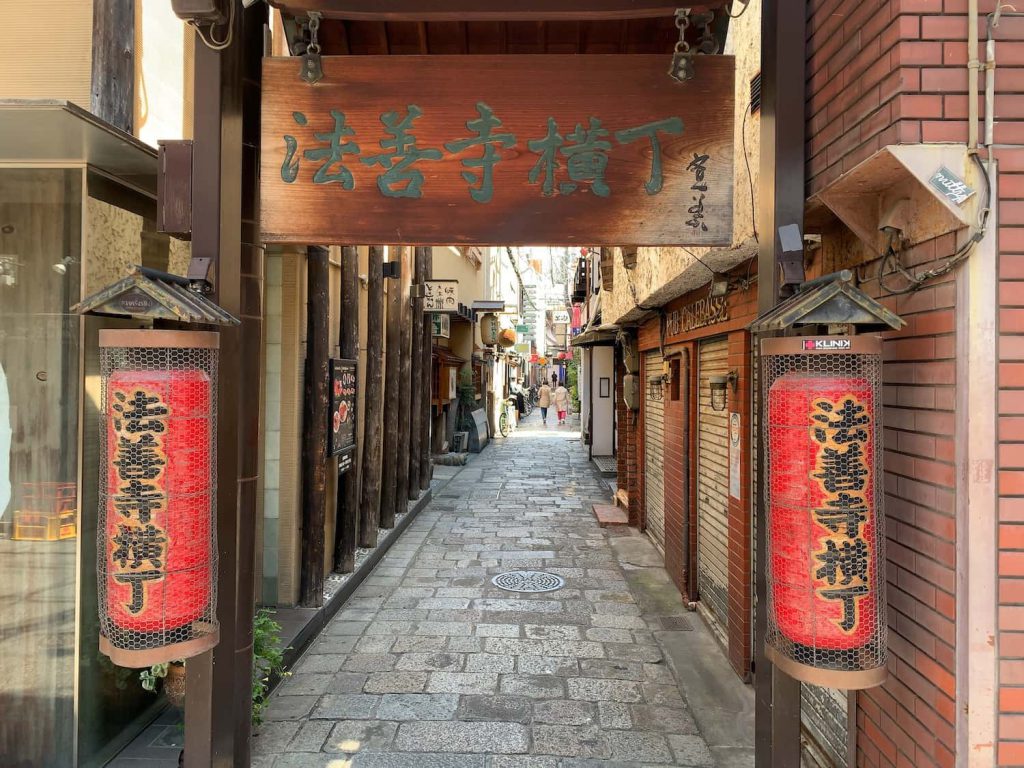 Located within the precincts of Hozenji Temple one finds two stone-paved alleys of 80 meters long and 3 meters wide that stretch from east to west. Both sides of the alleyways are lined with long-established bars and restaurants. Eating establishments include kappo restaurants, okonomiyaki restaurants, and kushikatsu (deep-fried skewers) restaurants. This area encompassing the walkways is the popular venue known as Hozenji Yokocho.
In contrast to the nearby bustling Dotonbori Shopping Street, Hozenji Yokocho is a quiet and atmospheric place. The area originated in the Edo period (1603-1868) as a magnet for visitors to Hozenji Temple as well as people heading to the nearby playhouse. Don't miss Ukiyo Koji, a narrow and elongated alleyway tucked away in Dotonbori Shopping Street. It is a quaint walkway only about 1 meter wide and lined with red lanterns and displays recreating Osaka from the Taisho era (1912-1926) to the early Showa era (1926-1989).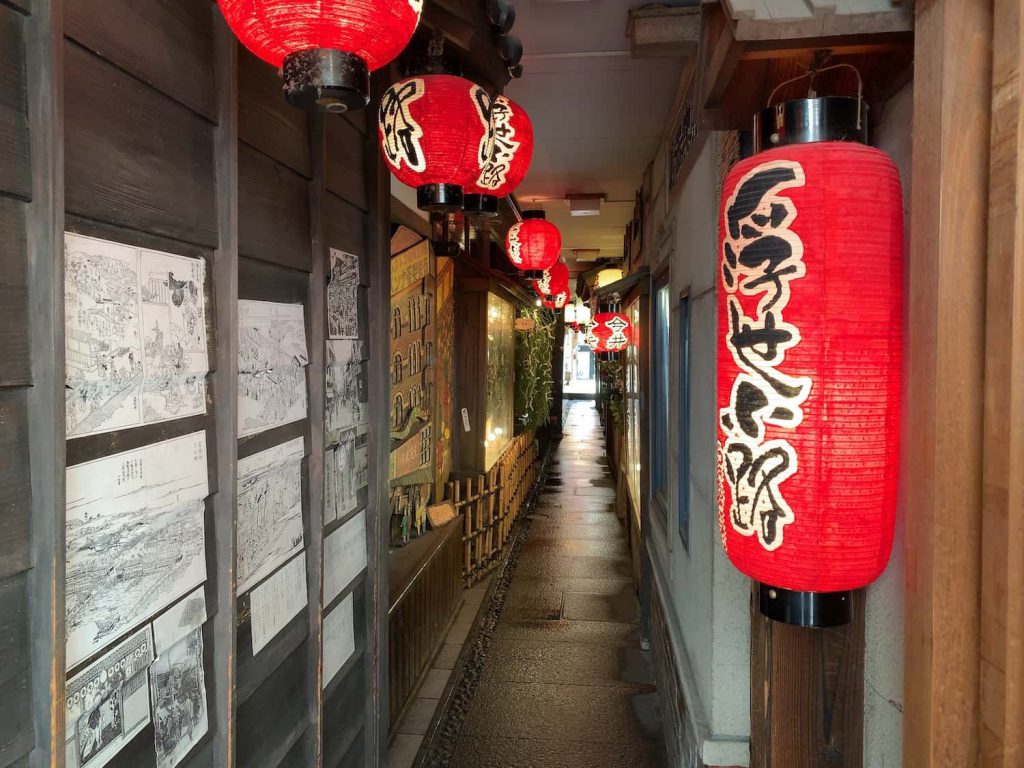 Address: Around 1-Chome Namba, Chuo-ku, Osaka