Akihabara, renowned as "Electric Town," has evolved from being an electrical hub into the epicenter of Tokyo's anime culture. Explore this unique realm where modern neon lights harmonize with nostalgic treasures. Akihabara's bustling streets are adorned with anime shops that entice you into a world of passion and imagination.
Akihabara's history as a hub for electrical goods, dating back to the postwar black market, gave birth to its "Electric Town" moniker. It evolved alongside Japan's economic growth, transitioning from household appliances to specialized gadgets. Recent years have witnessed a surge in demand for anime and video game merchandise, thus transforming Akihabara into a sanctuary for enthusiasts of geek culture.
As you wander through Akihabara's streets, you'll encounter iconic manga and anime characters brought to life, and be charmed by young girls donning kawaii costumes. Amidst the lively stores that were once dedicated to electronics, you'll uncover maid and idol cafes. Akihabara's fusion of tradition and innovation, past and present, creates an expansive landscape where dreams and reality seamlessly intertwine.
In this article, Dishes Japan introduces the top attractions that Akihabara has to offer.
Akihabara Electric Town(秋葉原電気街)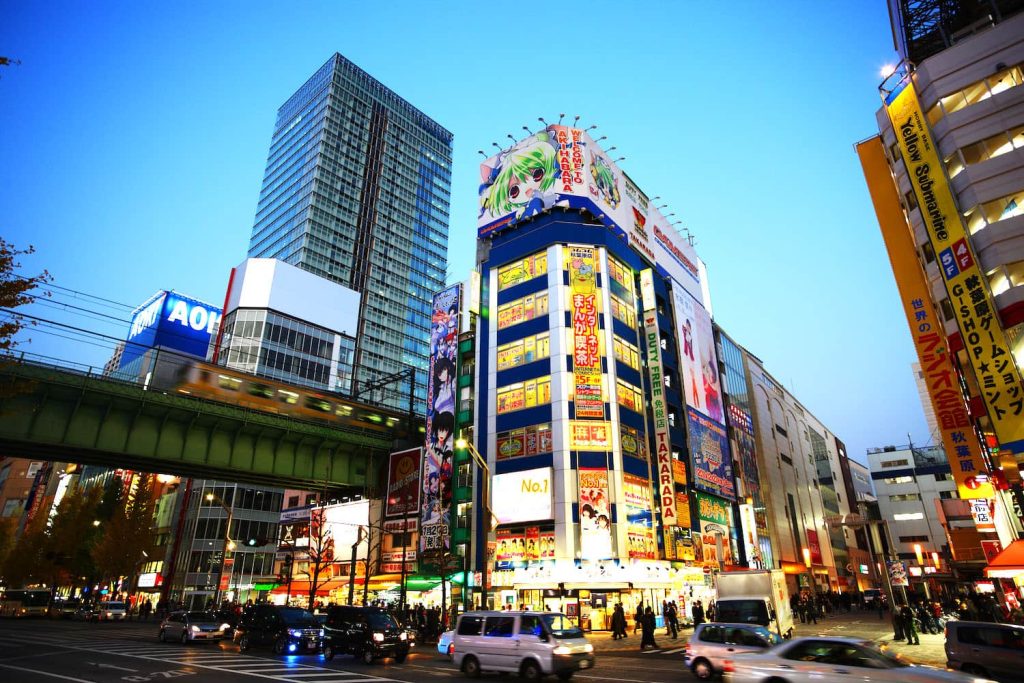 Nestled within Tokyo's Chiyoda ward, Akihabara Electric Town stands as a captivating hub for tech enthusiasts. Boasting approximately 600 establishments clustered around Akihabara Station, this locale offers a vast array of products, ranging from personal computers and audio gear to gaming treasures, anime collectibles, and figurines.
Today, it has risen to become a premier destination for tourists and enthusiasts from around the globe. Akihabara Electric Town not only showcases the latest in electronics but also immerses visitors in a vibrant tapestry of hobbies and cultures.
Whether you identify as an otaku or simply as a tech enthusiast, Akihabara, often affectionately referred to as "Akiba," serves as Tokyo's epicenter for technology, pop culture, and otaku fandom. It boasts a fascinating blend of history, technology, and pop culture, with neon signs, colorful billboards, and massive screens adorning its densely packed buildings.
What truly sets Akihabara apart is its diverse offerings, encompassing plastic anime models, games, figurines, model trains, and computer parts. Additionally, it's home to renowned maid cafes, where waitresses dress as maids or anime characters, as well as manga cafes where you can enjoy comics and videos.
Beyond its sheer entertainment value, Akihabara plays a vital role in Japanese culture, exerting influence over fashion, art, music, language, and tourism. It stands as a symbol of Japan's technological innovation and creativity.
Yodobashi Camera Multimedia Akiba(ヨドバシカメラAkiba)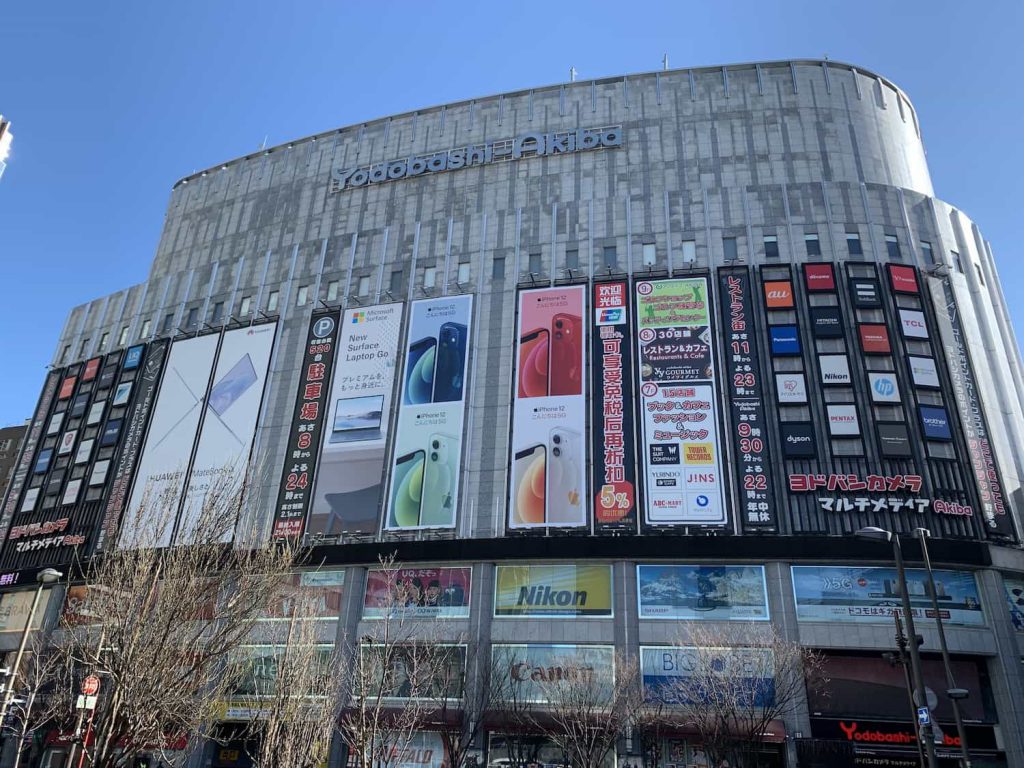 In the heart of Akihabara, where the pulse of technology beats the strongest, Yodobashi Camera Akiba stands as an expansive haven for electronics aficionados. This towering technological marvel beckons with unmatched accessibility, a mere one-minute saunter from the bustling JR Yamanote Line and Akihabara Station.
Considered the flagship store of Japan's leading electronics retailer, Yodobashi Camera, this Akiba branch is a true gem, boasting nine of the largest sales floors in the country. Step inside, and you'll discover a world of wonder spanning nine stories, each dedicated to a unique realm of tech and entertainment.
Ground Floor: Photography Paradise The journey begins on the ground floor, a paradise for photography enthusiasts. Here, a vast collection of cameras and lenses awaits, promising to capture every moment in perfect detail.
Second Floor: Cutting-Edge IT Hub Ascend to the second floor, where a treasure trove of cutting-edge information technology beckons. Explore personal computers, tablets, and smartphones that redefine the boundaries of innovation.
Third Level: Audio-Visual Delights The third level immerses you in a world of audio-visual delights. Dive into a sea of televisions, sound systems, and gaming gear that will elevate your entertainment experience.
Fourth Floor: Home Essentials and More On the fourth floor, discover household electronics, culinary essentials, and an array of beauty and wellness products. Everything you need for a modern, well-rounded lifestyle is here.
Fifth Floor: Wonderland of Sundries Journey to the fifth floor, a wonderland of sundries. Explore timepieces, jewelry, stationery, and a plethora of hobbyist treasures that cater to your every whim.
Sixth Floor: Entertainment Extravaganza Entertainment seekers will find their haven on the sixth floor. Dive into an assortment of books, CDs, DVDs, and musical instruments that will keep you entertained for hours.
Seventh Floor: Fashion and Beauty Fashion enthusiasts can indulge on the seventh floor, where a spectrum of garments, from suits to casual wear, awaits. Accessories, beauty salons, and nail parlors add a touch of luxury to your shopping experience.
Eighth Floor: Culinary Adventure As you ascend to the eighth floor, embark on a culinary adventure. Diverse dining options span Japanese, Western, Chinese, and café-style cuisines, ensuring a satisfying refueling stop.
Ninth Floor: Sports Enthusiast's Paradise Finally, the ninth floor caters to sports enthusiasts, featuring a golf shop, practice range, batting center, and an array of athletic facilities that will keep your competitive spirit alive.
Yodobashi Camera Akiba is not just a store; it's a journey through the realms of technology and leisure, an experience that transcends traditional shopping. Whether you're a tech enthusiast, a fashionista, or a sports lover, this iconic store promises a day of exploration and discovery like no other.
Kanda Myojin Shrine(神田明神)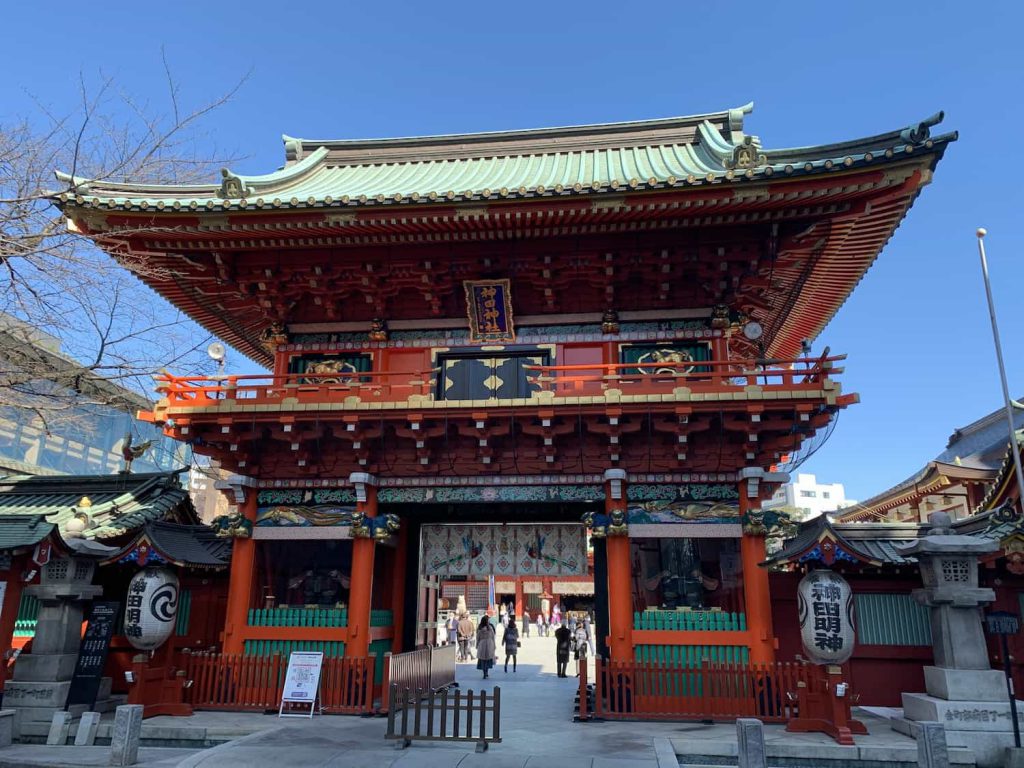 Kanda Myojin Shrine skillfully blends tradition with modern Japanese culture. This ancient Shinto sanctuary, established in 730 CE, reveres three deities: Daikokuten, the god of wealth; Ebisu, protector of fisheries and businesses; and Taira no Masakado, a 10th-century samurai deified in history.
More than just a place of worship, Kanda Myojin exerts a magnetic pull on anime and manga enthusiasts. Nestled near Akihabara, the epicenter of otaku culture, it harmonizes tradition with technology. Here, you can explore charms and wooden plaques adorned with anime characters and partake in video game and animation events.
The apex of the shrine's charm is Kanda Matsuri, Tokyo's legendary festival, celebrated in mid-May every odd-numbered year. This spectacular event sees over 200 mikoshi (portable shrines) parading through Tokyo's streets, with participants bedecked in vibrant costumes.
Kanda Myojin Shrine opens its doors to those seeking prosperity, fortune, and love. It's a place where age-old traditions intertwine with contemporary pop culture, promising a unique journey through Japan's diverse heritage. To learn more, visit the shrine's official website and embark on a captivating journey where the past and present converge, revealing the extraordinary.
Akihabara Radio Kaikan(秋葉原ラジオ会館)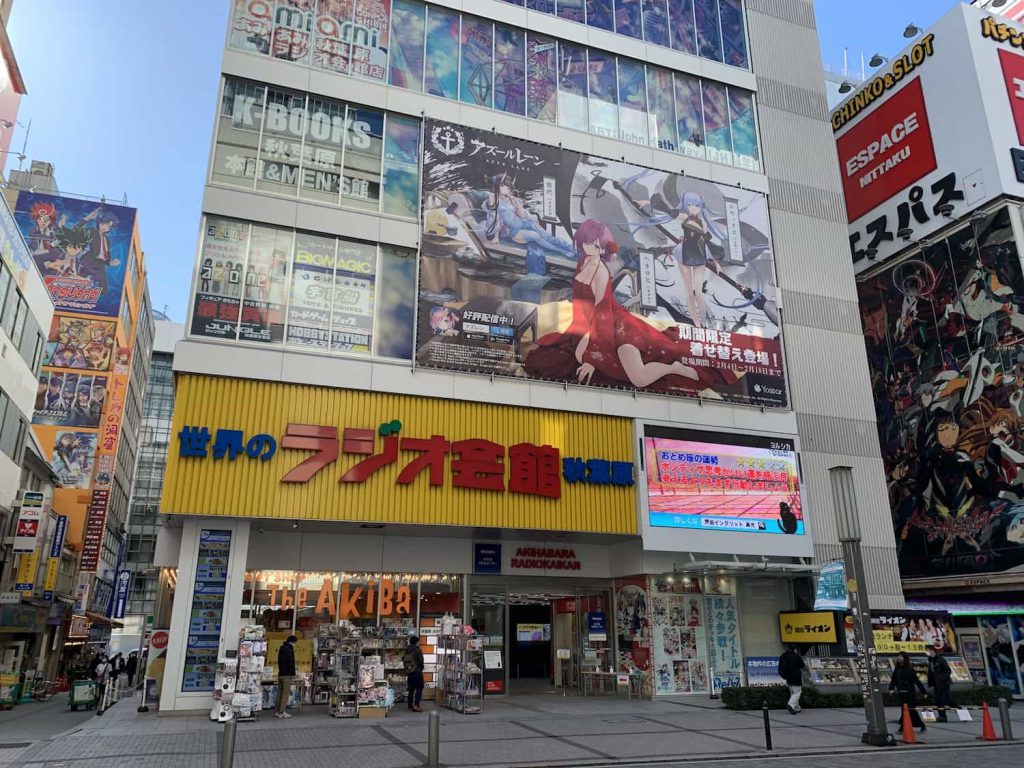 Akihabara Radio Hall stands as a thriving commercial hub steeped in history. This iconic structure has been a prominent fixture in Akihabara since its inception in 1949, initially serving as a specialized marketplace for radio components. However, over the years, it has undergone a remarkable transformation, evolving far beyond its modest beginnings.
In its early years, Akihabara Radio Hall was renowned for its radio components, yet its allure extended much further. This bustling marketplace swiftly earned recognition as the go-to destination for all things electronic, becoming a sanctuary for personal computer enthusiasts and a cultural epicenter for anime and gaming aficionados.
Fast forward to 2011, and the original structure underwent a significant makeover. The old gave way to the new, culminating in the completion of a modern edifice in 2014. Today, Akihabara Radio Hall proudly stands with ten stories of excitement and diversity.
Step inside, and you'll uncover a realm of boutiques, each offering a distinctive array of treasures across various categories. Whether your interests lie in collectible cards, literature, figurines, dolls, eyewear, or even horological items, this place has something to captivate your imagination.
Yet, there's more to Akihabara Radio Hall than just shopping. Perched atop its roof, you'll encounter the "AKIBA Cultures ZONE," an event space that pays homage to the subculture phenomena for which Akihabara is renowned. It's a gathering place for enthusiasts to celebrate their passions, making it an essential destination for anyone exploring the vibrant Akihabara district in Tokyo.
Akihabara Gachapon Kaikan(秋葉原ガチャポン会館)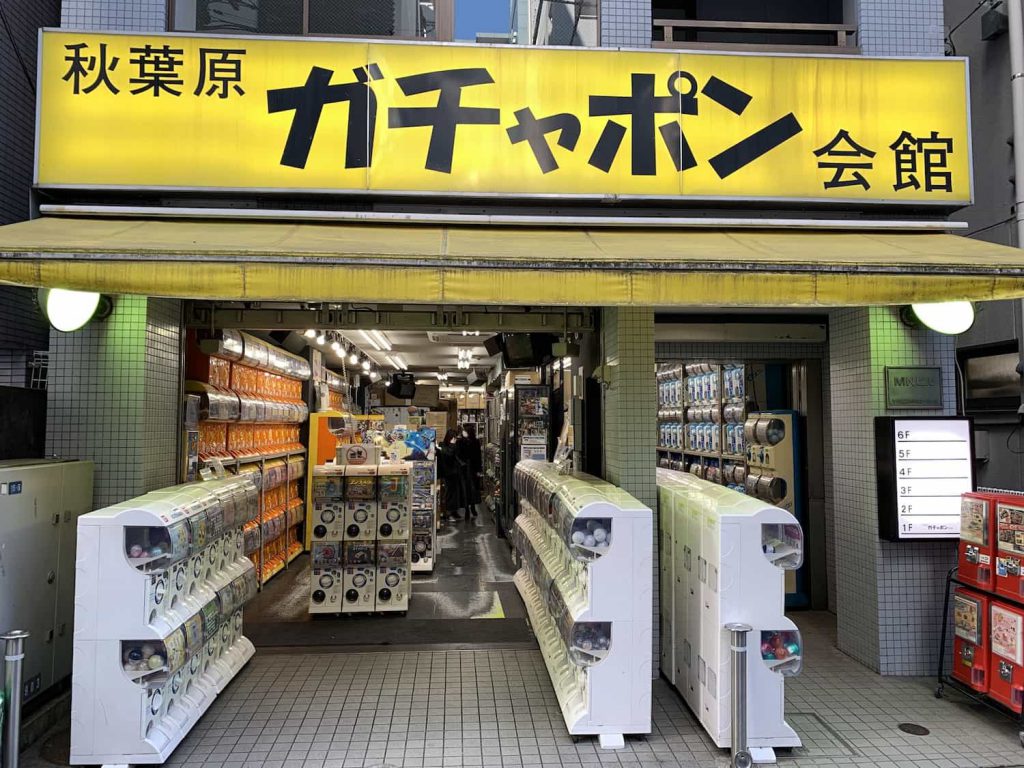 Akihabara Gachapon Hall stands out as an enchanting sanctuary dedicated to the captivating world of Gachapon. Within these walls, an enthralling assembly of nearly 500 Gachapon machines eagerly awaits, presenting a diverse tapestry of figurines and curiosities across various genres. What truly astonishes is the monthly introduction of approximately 50 fresh titles, ensuring a continually evolving spectacle.
Conveniently situated, this emporium beckons with just a seven-minute leisurely walk from JR Akihabara Station or a brief two-minute stroll from Suehirocho Station on the Ginza Line. Operating hours gracefully extend from 11:00 to 20:00 on weekdays, stretching to 11:00 to 22:00 on Fridays, Saturdays, and the eve of public holidays, and concluding at 11:00 to 19:00 on Sundays and public holidays. Solely New Year's Day marks its quiet closure.
This hall serves as an irresistible pilgrimage destination for ardent Gachapon enthusiasts, casting its spell far and wide, drawing devotees from both domestic and international realms. Its Gachapon offerings transcend traditional boundaries, not only featuring characters from the realms of anime and gaming but also venturing into the domains of fauna, gastronomy, celebrities, and statesmen. Amidst this treasure trove, rarities and cherished gems await discovery.
Furthermore, Akihabara Gachapon Hall extends a unique privilege to its patrons, allowing them to trade the Gachapon they've acquired through their own efforts. Tucked away in the establishment's rear, a rental space facilitates exchanges among collectors, nurturing camaraderie and securing coveted items at a more modest cost.
Akihabara Gachapon Hall, an unassailable utopia for Gachapon aficionados, promises an immersive experience capable of temporarily detaching visitors from the relentless march of time through its enchanting offerings.
mAAch ecute Kanda Manseibashi(マーチエキュート 神田万世橋)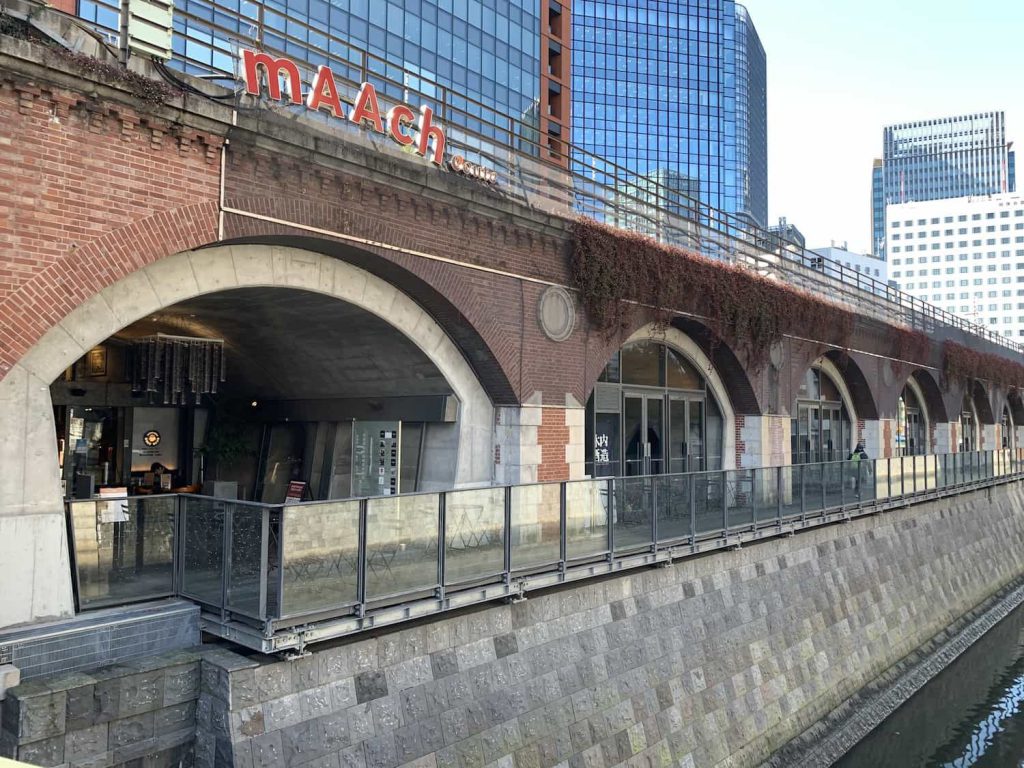 mAAch ecute Kanda Manseibashi, overseen by JR East Station Retailing, stands as a vibrant commercial hub, boasting an eclectic ensemble of restaurants, cafes, a craft beer emporium, and a diverse collection of boutique establishments.
What truly distinguishes this locale is its illustrious history, having served as both the inaugural and ultimate terminus of the Chuo Line since its inception in 1912. Although the station ceased operations in 1943, this architectural marvel endured the test of time and, in September 2013, experienced a remarkable renaissance, encapsulating nearly a century of history.
Meticulous preservation efforts have safeguarded the original brick viaduct's resplendent arches, which now serenely overlook the tranquil Kanda River. Furthermore, the rooftop, once a bustling platform, has been ingeniously transformed into a glass-walled observatory, offering a unique vantage point to savor organic coffee or craft beer while immersing oneself in the enchanting surroundings.
For enthusiasts of trains and art alike, this represents an inimitable sanctuary where history and modernity seamlessly converge.
AKB Theater(AKB劇場)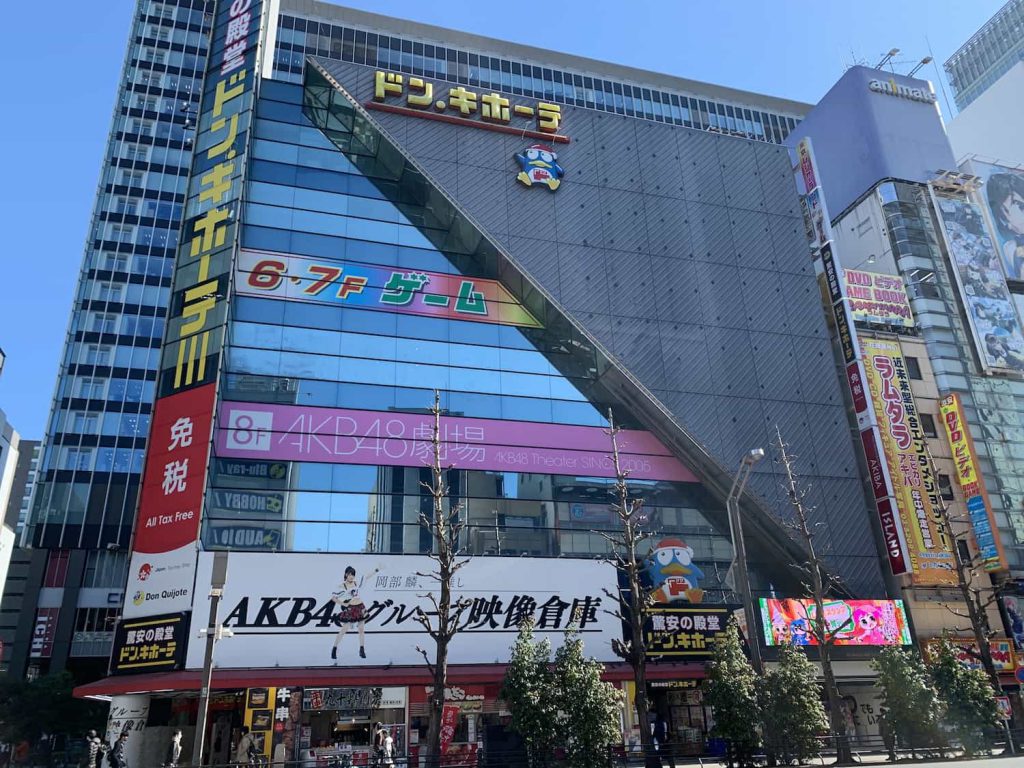 Located on the 8th floor of Don Quijote Akihabara, facing Chuo Dori, the AKB48 Theater serves as the exclusive stage for the iconic J-pop idol group, AKB48. This venue embodies the concept of "accessible idols."
Since its debut performance in December 2005, where only seven attended, the theater has evolved into the vibrant epicenter of AKB48's world, encapsulating the essence of every theatrical masterpiece.
Daily, the AKB Theater hosts diverse team and unit performances. Tickets are easily obtained through the official AKB48 website, and fans worldwide can experience the magic through live streaming. It's not just about the shows; the theater is also a hub for merchandise and handshake events, all seamlessly managed via the official website.
With 48 ever-evolving members, AKB48 remains a phenomenon, offering both fresh faces and seasoned talents a path into the entertainment spotlight. The theater, with a capacity for 250 attendees (including standing room for 105), fosters a unique bond between idols and their devoted fans.
The AKB48 Theater, where the past, present, and future of this remarkable idol group converge, remains the pulsating heart of AKB48's enchanting universe.
Akiba Cultures Zone(AkibaカルチャーズZone)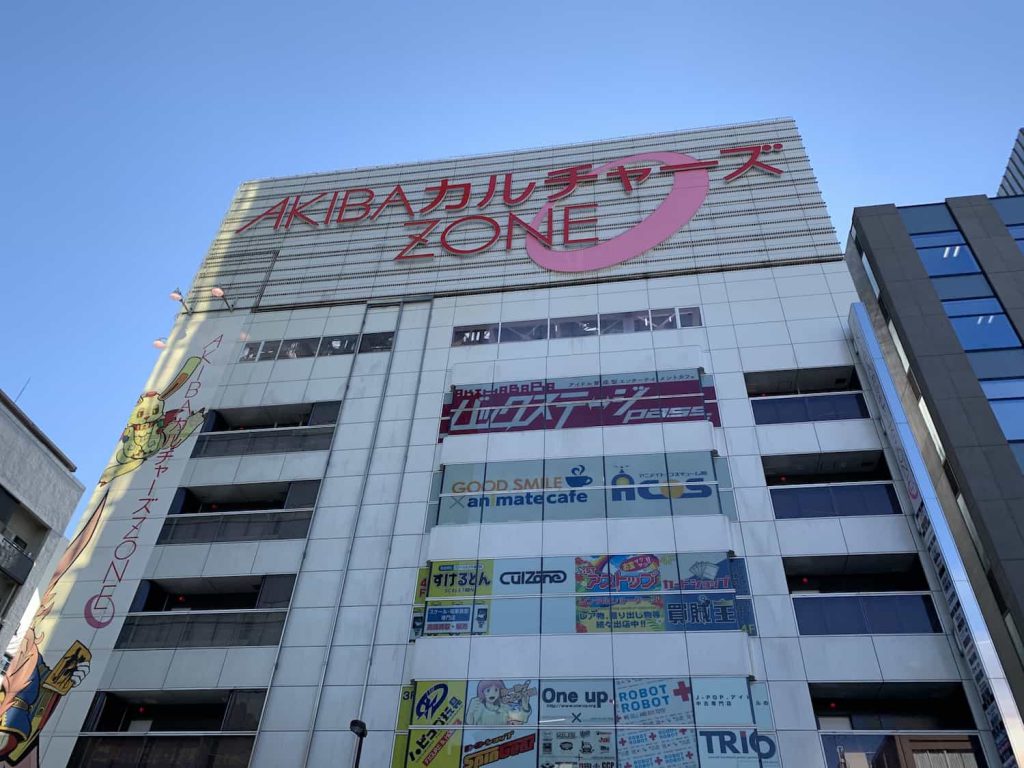 The Akiba Culture Zone stands as the pinnacle of Akihabara's haven for enthusiasts of diverse subcultures. From fervent anime devotees to ardent manga aficionados, and even die-hard idol culture enthusiasts, this bustling cultural epicenter beckons one and all.
Within the confines of its six-story architectural marvel, visitors embark on an enthralling journey through a myriad of specialty boutiques. These establishments offer a trove of anime collectibles, exquisite figurines, and captivating cosplay ensembles.
However, the Akiba Culture Zone transcends the realm of the tangible. As one delves into its depths, the "Akiba Culture Theater" reveals itself, where live performances by idols and voice actors mesmerize audiences.
Ascending to the 6th floor, "Akihabara Backstage Pass" introduces a unique twist on the cafe experience, embracing the concept of "J-pop idols you can personally meet."
For the most recent updates and news, the official website of the Akiba Culture Zone serves as an invaluable digital repository. Immerse yourself in the vibrancy of subcultural life in Akihabara at this electrifying destination.
3331 Arts Chiyoda(アーツ千代田3331)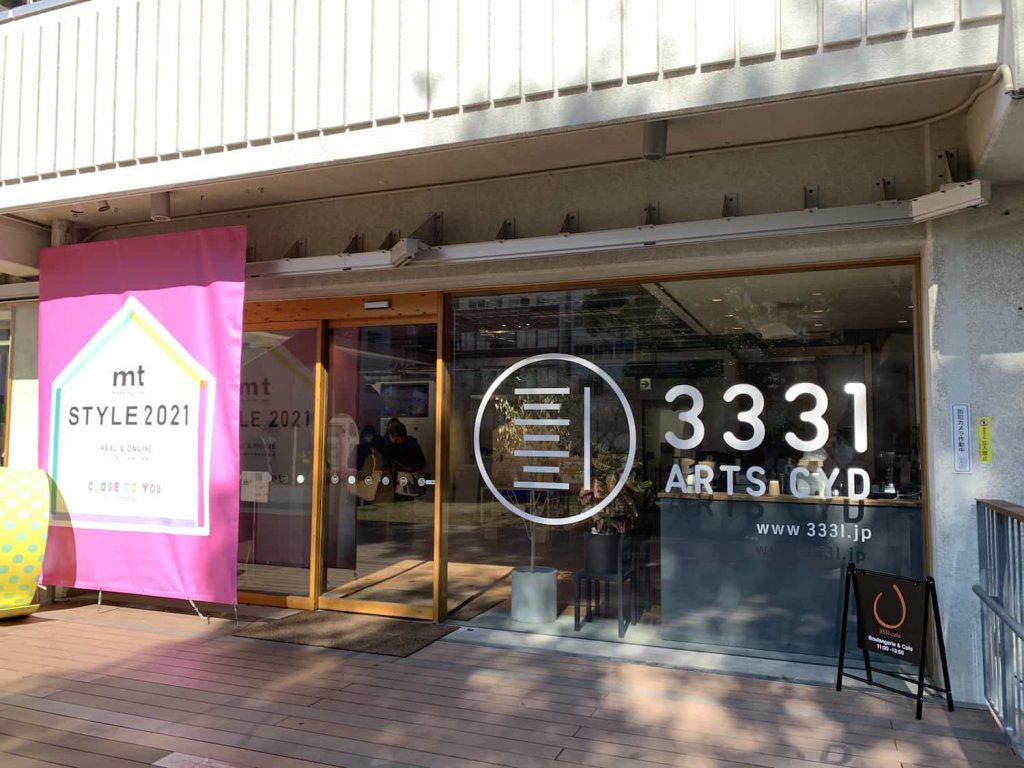 Arts Chiyoda 3331, born from the transformation of the former Chiyoda Ward Renshuchu Middle School in 2010, is a dynamic art hub. It serves as a canvas for diverse artistic expressions, including contemporary art, architecture, design, and physicality, hosting exhibitions, events, and immersive workshops. Beyond its role as an art center, Arts Chiyoda 3331 actively engages with the local community, especially children, to nurture young artists. Its name '3331' symbolizes unity and interconnectedness, echoing 'Art' and the rhythmic tradition of 'Edo Ipponjime.'
This privately-operated public art center houses galleries, studios, offices, community spaces, parent-child relaxation rooms, a café, and a boutique shop. Arts Chiyoda 3331 promotes tolerance and critical dialogue, contributing to the cultural landscape of the city and aligning with the Chiyoda Ward Cultural and Art Plan.