Chiba's Culinary Masterpiece
Introducing Ramen Kaizan, the ultimate ramen haven in Higashi Funabashi, Chiba Prefecture. Since its establishment in 1988, this extraordinary eatery has been offering a dining experience like no other. Prepare to be captivated by their Chiba-style pork bone ramen, a culinary masterpiece that took the Kanto region by storm.
Renowned and celebrated, Ramen Kaizan has made appearances on numerous television shows, gaining widespread acclaim. In 2011, they even secured the impressive second place out of an astounding 39,000 ramen shops across Japan, a remarkable achievement awarded by the esteemed Ramen Walker Magazine.
At the heart of their menu lies the star attraction—the exquisite Kaizan Ramen. It's a divine symphony of flavors meticulously crafted with succulent fatty pork, a luscious broth, and tantalizing bits of pork back fat, known as seabura. Every spoonful reveals a harmonious balance of vibrant spices and greens that beautifully complement the richness, creating a blissful dance of flavors on your palate. And the secret to their exceptional noodles? A partnership with Sakai Seimen, a local noodle maker renowned for their springy homemade strands.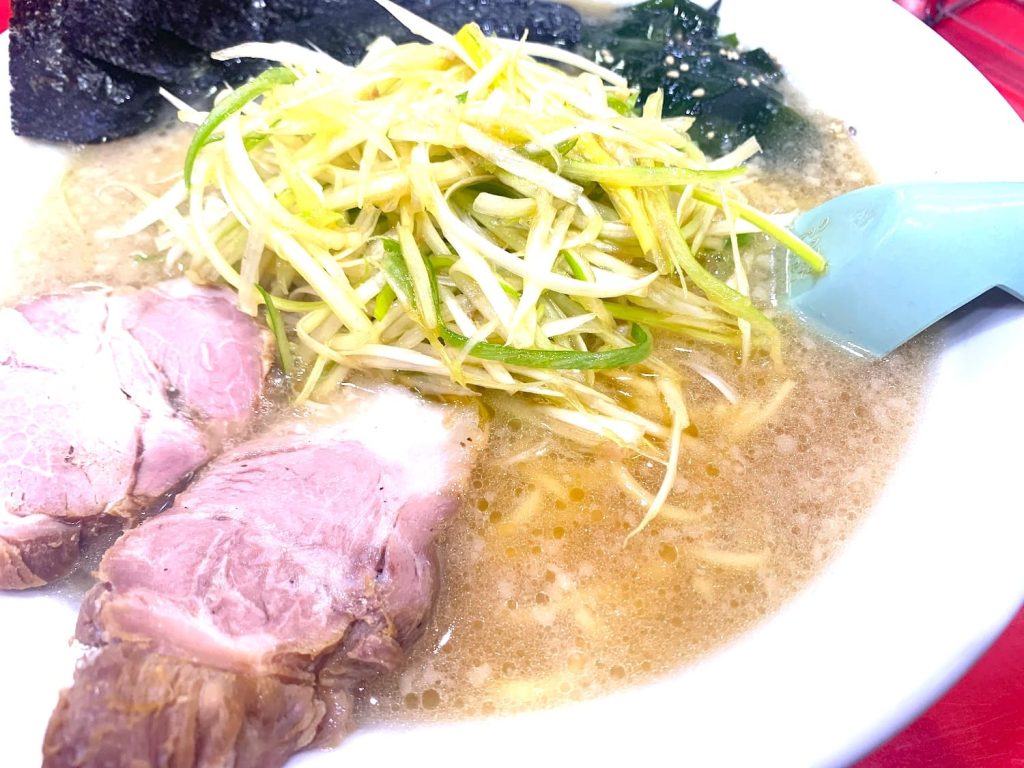 While the ramen takes center stage, Ramen Kaizan offers a delightful range of accompaniments and options to elevate your experience further. Treat yourself to the classic combination of their flavorful ramen with a satisfying serving of Negi-don, a mouthwatering green onion rice bowl. Their menu also features an enticing selection of toppings, such as extra wakame seaweed, zesty spicy green onions, creamy cheese, and delectable wontons.
Beyond being a paradise for ramen enthusiasts, Ramen Kaizan is a testament to the vibrant local culture and history in Funabashi. While the city is famous for attractions like Disneyland and its beloved mascot, Funashi, this culinary haven stands as a symbol of the region's deep-rooted affection for pork ramen infused with the unmistakable umami of MSG.
Conveniently located just a short 10-minute stroll from Higashi-Funabashi Station on the JR Chuo-Sobu Line, Ramen Kaizan Honten is easily accessible for eager diners. However, be prepared for possible longer waiting times during peak hours. Join the ranks of devoted ramen lovers who have left glowing reviews on various platforms, all praising the exceptional quality and flavor that make Ramen Kaizan an unmissable experience.
Pictured dish is taken at the Nishi Funabashi branch.
Name: Ramen Kaizan Honten
Address: 6-21-4 Yatsu, Narashino, Chiba
Phone: +81-(0)47-475-8603
Hours: 08:00 – 01:00
Closed On: Mondays
Number of Seats: 15
Budget: – JPY1,000
Payment Options: Cash Only