A Delicious and Healthy Italian-Ramen Fusion Dish with Skin-Whitening and Anti-Aging Benefits
If you're a fan of Italian and ramen cuisine, then Taiyo no Tomato-men is the perfect fusion for you! This dish is not only unique and innovative, but it's also incredibly delicious. What sets it apart from other ramen dishes is the use of an abundance of fresh tomatoes. This not only gives the soup a tangy and savory flavor, but also provides a powerful antioxidant called lycopene, which is equivalent to three tomatoes worth.
Lycopene is known for its anti-aging and disease-preventing properties, as well as its ability to whiten and beautify the skin. Taiyo no Tomato-men is a healthier option for those who love ramen but want to limit their calorie intake. The soup is made with low-fat chicken, onions, cabbage, garlic, ginger, and green onions, and blended with chicken bone broth. The noodles are fresh and made with soy milk, which gives them a smooth and satisfying texture, while also providing potential health benefits from isoflavones.
The tomato sauce used in the ramen is rich in lycopene and is perfect for preventing aging and skin whitening. The sauce is made with "Tengaiten rock salt," a natural mineral from Mongolia that is high in minerals and a healthier choice for salt lovers. The green vegetables in the ramen are "Edona," a delicious and genetically modified variety of komatsuna that's rich in vitamins and has reduced pesticide usage.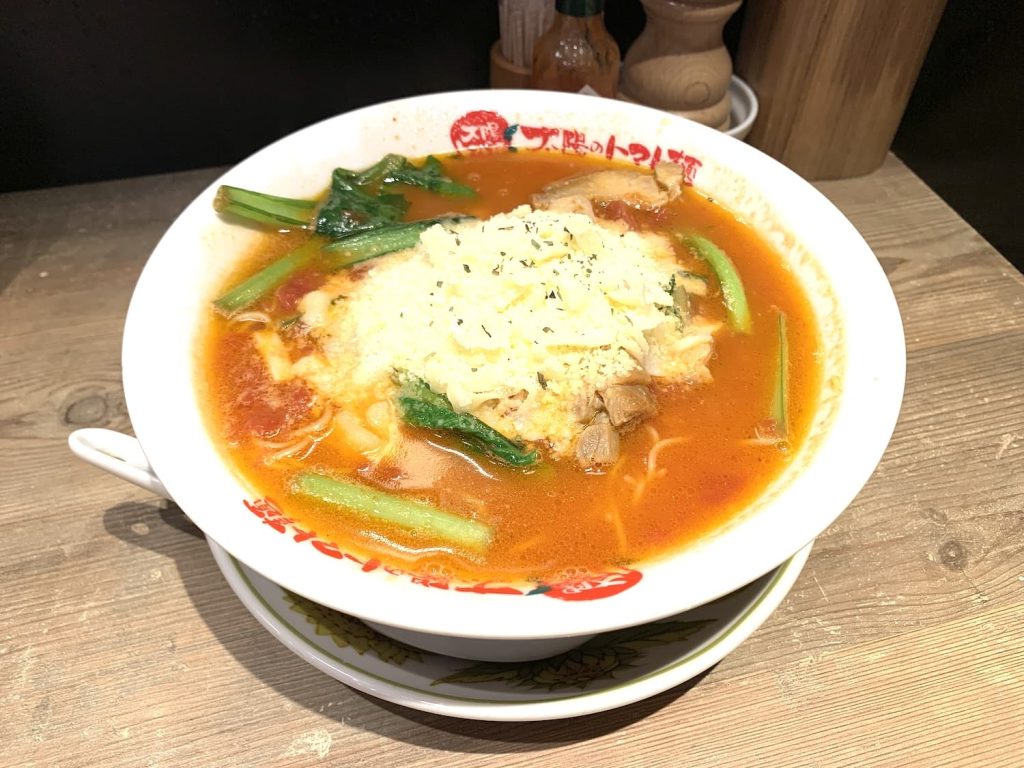 Taiyo no Cheese Ramen is the most popular dish on the menu, which includes tomato soup, cheese, and basil. With so many other options available, customers will be spoiled for choice! If you're looking for a unique and tasty fusion dish that's also healthy, Taiyo no Tomato Men is definitely worth a try.
Official Website (Japanese Only): http://taiyo-tomato.com