Discover the Delicious Tradition of Akafuku: Japan's Cherished Treat Since 1707
Get ready to indulge in a centuries-old Japanese tradition that will take your taste buds on a journey through time. Akafuku, a beloved red bean cake, has been enjoyed by locals and visitors alike for over 300 years at the foot of Ise Grand Shrine in Mie Prefecture. Made by placing sweet bean paste on top of white rice cakes, its unique shape represents the flow of the Isuzugawa River with three lines on the bean paste and the white rice cake symbolizing the pebbles on the riverbed.
While the shape of Akafuku mochi hasn't changed since its inception, Akafuku Honten has gotten creative with their latest creation, the Shiromochi Kuromochi. This confectionery combines black sugar-flavored rice cake with white bean-based Shiromochi for a refreshing sweetness that is out of this world.
As you step into Akafuku Honten's storefront, located near Ise Grand Shrine, you'll be greeted by the fragrant aroma of locally produced roasted green tea and female artisans, known as "mochi-ire san," delicately shaping the three lines of the clear stream on Akafuku mochi with their dexterous fingertips. And if that wasn't enough, inside the store, you'll find a vermilion-painted hearth where the god "Sanpo Kojin" is believed to reside. The hearth has the power to purify impurities and disasters, and every morning, Akafuku Honten reverently kindles the fire of the hearth with a sacred feeling while worshiping this deity.
Whether you enjoy Akafuku mochi inside the store or take it home as a souvenir, you'll experience the delicious tradition of this confectionery that has stood the test of time. The color black symbolizes the potential of something born pure, while white represents purity and sophistication. So why not come and discover the irresistible taste of history and culture with Akafuku? Whether you're a first-time visitor or a longtime resident of Japan, this treat is a must-try!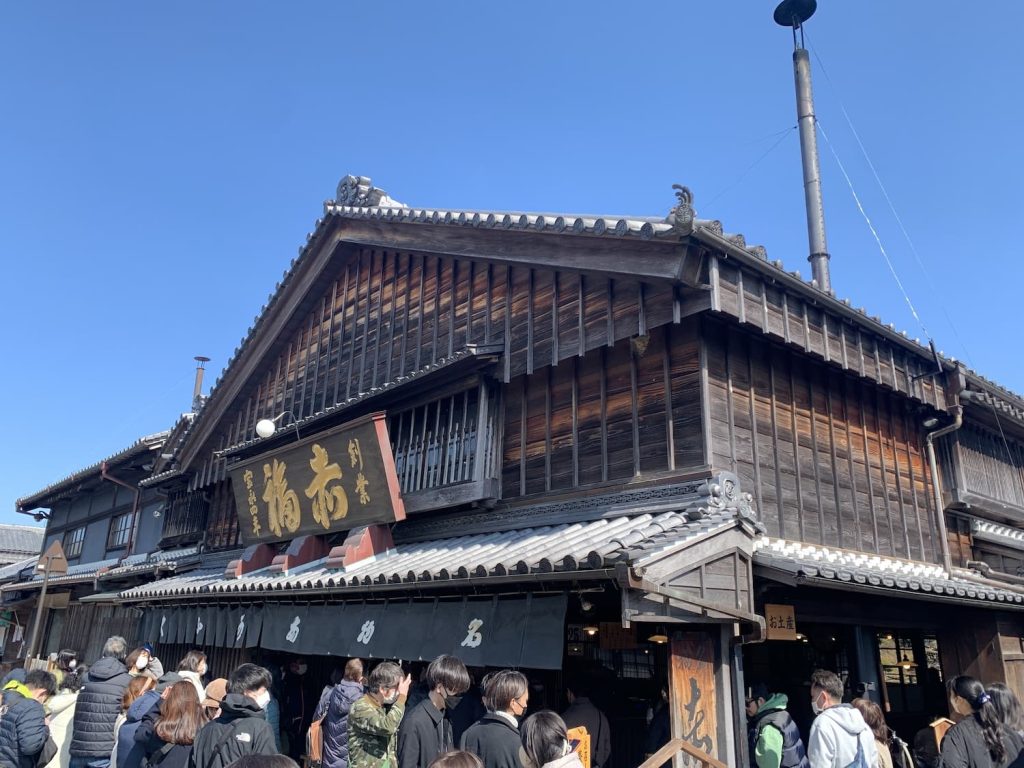 Name: Akafuku Honten
Address: 26 Ujinakanokiricho, Ise, Mie
Phone: +81-(0)596-22-7000
Hours: 05:00 – 17:00
Closed On: Open Daily
Budget: – JPY1,000
Payment Options: Credit Cards Accepted