Ginza Swiss, an old-fashioned Western-style restaurant, is renowned as the origin of "Katsu Curry." The founder, Shinosuke Okada, played a pivotal role in establishing Western cuisine in Japan prior to the war, having worked in the "Takaratei" of Kojimachi and as a chef in the Prime Minister's official residence.
In an effort to make Western cuisine, which was costly at the time, more accessible to the public, he opened "Grill Swiss" (commonly known as Ginza Swiss) in 1947. Switzerland, known for its lush greenery and perpetual neutrality, was highly admired in Japan at the time of the restaurant's inception. The name "Grill Swiss" was chosen as a reflection of the founder's hopes for peace after experiencing turbulent times.
The creation of "Katsu Curry" at Ginza Swiss occurred in 1948, stemming from a regular customer, baseball player Shigeru Chiba of the Yomiuri Giants, wanting to eat both katsu and curry together. The dish's popularity was cemented after Chiba was observed enjoying it with great relish, eventually becoming a formal menu item and quickly gaining widespread popularity. While the addition of toppings to curry rice is now commonplace, at the time, the concept was non-existent, let alone the addition of cutlet.
The curry served at "Ginza Swiss" is notable for its rich and velvety texture, achieved by simmering grated vegetables rather than utilizing wheat flour. The underlying sweetness that complements the spiciness can be detected on the palate. The meat, which is simmered alongside the vegetables, is minced, leading to a natural and tender texture. The curry sauce, which is the product of two weeks of meticulous preparation, boasts a unique and distinct flavor. The curry, despite the invisibility of the vegetables and meat, is prepared using a plethora of vegetables such as onions, carrots, apples, and ginger.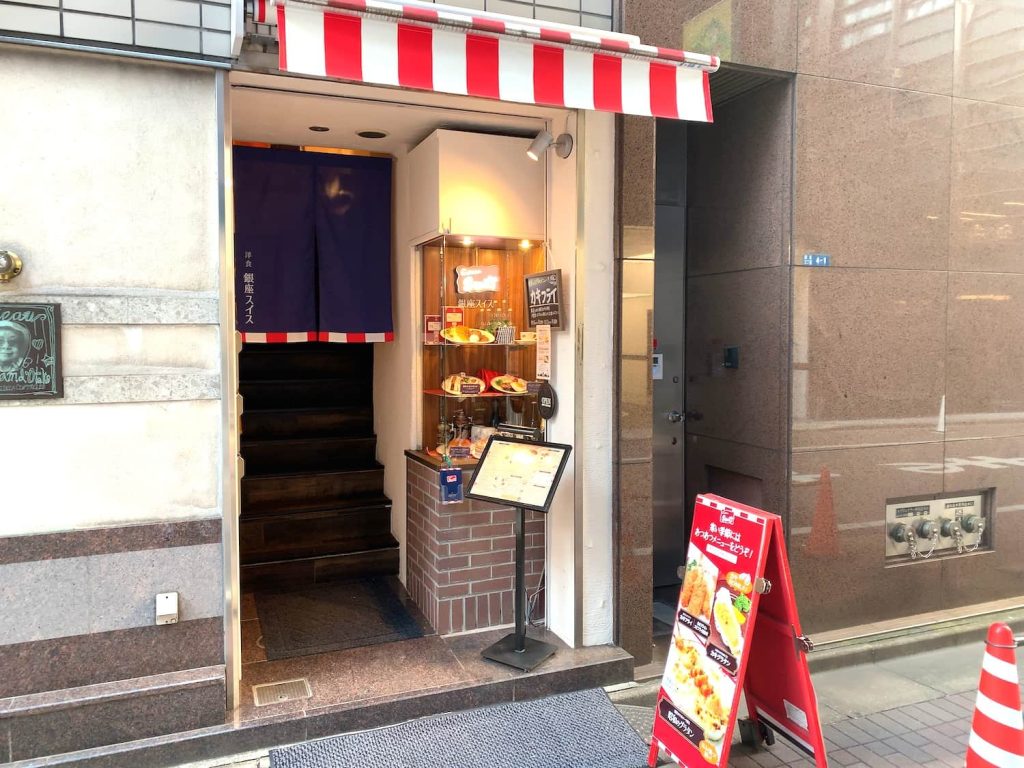 Name: Ginza Swiss
Address: 3-4-4 Ginza, Chuo-ku, Tokyo
Phone: +81-3-3563-3206
Hours: 11:00 – 21:00
Closed On: Open Daily
Number of Seats: 42
Budget: – JPY2,000
Payment Options: Credit Cards Accepted