A Coffee Shop, Croissanterie, and Bar All in One
Step into the world of deliciousness and convenience at "MONNAKA COFFEE", a two-story coffee shop situated on the street corner, just a short two-minute walk away from the Tokyo Metro Monzen-Nakacho station. Opened in November 2022, the shop's focus on freshly roasted coffee beans offers coffee lovers about 10 types of specialty coffee to choose from.
However, "MONNAKA COFFEE" isn't just your average coffee shop – it boasts a new, unique offering: "Circro." This is their newly developed croissant dough that's crispy and satisfyingly firm, unlike traditional croissants, which tend to be soft and flaky. The dough is made on-site by repeatedly folding and baking it daily, and is sold in several flavors, including chocolate and red bean. Customers rave about how the dough perfectly complements their lunch plate, which consists of a tasty soup and salad set.
But that's not all – "MONNAKA COFFEE" has something for everyone. For drinks, try their café latte or coffee made with their own roasted beans, which comes highly recommended. And if you're a coffee lover, you can even buy coffee beans to take home with you.
After 5 pm, the shop transforms into a lively bar scene that caters to customers looking for an evening of fun, complete with craft beer, natural wine, and food.
In short, "MONNAKA COFFEE" is the perfect destination for coffee enthusiasts and those seeking a delightful culinary experience.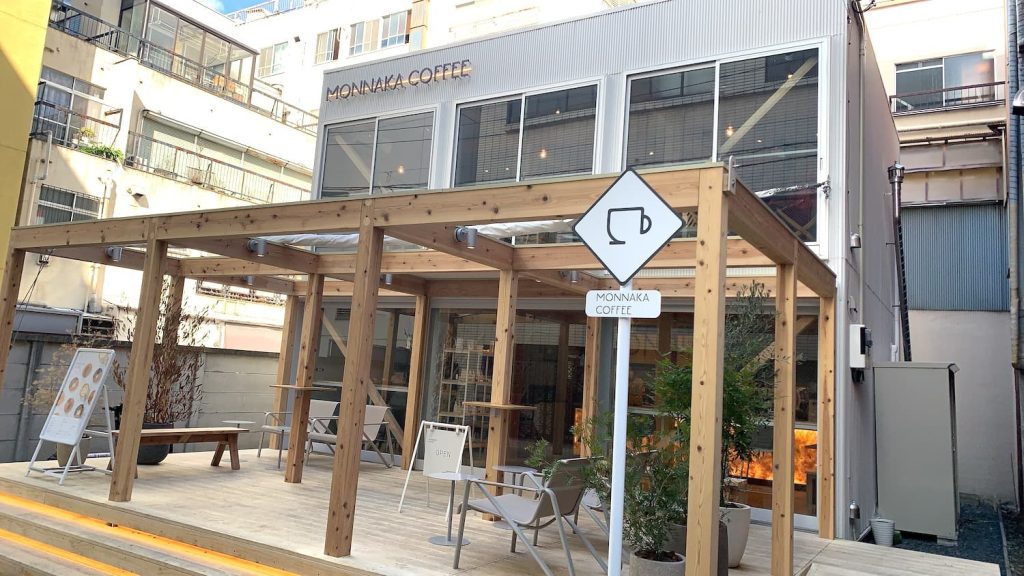 Name: MONNAKA COFFEE
Address: 2-6-11 Monzennakacho, Koto-ku, Tokyo
Hours: Monday – Friday 08:00 – 22:00 / Saturday, Sunday and National Holidays 10:00 – 20:00
Closed On: Open Daily
Number of Seats: 32
Budget: – JPY1,000
Payment Options: Credit Cards Accepted (Cashless Only)