Authentic Kushikatsu Restaurant in Shinsekai | Osaka
In Kansai, a political region that includes Osaka, kushikatsu (literally, skewered pork) is often interpreted in a broad sense to include servings of various kinds of meat and vegetables deep-fried and served on bamboo skewers. One of the best places to enjoy these popular dishes is Yaekatsu, a specialty restaurant in the Shinsekai district of Osaka. Established in 1947, Yaekatsu retains its early post-war charm and lively character. Kushikatsu is a popular local cuisine and Yaekatsu dishes are among the best in Kansai.
Yaekatsu is located inside Jan-Jan Yokocho (alleyway) in the southeast part of Shinsekai. The covered alleyway is about 180 meters long. The name Jan-Jan stems from the jangling sounds of shamisen and taiko drums that were originally used to attract customers after the Pacific War. The shopping street, which still retains the atmosphere of the Showa period (1926-1989), has become a mecca for B-grade gourmet food. This Japanese label is applied to kushikatsu and other inexpensive and popular foods such as okonomiyaki and takoyaki. Tachinomiya (standing bars) are another example of Osaka's distinctive food culture on prominent display in the alleyway.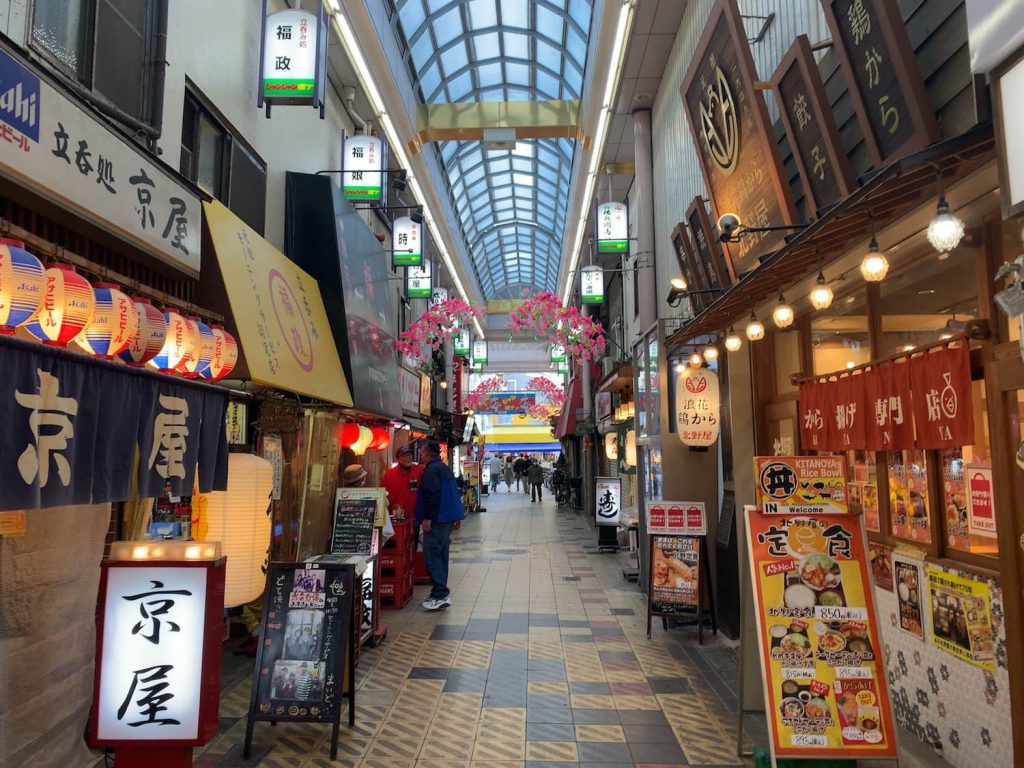 As you stroll down Jan-Jan Yokocho, don't allow yourself to be distracted from your primary mission by the numerous touts for rival restaurants. Look for the distinctive entrance of Yaekatsu. It is marked by a long curtain banner (noren) emblazoned with a cartoonish racoon figure and the restaurant name, Yaekatsu, in bright-red kanji (Chinese characters).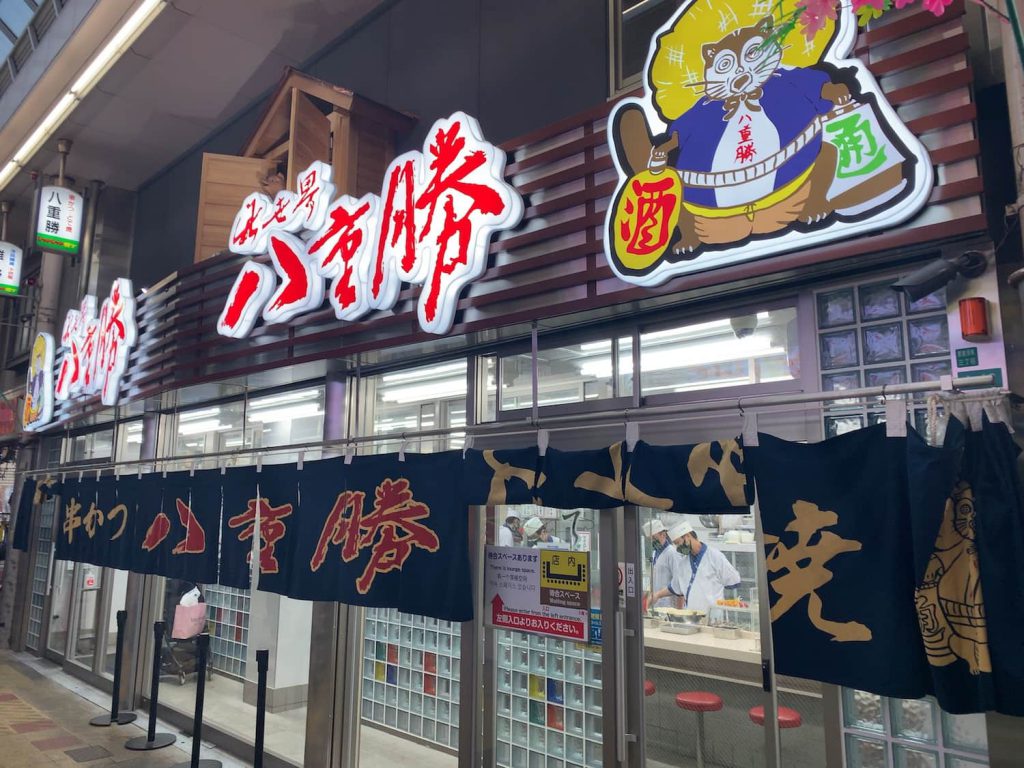 Once seated inside Yaekatsu, you will see a menu board with a large selection of available menu items and prices. The menu includes a variety of meat, vegetables, and seafood. The food is deep-fried on bamboo skewers usually after being coated with fine panko breadcrumbs. A customer calls out the dish(es) they want and they will be served one-by-one as they are prepared. A running tab is kept for each customer.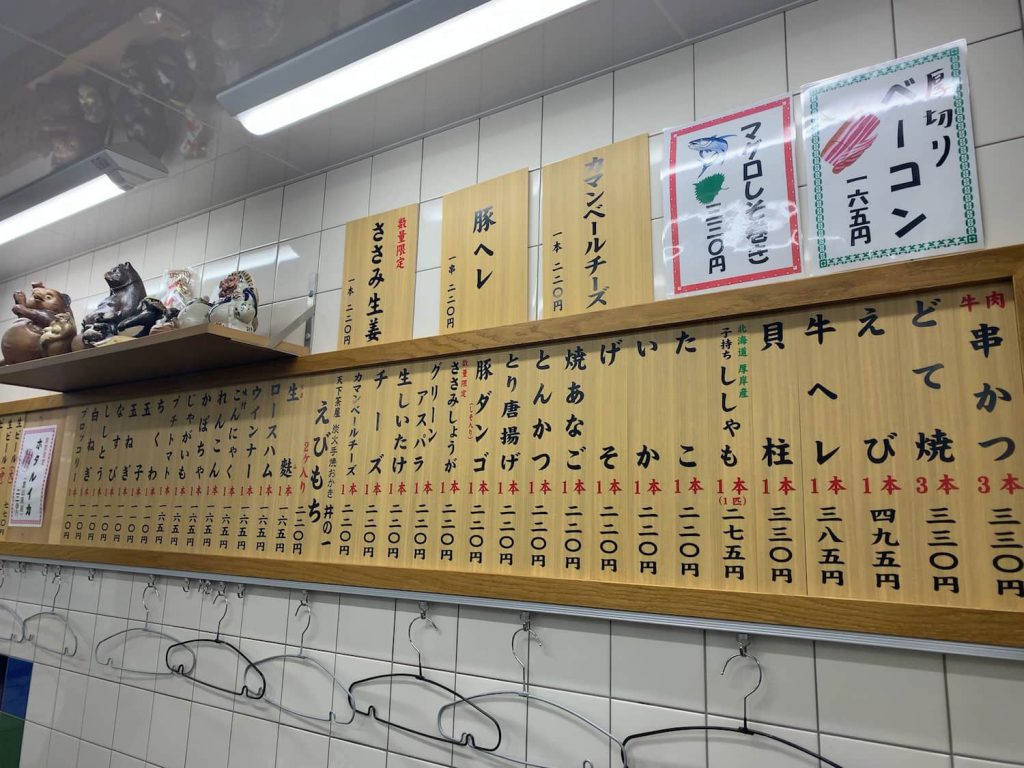 In Kanto (including Tokyo) such a broad selection of skewered foods would likely be referred to as "kushiage" (literally, skewered deep-fry). Other differences with Kanto style are also observed. In Kansai, it is typical to see one type of food on a skewer rather than a mixture of several types of food on the same skewer.
In Kansai, kushikatsu restaurants are also known as izakaya (casual drinking and eating establishments). The kushikatsu skewers are served one-by-one in classical izakaya-style. In contrast to the typical Tokyo izakaya, however, the atmosphere in an Osaka kushikatsu restaurant is usually more inviting and livelier. Don't be surprised if people at a nearby counter seat or table engage you in conversation. It will give you an opportunity to practice your Osaka ben (dialect). And, although the menu is in Japanese, you have a fair chance of finding someone eager to assist you in your selections. Kansai people are openly friendly.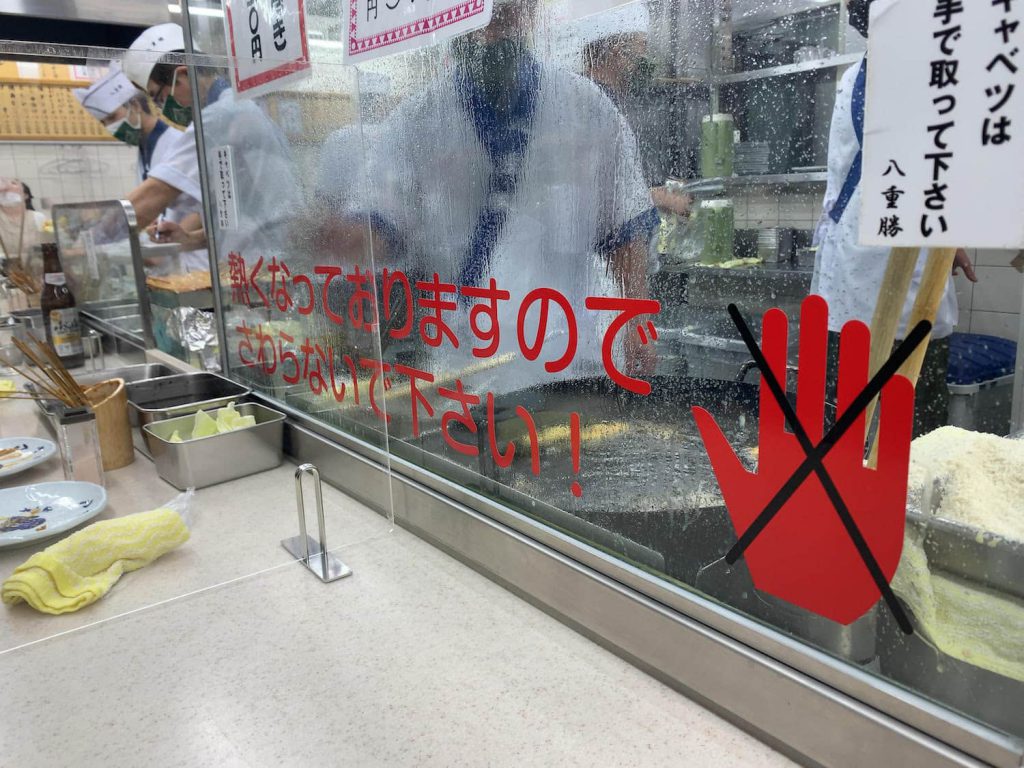 The spacious interior of the Yaekatsu is bright and cheerful. Fresh ingredients are displayed in the showcase visible from the counter seating. In the lively open kitchen where many employees are working, the kushikatsu are fried one after another. While you are waiting for your order, the skill of the employee frying the kushikatsu will delight your eyes. Take your time in eating. Call out when you are ready for another drink or dish. Keep in mind that the main point of visiting a kushikatsu restaurant is to enjoy drinking and chatting.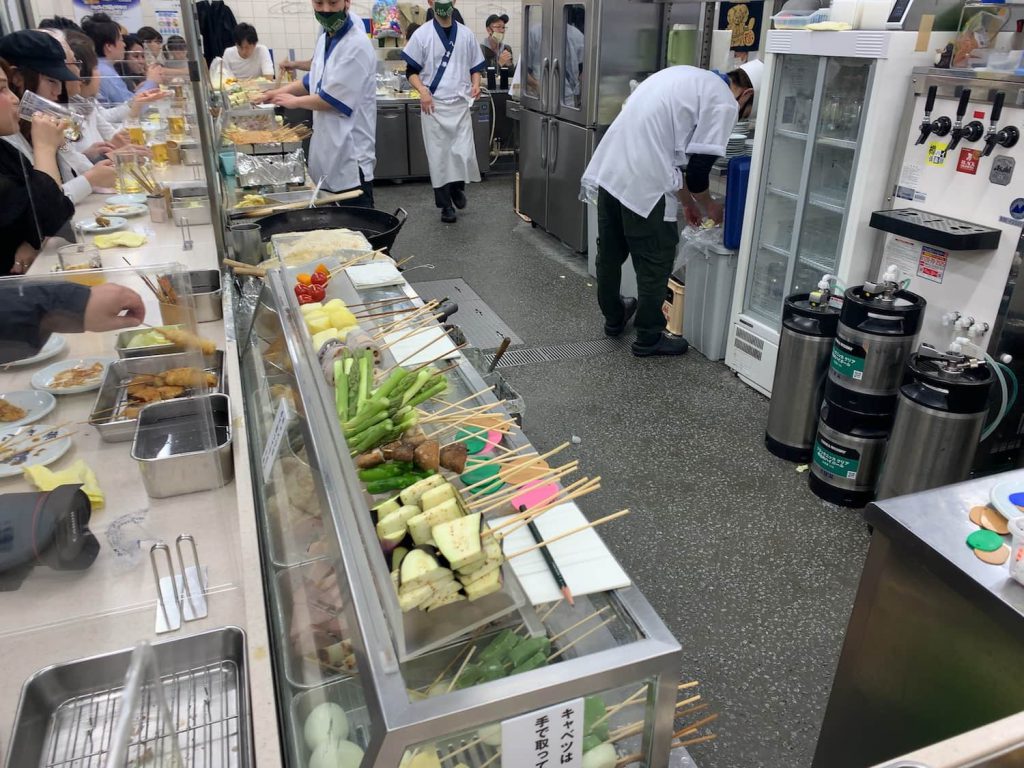 Fried to order, the kushikatsu are always fresh and crispy. The secret behind their fluffiness is the yam added to the batter. It is easy to overindulge in these kushikatsu, since the reasonable price makes it possible to enjoy them with peace of mind. Before eating, you will probably want to dip your kushikatsu in a savory sauce. Be aware that the sauce container is shared with other customers so, to avoid embarrassment, limit your dipping to one time for each piece. Remember: one skewer, one dip.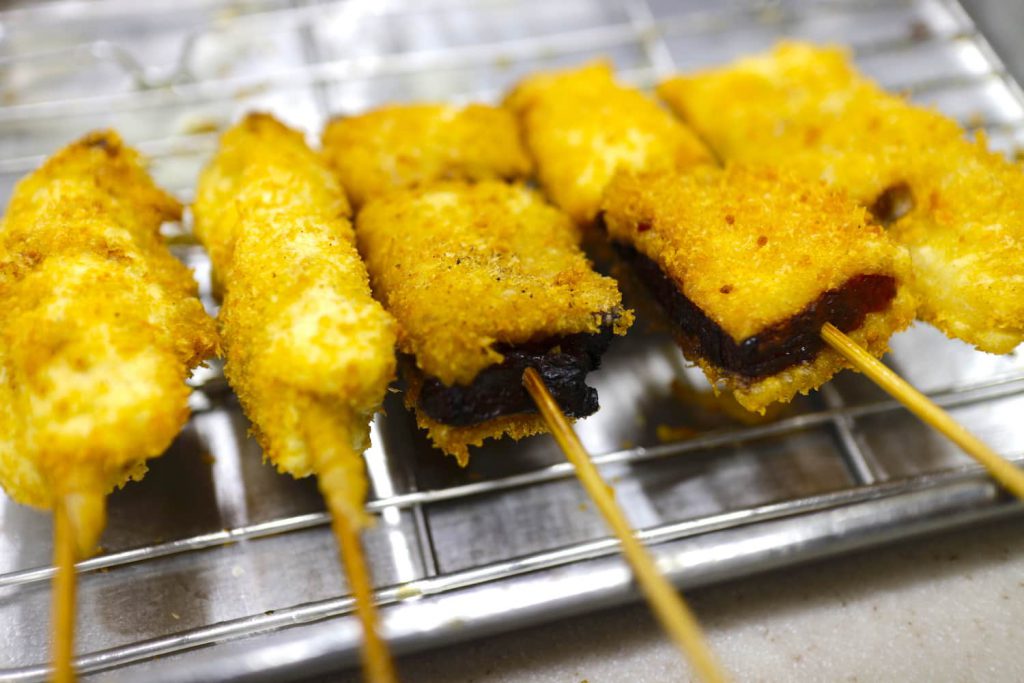 Among the tasty dishes is doteyaki (pictured below). It is a skewer of beef tendons stewed in white miso and mirin (Japanese sweet rice wine). Said to have originated in Osaka, this tasty treat is highly recommended.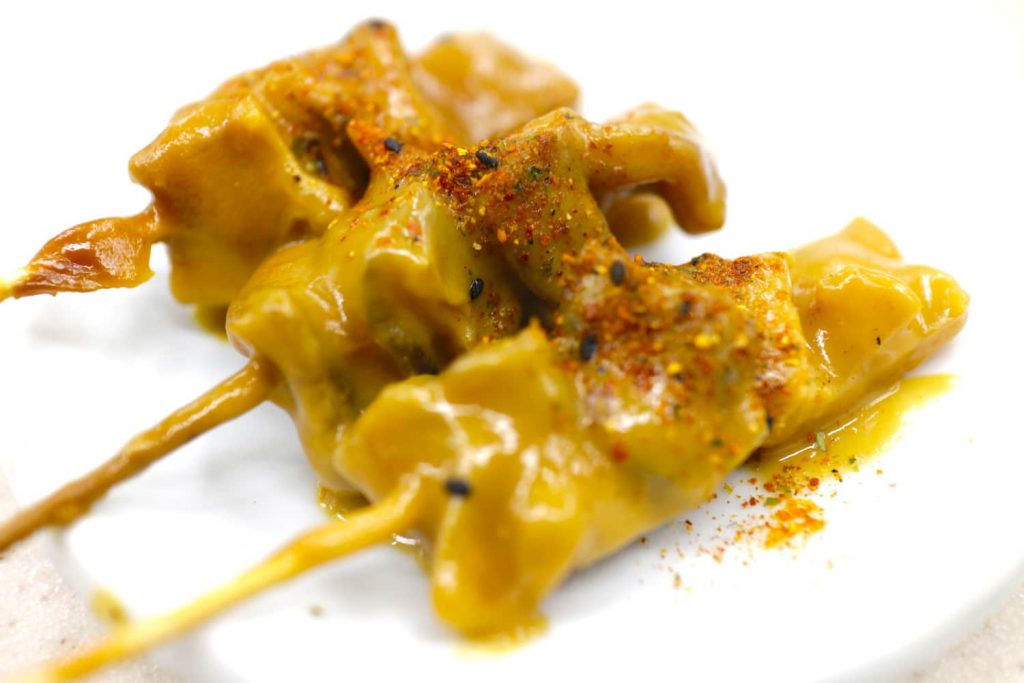 Name: Yaekatsu
Phone: +81-(0)6-6643-6332
Hours: 10:30 – 20:30
Closed On: Thursdays
Number of Seats: 49
Budget: Lunch: – JPY2,000 / Dinner: – JPY3,000
Payment Options: Cash Only