Time-Saving, Affordable, and Delightfully Delicious!
When addressing Napolitan (Japanese ketchup spaghetti) culinary options in Shimbashi, one must give due credit to the respected Western-style dining establishment, Mushiyaya, established in 1885. It is situated on the ground floor of the New Shimbashi Building, prominently located on the Karasumori-Guchi side of Shimbashi.
The counter seating faces the corridor of the building, providing a view of the interior through a curtain-like veil from the outside of the establishment. The L-shaped counter seats 8, and the small size of the establishment results in cramped spacing. Orders are taken while waiting in line and payment is made upon being served, making it a convenient option for busy salarymen in Shimbashi.
The menu features a wide variety of Western dishes, with omlette rice being the most popular. The menu is prominently displayed at the storefront. The omlette rice at Mushiyaya has a depth of flavor that belies its simple appearance, with the aroma of butter being particularly alluring. The ketchup is quite thick, but the aftertaste is surprisingly refreshing.
Musashiya is a quick, cheap and delicious option for those rushing for time.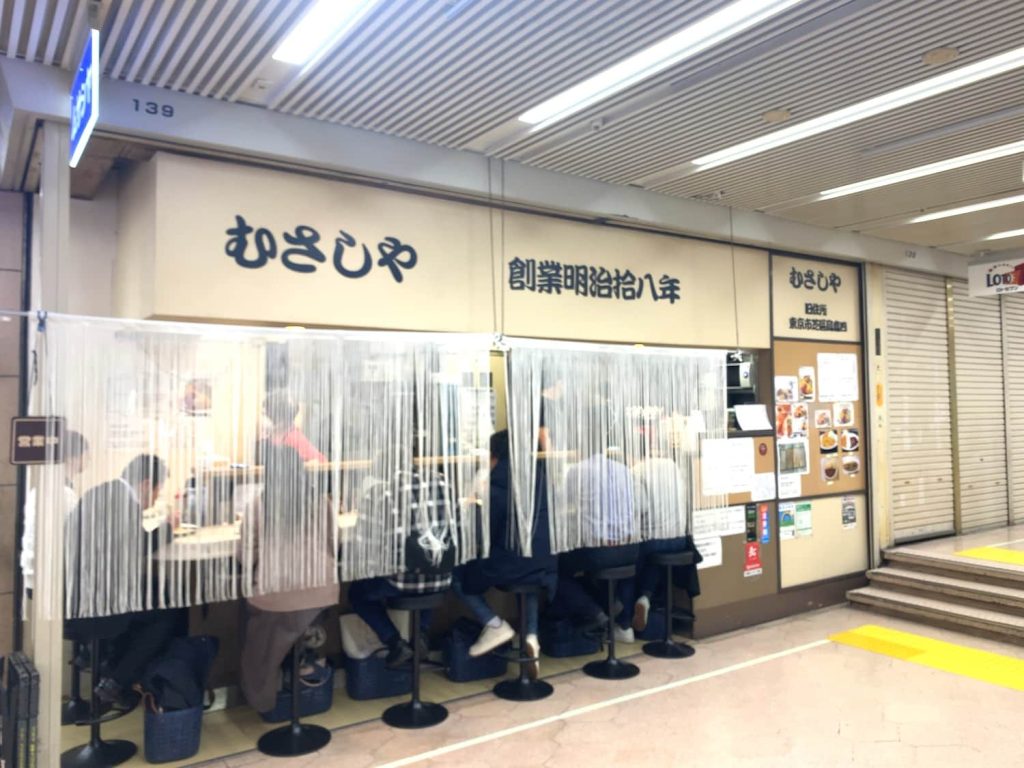 Name: Musashiya
Address: 2-16-1 Shinbashi, Minato-ku, Tokyo
Phone: +81-3-3501-3603
Hours: 10:30 – 21:00 (Saturdays: 11:00 – 15:30)
Closed On: Sundays
Number of Seats: 8
Budget: – JPY1,000
Payment Options: Cash Only