Homemade Sukiyaki-Style Beef Bowl
Nandokiya, a specialized teishoku-ya or dining establishment that offers set meals, harkens back to the era of Showa (1926-1989) through its presentation of Gyumeshi, a delectable beef bowl prepared in a distinctive sukiyaki style.
Established in 1963, this quaint eatery boasts only six counter seats and is located within the Ginza Nine commercial complex beneath the Dobashi Interchange of Tokyo Expressway. The Ginza Nine complex seamlessly connects the iconic Ginza, bustling Shimbashi, and Shiodome areas. A mere 50 meter stroll down the adjacent alley will bring you to the striking yellow sign of Nandokiya, located on your left. The menu and prices are prominently displayed on the glass entrance, offering remarkable affordability for the Ginza district.
The Gyumeshi, the mainstay of Nandokiya's menu, is made with a secret sweet sauce that has been in use since the establishment's inception. The sauce envelops the onions, shirataki noodles, and grilled tofu in a delectable coating, while the meat portion is second to none.
Nandokiya also offers an array of tantalizing teishoku (set meals) in addition to the beloved Gyumeshi.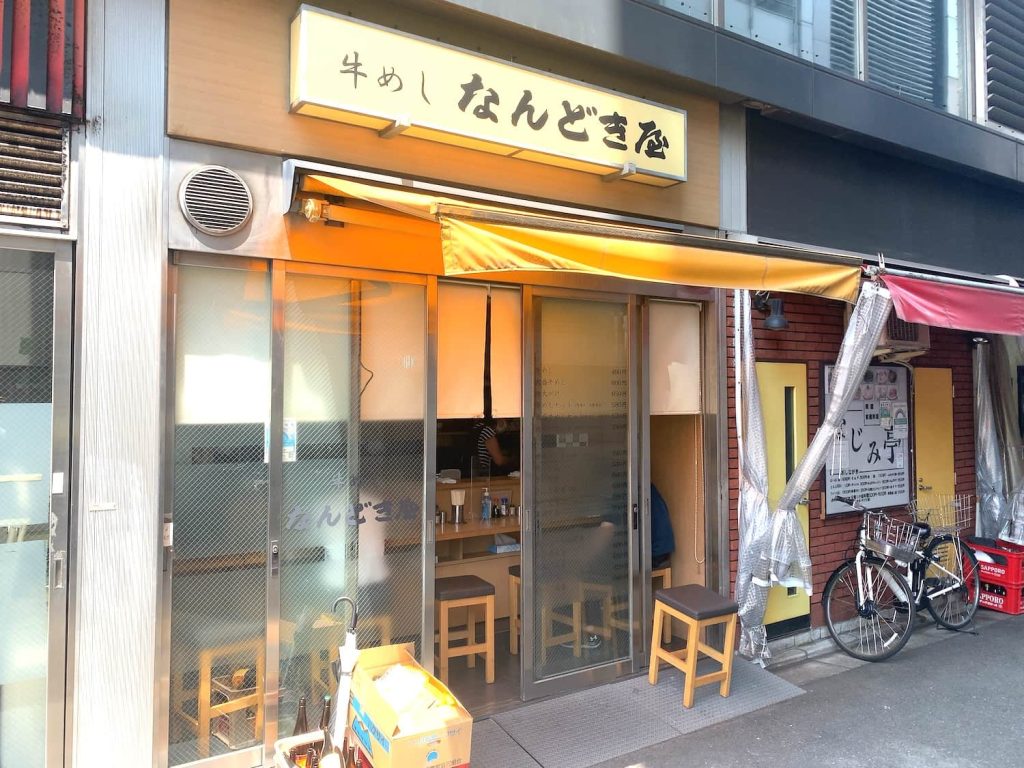 Name: Nandokiya
Address: 8-10 Ginza, Minato-ku, Tokyo
Phone: +81-(0)90-8034-1446
Hours: 11:30 – 18:00
Closed On: Saturday, Sunday and National Holidays
Number of Seats: 6
Budget: – JPY1,000
Payment Options: Cash Only