Extra Thick and Meaty Yaki-Katsudon
Tonkatsu Marushichi is nestled in an inconspicuous back alley in Monzen-Nakacho. Popularly known as Mon-Naka, this shitamachi (downtown) area has a long tradition of bars and izakaya. (Mon-Naka is less known for having Japanese confectionary and old-fashioned delicacies.) Mon-Naka flourished as a monzen-machi (temple town) thanks to its proximity to Tomioka Hachimangu and Fukagawa Fudodo. Mon-Naka is easily accessible from Ginza and Nihonbashi.
Tonkatsu Marushichi only serves Yaki-Katsudon: panko-breaded, deep-fried pork cutlet and grilled egg roll served over rice. Once filled, the bowl is so voluminous the lid can no longer be closed.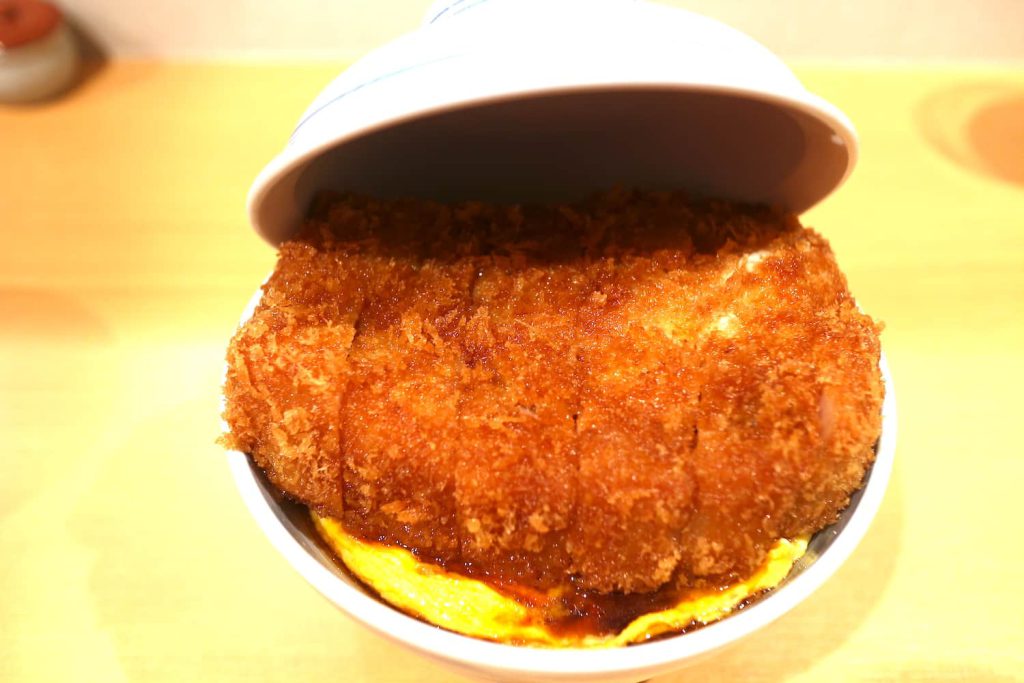 Dishes are attentively prepared by two chefs while customers watch silently in awe. The thick pork cutlets are light pink in color. When you bite into one, the tasty fatty meat flavor overflows delightfully in your mouth. Egg rolls are fluffy, tender, and sweet. Sweet and sour sauce with an appetizing aroma is poured over the cutlet and egg roll. There is a wide selection of condiments available at the counter to enhance the flavor of the dish.
Name: Tonkatsu Marushichi
Address: 1-14-14 Tomioka, Koto-ku, Tokyo
Hours: 11:30 – 17:00
Closed On: Wednesdays
Number of Seats: 14
Budget: – JPY2,000
Payment Options: Credit Cards Accepted